COVID-19 and the 3D Printing Community
COVID-19 has affected us all by now, either directly or indirectly. And, companies have had to adapt quickly to the changing economic landscape. For those of us fortunate enough to still be working, we're more than likely addressing our clients' needs from home. Currently, I'm sitting on a dining room chair as I write this article from my "makeshift" home office.
Our company has shifted to a digital/virtual platform. And, I'm happy to report that people in our industry are built for rapid change. They are also anxious to prove 3D printers are far beyond the early adoption stage.
Don't believe me?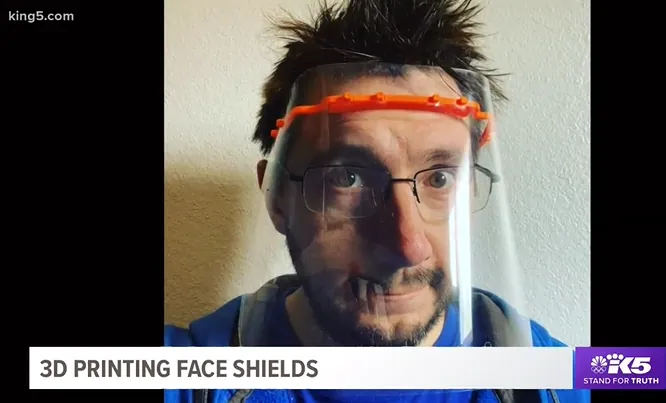 Youtuber Makes Face Shields for Healthcare Workers
As the world battles the global outbreak of COVID-19, there are still bright spots shining through the darkness. Notable manufacturers all over the country and in multiple industries, have retooled their factories to produce facemasks, sanitizer, and other critical items needed by hospitals and first responders. 3D printing/additive manufacturers and hobbyists weren't about to be left out. They have leapt into action to help support this cause.
Stratasys Announces PPE Initiative
In the early stages of the pandemic we continued working from our offices, and for the most part, it was business as usual. As spread of the novel virus accelerated, local governments began to issue "Stay at Home" orders. These orders initially halted our printing operations because our Stratasys 3D printing machines are housed at our office locations.
I was discouraged, as much of my job revolves around these printers. But I knew 3D printing affords opportunity when challenges happen in traditional manufacturing. Could there be an opportunity for us to help and keep our printers running?
Before long, Stratasys announced their initiative to go full blast into the production of medical face shields, giving all the resellers and Stratasys customers a call to action.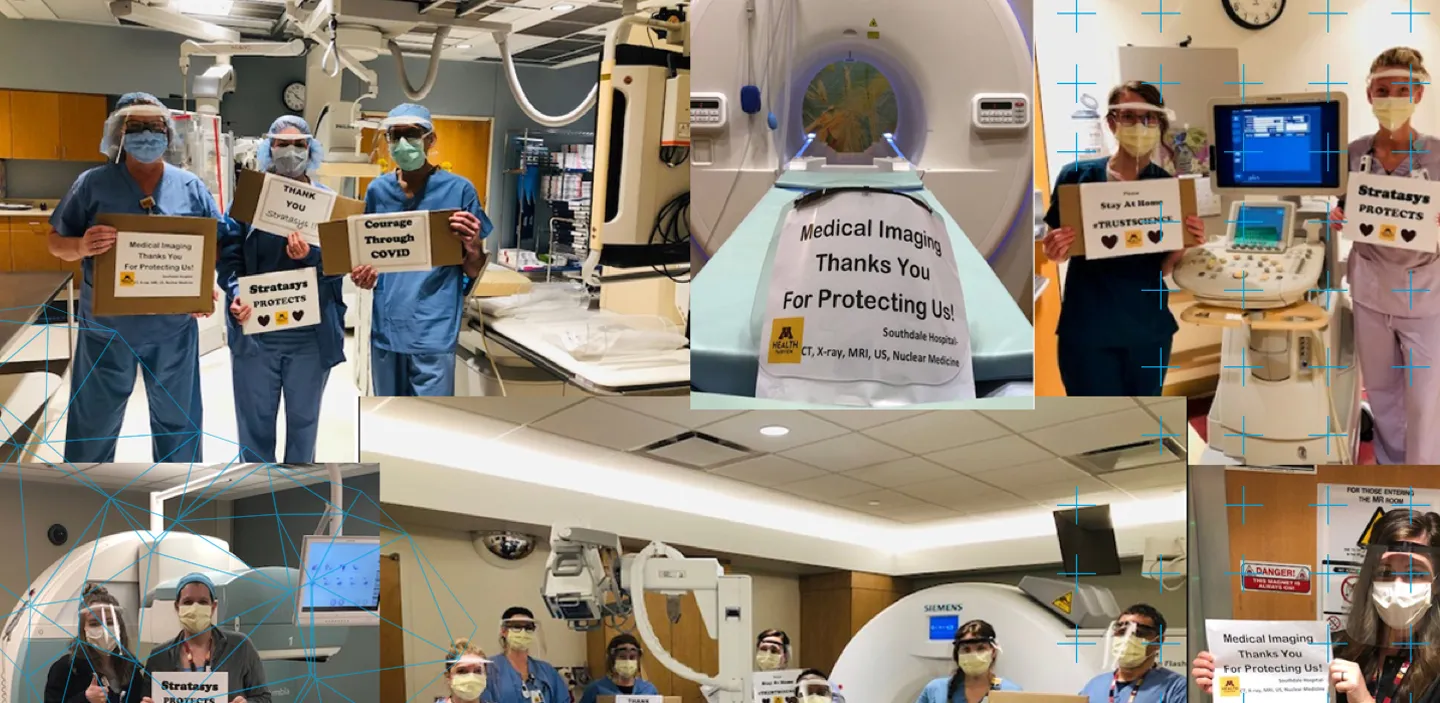 Their machines, our machines, and any of our customers who wanted to could join the cause. The directive being to print PPE for the healthcare industry. Specifically, printing the visors used in the creation of face shields. Suddenly, the storm cloud lifted from my view and I had an answer to my question.
COVID-19 & How GoEngineer is Helping Tackle the Initiative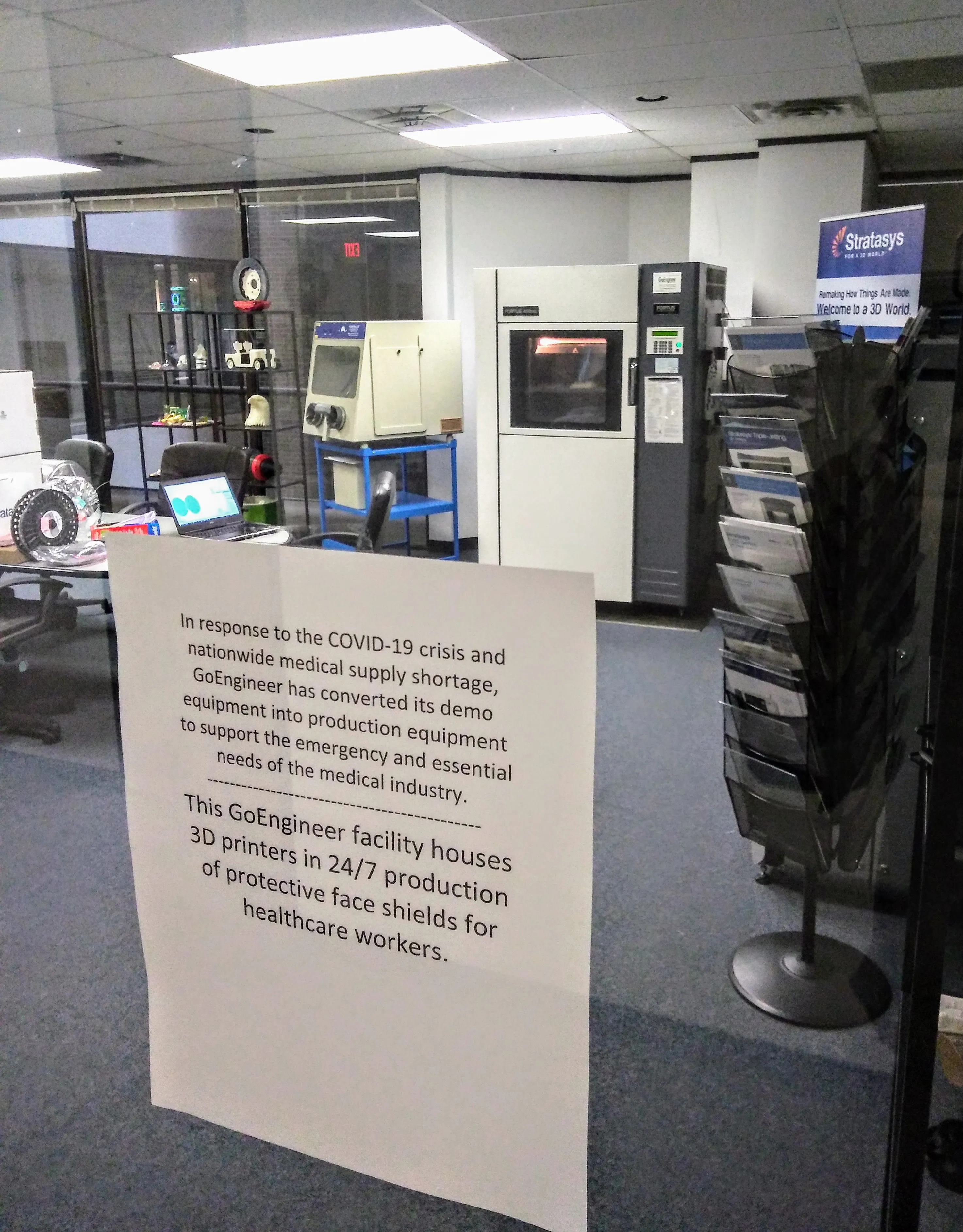 GoEngineer didn't hesitate to take on the positive and exciting challenge issued by Stratasys. Once again, we had to make an on-the-fly adjustment. This is exactly what 3D printers are good at (the people AND machines)!
We elected to run our printers around-the-clock in support of this critical initiative. By operating in "shifts" our team has employed proper social-distancing at each location. Not only do we get to keep the machines running, but we get to make a real difference in helping our fellow healthcare professionals do their jobs safely.
Early Adoption? Nope. Mainstream Media Showcasing 3D Printing is Beyond What We May Have Thought
Around the time Stratasys officially announced their initiative I began to see 3D printing in the mainstream news as well as all over my social media feeds. The general public could now see something those of us in the 3D printing industry have known for years. We've known that 3D printing absolutely has a legitimate place in today's fast paced design/manufacturing industries.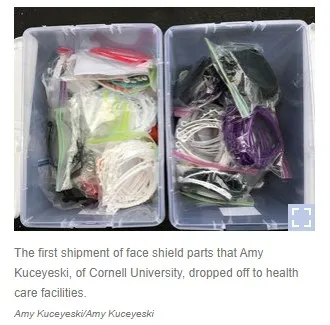 We're seeing the worldwide use of 3D printers to produce new products and designs on-the-fly with little notice. No need to "retool" them. They don't need a salaried operator. And, they don't require tons of space.
The flexibility 3D printing offers in the world of production is unmatched. It's showing on a world stage through mainstream media coverage. Perhaps, this can be enough to prove 3D printers have been out of the "early adoption" phase for years.
The feeling of community this has brought to me is almost overwhelming. Makers, hobbyists, and major 3D printer manufacturers alike are all united in a singular cause (Forbes – Calling All Makers…). Seeing competitors come together, along with 3D printing hobbyists of all experience levels, has been a bright light during these uncertain times.
Individuals are truly relying on 3D printing in the face of a global pandemic. Proving it, and users are rapid-response-ready. The future, as they say, is NOW.