Creaform, a leader in handheld and portable metrology-grade 3D scanners, recently introduced a new series to their HandySCAN product line: the SILVER Series. The SILVER Series features two new models: the HandySCAN 307 and the HandySCAN 700.
HandySCAN 307 and HandySCAN 700 Technical Specifications
Both the HandySCAN 307 and HandySCAN 700 feature accuracy, portability, simplicity, and versatility. In the image below, we've highlighted some of the technical specifications between these new scanners. You can see the full side-by-side comparison here.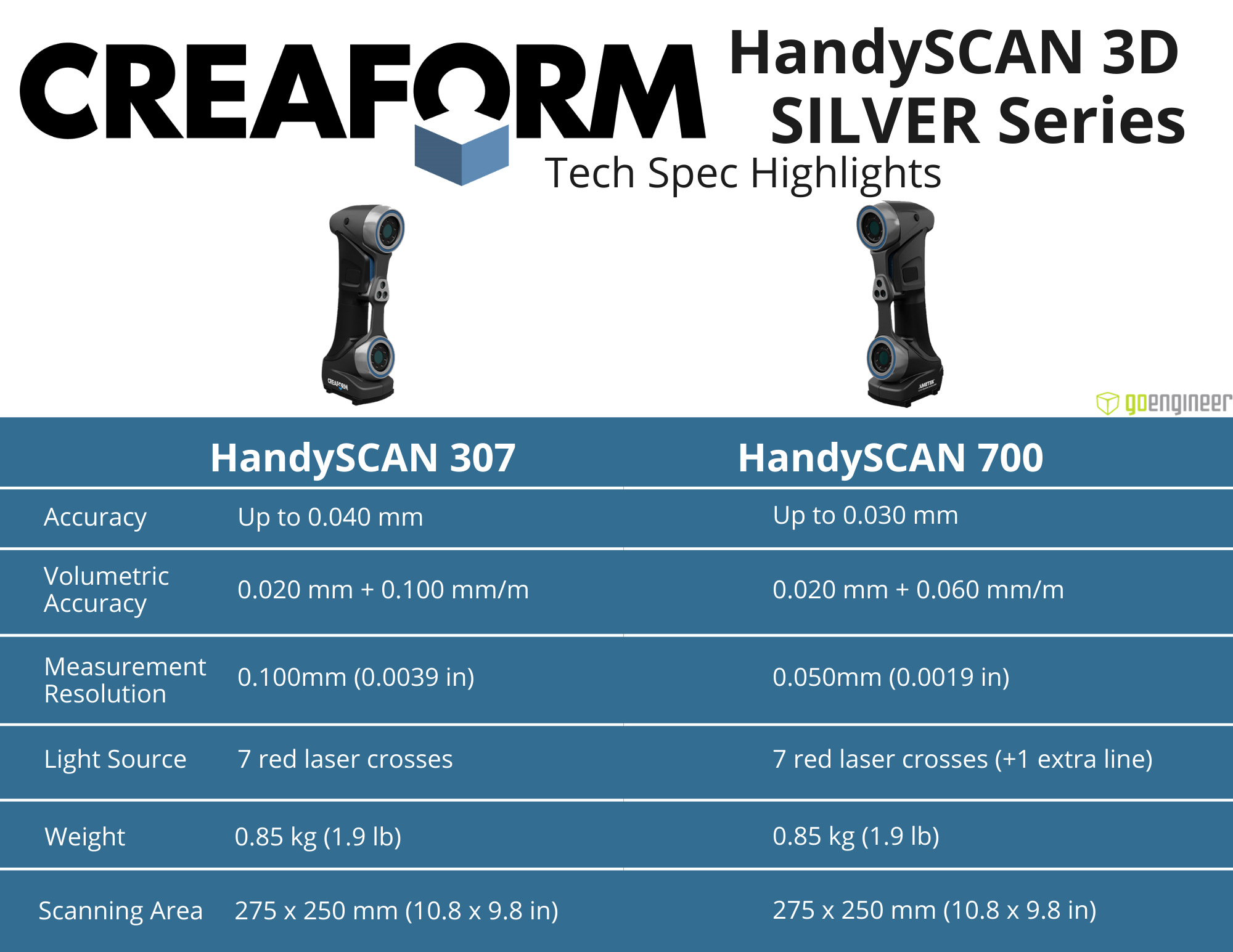 Creaform is a trusted resource for 3D scanning technology with more than five thousand users worldwide and is an essential solution for development and design industries, quality control and assurance engineers, and reverse engineering, among others.
HandySCAN 3D scanners can reliably capture accurate scans of complex models at any distance, of any color, and on any surface. On top of performance, Creaform HandySCAN 3D scanners are lightweight and easy to travel with, require minimal setup, and are exceptionally user-friendly and cost-effective, offering best-in-class technology without a high price tag.

Creaform SILVER Series Software
All portable Creaform 3D scanners use the VXelement software platform that also powers their entire suite of scanning and measurement technologies (such as VXinspect for quality control and VXmodel for reverse engineering). This software is also compatible with a variety of 3D CAD software including Dassault Systemes products.
Creaform shared in their press release, "The addition of the SILVER series to the renowned line of handheld 3D scanners will enable professionals and small businesses to improve product development, shorten time-to-market, and reduce development costs."
To learn more about this new series or other scanning solutions from Creaform, contact us.
Learn More About 3D Scanning
The GoEngineer Trifecta: Creaform, Geomagic, & Stratasys
Creaform 3D Scanner Updates for 2020
[VIDEO] Creaform VXInspect Tutorial - Scan Only Blueprint Workflow