Combining their Submersed Vortex Cavitation (SVC) technology and their AUTOMAT3D software platform, PostProcess has created the world's first automated system for production SL (Stereolithography) resin removal: the DEMI 4000
DEMI 4000 Highlights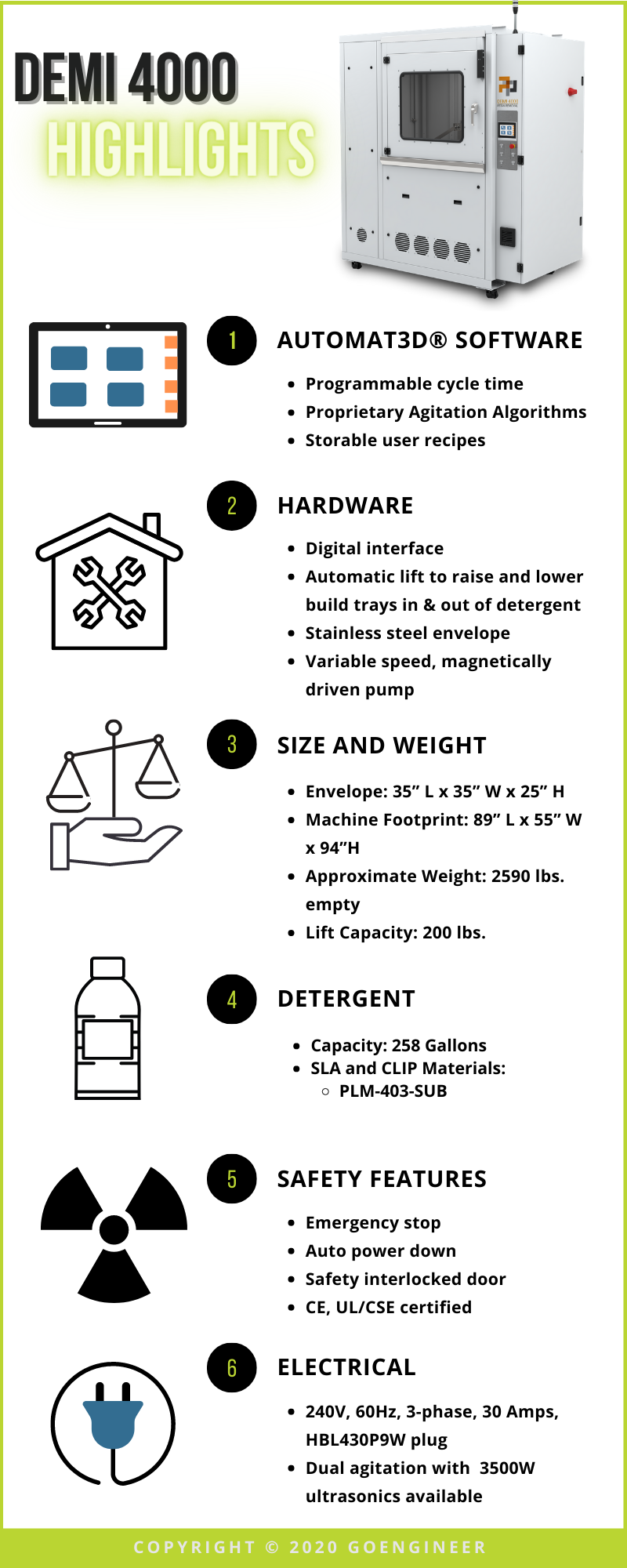 (Click to Enlarge)
What is Stereolithography?
Stereolithography (often referred to as SL or SLA) is a process of 3D printing that has been around since the 1980s and is used to create prototypes and models. SL 3D printers are different from its FDM and PolyJet counterparts because they use an ultraviolet laser to cure photopolymer resin at the surface of a vat.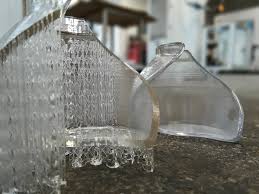 After printing, the uncured resin must then be removed from the surface of the part. Resin removal of SL parts has typically been accomplished using isopropyl alcohol (IPA) or other volatile solvents, but the DEMI 4000 changes that with its brand new PLM-403 chemistry.
PLM-403 Chemistry
The DEMI 4000 uses PLM-403 (a recent upgrade from their PLM-402), a new solution that is safer to use, has slower evaporation and saturation time.
Longevity
PLM-403 lasts longer than typical detergents. According to PostProcess, "As a result of testing capacity by weight of resin in solution at 10 minutes, 403 not only had better longevity than all typical solvents (IPA, TPM, DPM), but it also had a 6% improved longevity versus our previous solution, 402." Not only does this reduce the downtime of swapping out old detergent for new, but the uncured resins (that are considered hazardous and costly to dispose of) are also cut back reducing overall waste. To determine and track your detergent's longevity, PostProcess provides a Hydrometer solution that indicates the amount of resin saturation.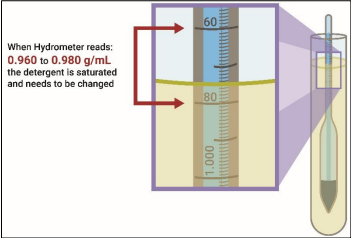 Safety
Safety measures are of the utmost importance when dealing with hazardous material. In addition to PLM-403's longevity (reducing the frequency of disposal), 403 has a higher flashpoint than its predecessor 402 and IPA resulting in it being grouped in the "non-flammable liquid" category.
Storage
It's common for there to be limitations on the amount of flammable/combustible resin removal liquids that can be stored at certain locations. Since PLM-403 falls into the "non-flammable liquid" category, thanks to its heightened flashpoint, it can be stored in much larger quantities than other resin removal chemistries that are considered flammable or combustible.
How does AUTOMAT3D Software & Submersed Vortex Cavitation (SVC) work?
As we mentioned above, PostProcess machines use their proprietary agitation algorithm to create pre-programmed recipe formulations that get rid of the guesswork so you get consistent results with your desired finish at the touch of a button.
According to their website, "AUTOMAT3D is intended to design an optimal cycle for specific parts, based on part data received and historical data from internal lab testing. It monitors and controls all process variables based on selections made by the user such as cycle time, temperature, and agitation level. What makes AUTOMAT3D special is the variance allowed, which is configurable by the user. It gives you the ability to cast a wide net or focus on a specific type of part. You can learn more about AUTOMAT3D here .
PostProcess offers two types of systems for support and resin removal: spray systems and submersion systems. The DEMI 4000 (as well as the DEMI , FORTI , and CENTI ) are submersion systems that utilize PostProcess' Submersed Vortex Cavitation (SVC) technology.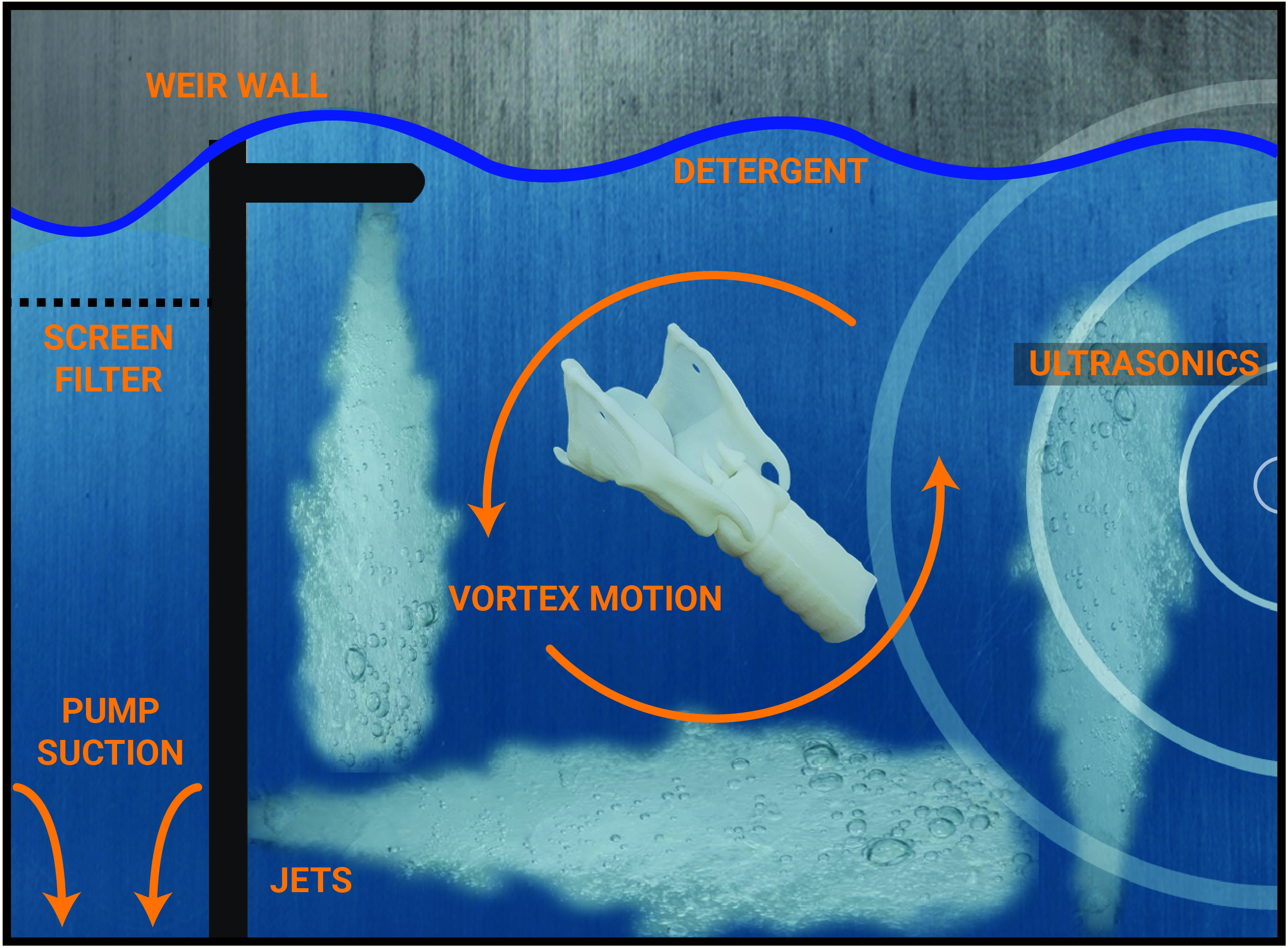 How does it work? A 3D printed part gets fully immersed and suspended in detergent. Then, the vortex swirls the fluid around to create a tumbling effect through a strategic pumping scheme. Finally, the formation of vapor bubbles creates high-frequency pressure waves to break loose resin and support material.
DEMI Family
More PostProcess Solutions
Not only does PostProcess offer support and resin removal systems, but they also have machines for automated surface finishing as well as a hybrid machine called the DECI Duo.
To learn more about the DEMI 4000 or any other PostProcess system, please contact us .
Editor's Note: This artical was originally published in November 2020 and has been been updated for accuracy and comprehensiveness.