"Alexa, what's my schedule for the week?" Technology is continuously evolving, allowing us to manage our day-to-day lives and personal schedules by opening an app on any device, anywhere, and at any time. From grocery lists and tee ball schedules to mortgage payments and service subscriptions, all of these details are accessible on demand.
So, what if you could have this same sense of controlled access with the tools you use professionally? GoEngineer customers can access all of their assets and more through the GoEngineer Customer Portal. This customer portal eliminates downtime spent searching your inbox, visiting multiple websites, and time spent communicating requests from other departments.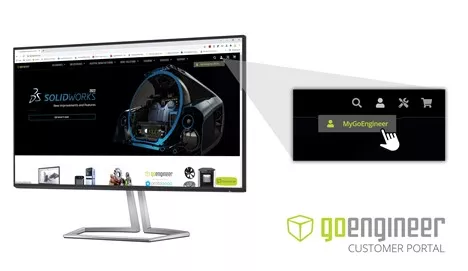 Dashboard - Where Do You Want To Go?
When you enter the Customer Portal, you'll see a dashboard with basic information to help you find what you're looking for. Here, you see notifications from the GoEngineer Community, Training notices, Tech Support Case statistics, and any upcoming Billing details.
Below that, you'll see the contact information for your account managers and your customer success managers. These are your go-to contacts for help with adding licenses, questions about the Portal, and managing your relationship with GoEngineer.
The final two sections of the dashboard are the Recommended For You section and your Application Mentoring Sessions. Our recommendations feature upcoming events, top SOLIDWORKS Forum topics from the GoEngineer Community, and featured blog articles. The Application Mentoring Sessions are a complimentary perk of having an active subscription with GoEngineer. Every customer receives four of them per year (generally scheduled once per quarter) and they're an hour you have to talk with an Application Engineer about modeling, simulation, manufacturability, strategy, and more.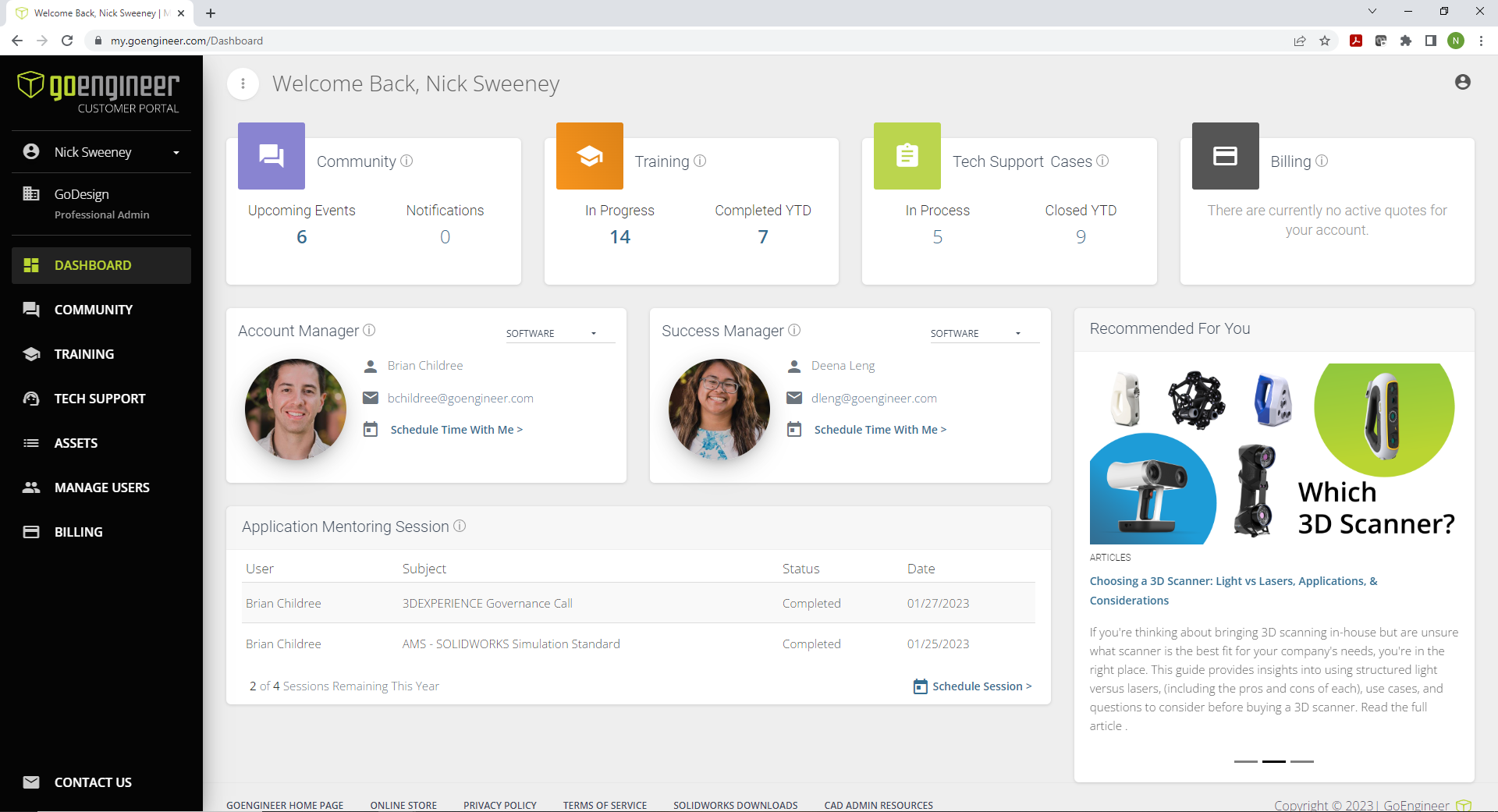 The Customer Portal also has a link to the GoEngineer Community. The Community is a home for engineers from any walk of life to interact with each other via forums, clubs, and messaging. It's constantly monitored by the GoEngineer team and it's free for anybody to join. All you have to do is create an account and you'll be on your way.
Manage Your Enrollment in Self-Paced Training
Do you want to take SOLIDWORKS training but can't get away for a few days to take a class in person? Maybe you want to take a class on your own time and be able to pause lessons part of the way through? If this sounds familiar, GoEngineer offers self-paced, on-demand SOLIDWORKS training that you can enroll in directly from your Customer Portal account.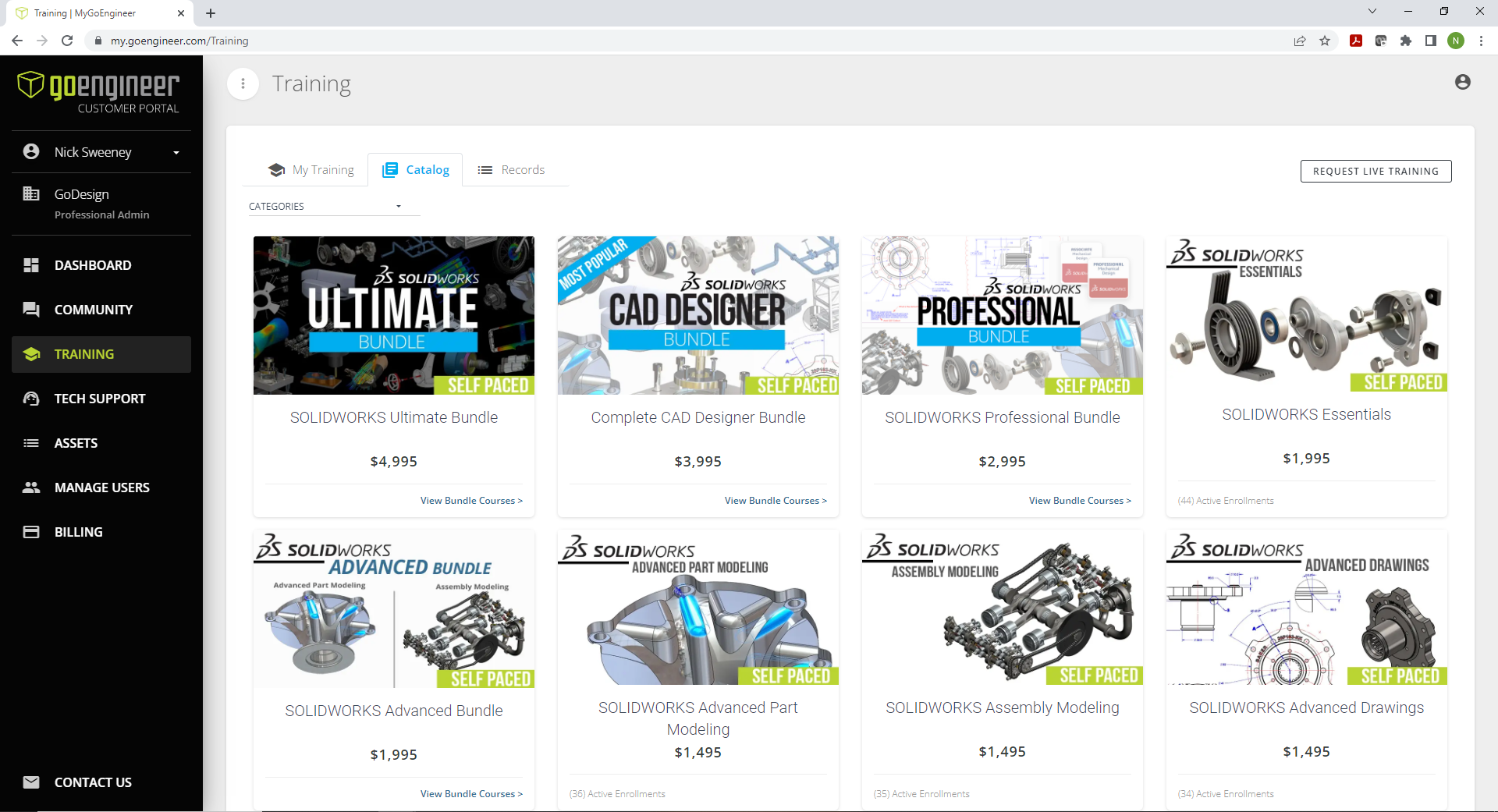 These courses are the same as the courses we offer through in-person classes. They're just pre-recorded to give you the flexibility you need to take the course on your own time. The Portal gives you a convenient place to manage what courses you're taking, and the courses your team is taking, and gives you the chance to pause them at any time.
Technical Support Case Management
The GoEngineer Customer Portal also allows users to create and participate in technical support cases and review and track support history. When opening a support case, users will be assigned a Support Engineer and a case number. You and your Professional Administrator can monitor the status of your case and the additional actions required to close the ticket.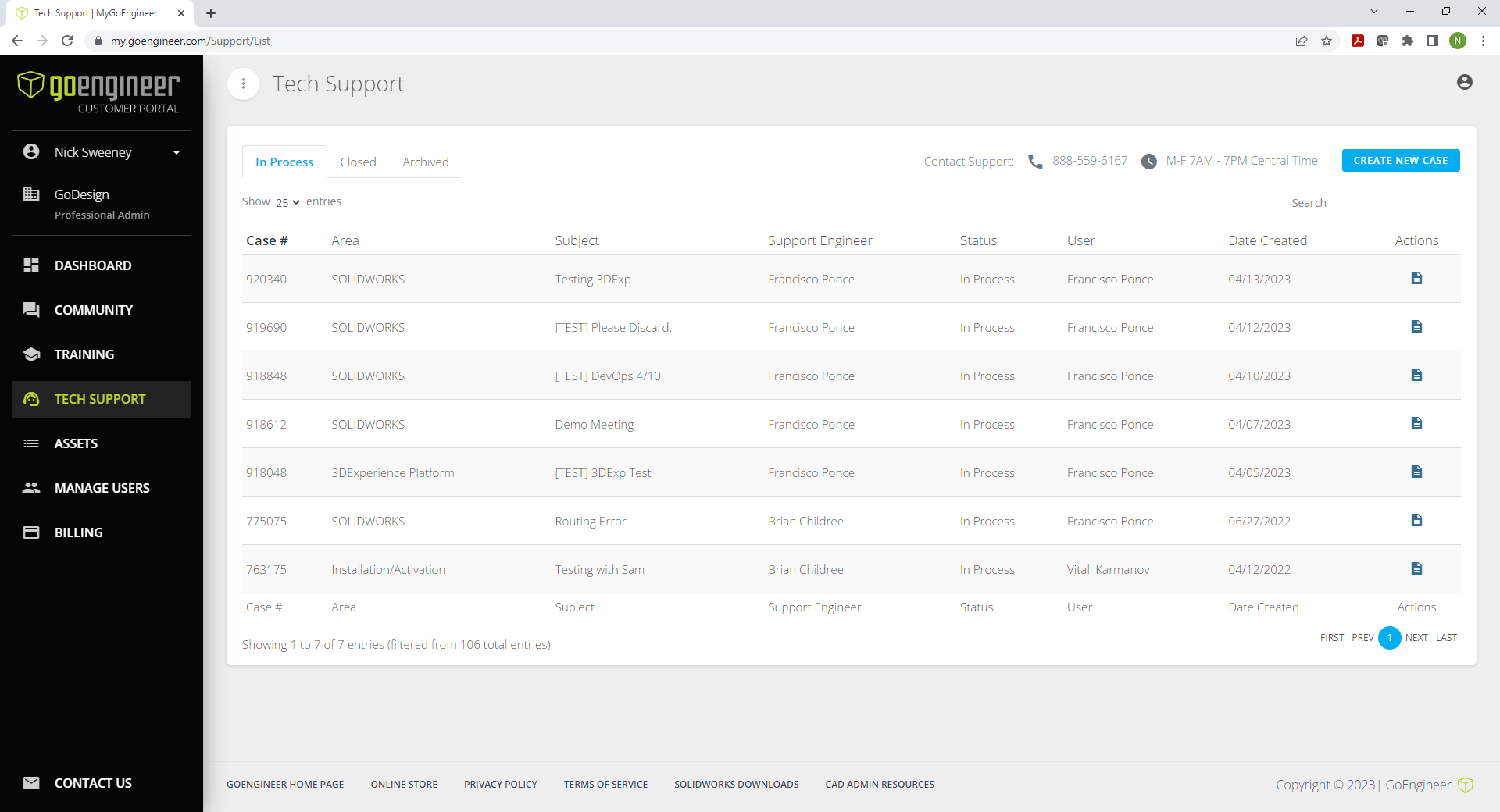 Professional Administrators can also manage which users have access to certain information such as technical support, serial numbers, billing and shipping information, or other details tailored to their role.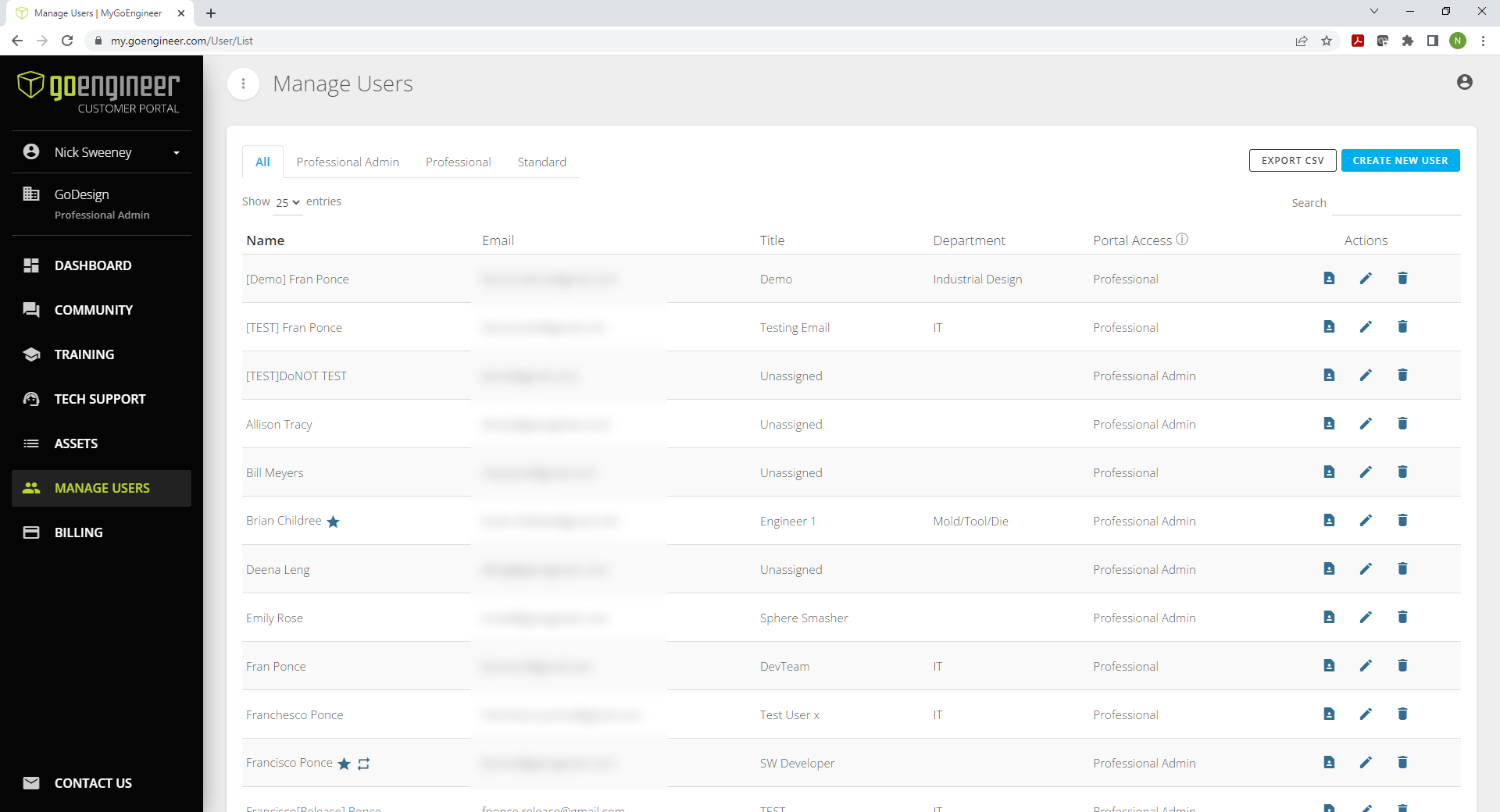 A final place the Professional Administrator is going to be active is in the Assets tab. Under assets, you can see any licenses that your company owns through GoEngineer. This includes SOLIDWORKS, 3D Printers and Scanners, 3DEXPERIENCE Platform roles, and more.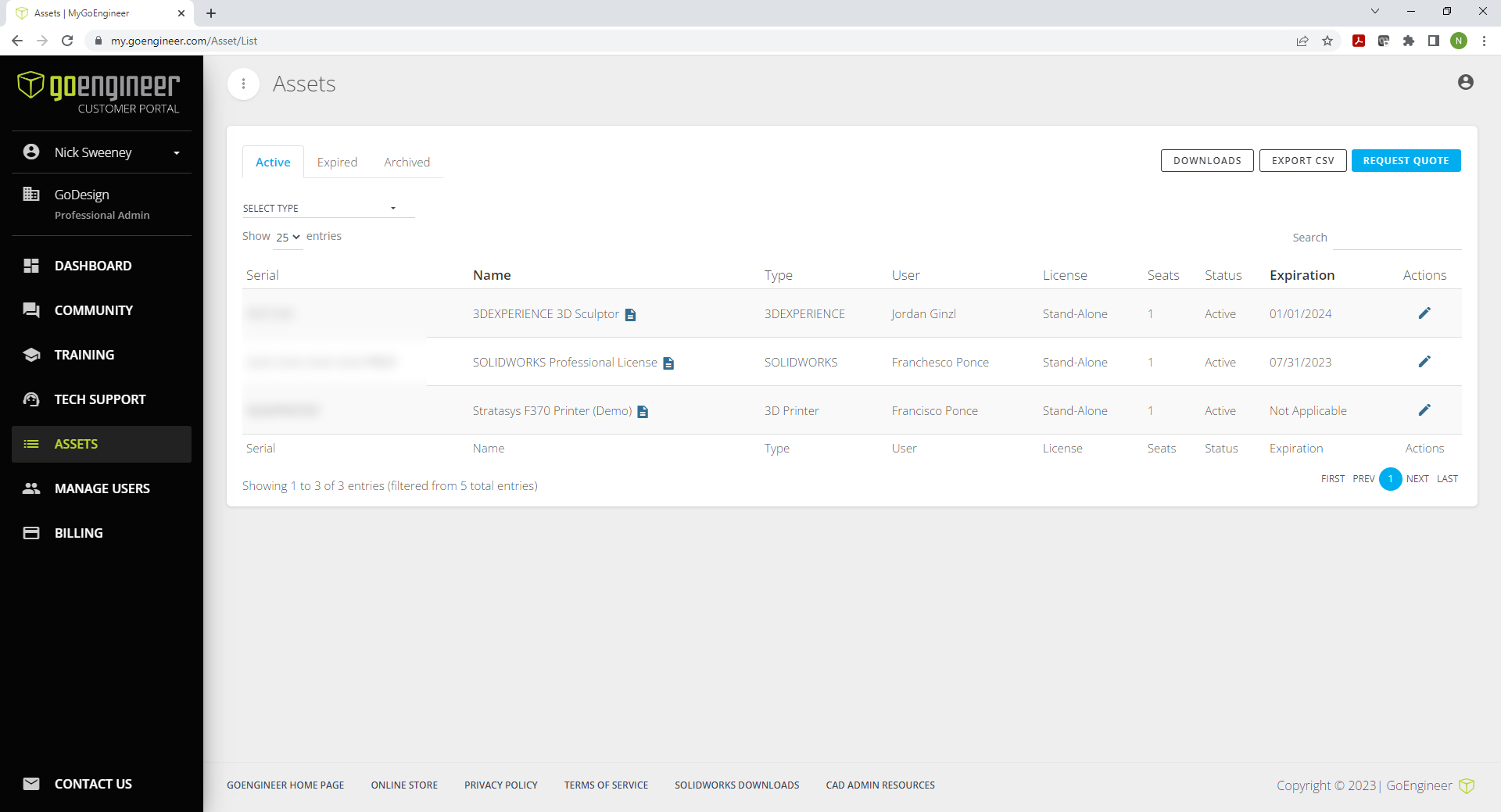 The Administrator can manage who is assigned to these licenses and can easily retrieve serial numbers and asset lists. One thing to note, however, is that updating the asset assignment on this page does not update the license itself. This is a list that the administrator maintains and is separate from the SOLIDWORKS Asset Manager.
Billing Information & User Enhancements
Finally, you can quickly see a snapshot of active renewals, easily access invoice history, and edit or view important company billing information details all in one place without the need to communicate with other departments in your organization. The billing tab gives you easy access to everything you need to keep up to date on your renewals.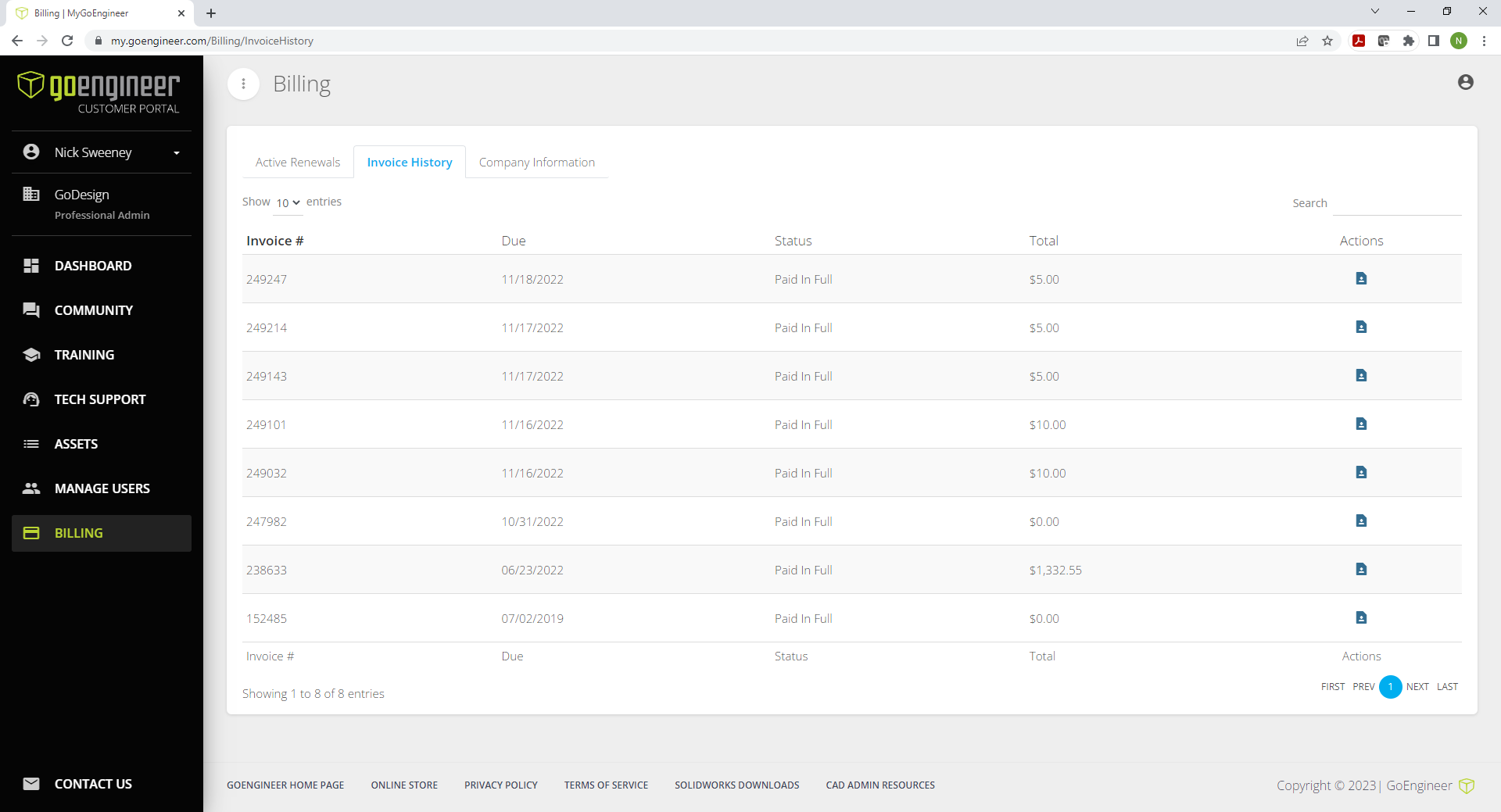 The GoEngineer Customer Portal is constantly evolving as we find ways to fine-tune it to meet our customer's needs. The feedback option allows our customers to share enhancements and information they would like to see in the future to improve their user experience.
Questions?
Want to know more about the GoEngineer Customer Portal? Please contact us.
Editor's Note: This article was originally published in November 2021 and has been updated to reflect new capabilities for online training.