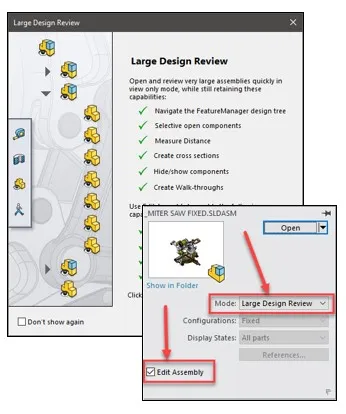 If you haven't discovered it yet, SOLIDWORKS has a great feature that can greatly increase the performance when evaluating large assemblies. It's SOLIDWORKS Large Assembly Design Review Mode. When activated, this feature loads models quickly and allows users to manipulate, measure, and section models to accurately review designs.
Last year, SOLIDWORKS gave us the ability to edit these assemblies while in Large Assembly Design Review Mode (for rigid assemblies only). This increased the functionality of the feature significantly, allowing us to insert components and mates while taking advantage of the performance enhancements provided. We could now make changes on-the-fly during design reviews without having to exit Large Assembly Design Review!
In 2020, SOLIDWORKS has taken the editing ability a few steps further. We can now add mates to the Reference Geometry of components. Before we were limited to faces and edges. We can also now add or edit Linear and Circular Component Patterns, adding to our on-the-fly editing capabilities even more!
If you haven't yet discovered this awesome SOLIDWORKS feature, I encourage you to give it a shot, even if you're not performing an actual design review. Large Assembly Design Review Mode, coupled with its increased ability to make edits, allows for simple changes to large assemblies without enduring long opening times and slower performance.
Interested in learning more about what's new in SOLIDWORKS 2020, check out our collection of videos here.