PDM Administrators
Users of SOLIDWORKS PDM have the benefit of a convenient and familiar Windows Explorer-based interface. In addition, users have an extensive set of intuitive tools and features for managing, accessing and viewing PDM data. But what about PDM Administrators? What has SOLIDWORKS done to ease their burden and make their job manageable and easy to understand?
Fortunately, PDM Admins have not been forgotten!! SOLIDWORKS PDM is set up to make PDM Vault administration an efficient and intuitive task as well. Let's start with the PDM Administration Tool.
PDM Administrative Tool
Many sophisticated enterprise business systems require complicated programming or the use of expensive third-party software in order to configure them so they meet a company's needs. This is not so with SOLIDWORKS PDM. The PDM Admin Tool provides a well-designed and easy to understand platform for setting up your company's vault. All of the features of a PDM Vault are available as nodes in a configuration tree, logically arranged so everything is easy to find.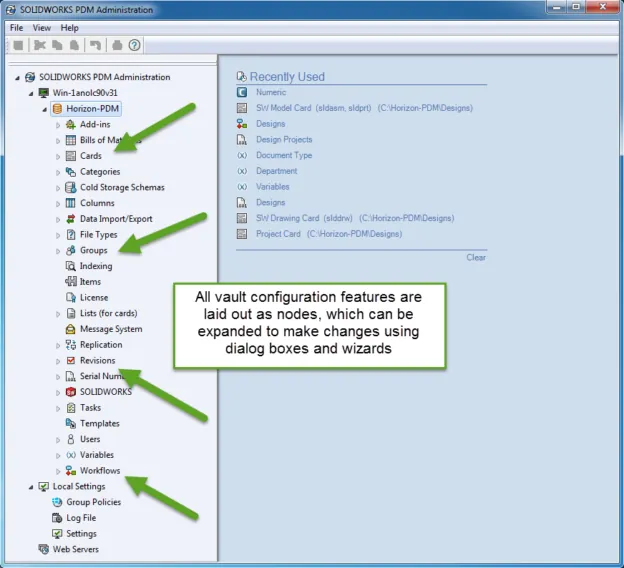 If you are looking to add a property for a given filetype, just open the Variables node and enter the name of the property (add file mapping if desired).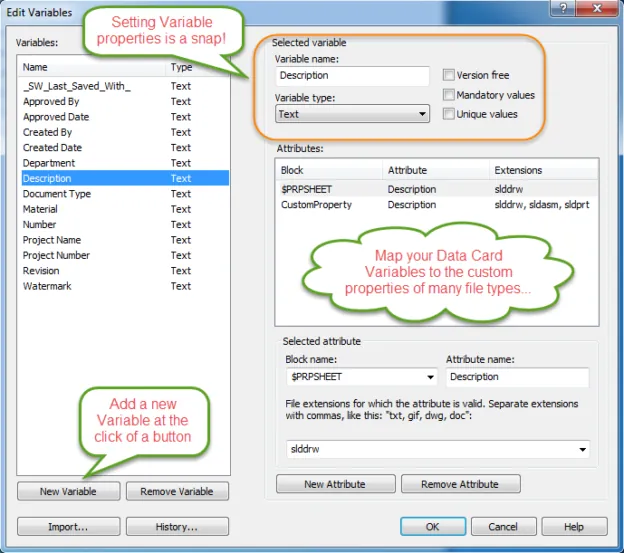 To place that variable on a Data Card, just open the Cards node, select the card and edit it using the WYSIWYG drag and drop interface of the Card Editor application.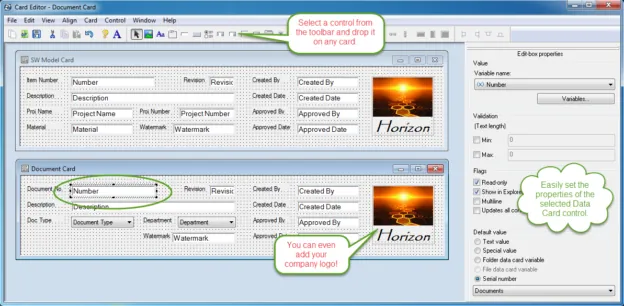 Are you wanting to create or modify a User Account? Simply open the Users node and activate the dialog box for the user in question. You can also set or remove permissions for the user in the very same dialog! Groups for users can be created and modified in the same way from the Groups node.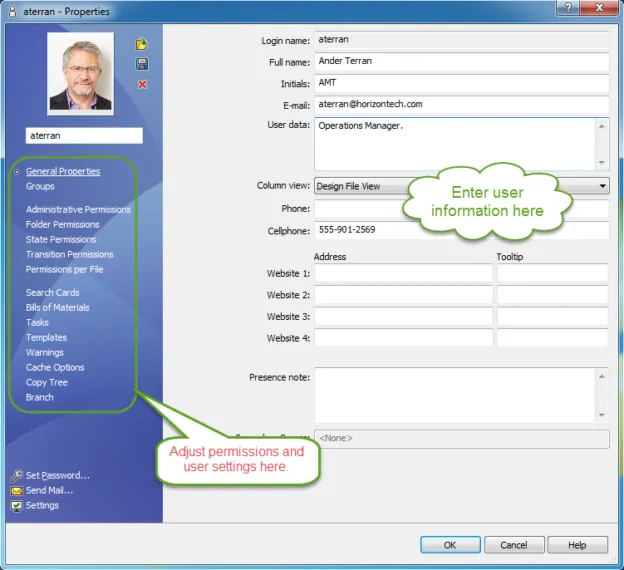 To create or modify a Workflow, simply select it from the Workflows node and take advantage of the intuitive graphical interface of the Workflow Designer. From here, you can create Workflow States and Transitions quickly and easily. Just click on a Workflow element to set its many properties and features.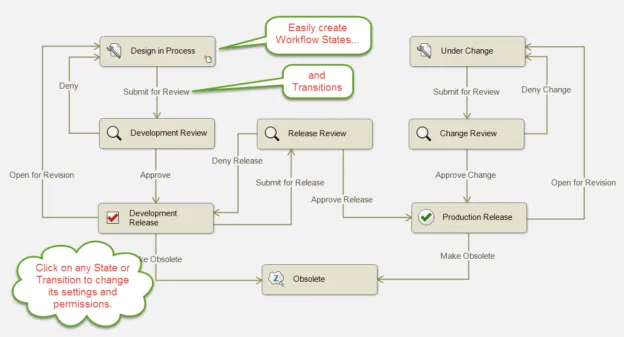 Creating or modifying Revision Schemes, Automatic Part Numbers, Bills of Material and Categories is also just this easy – no programming and no third party utilities needed!
SOLIDWORKS PDM brings the task of Administration squarely into the 21 st Century by providing a simple to use, easy to understand way to find and modify critical vault elements. Whether you're looking to create a new vault configuration from scratch, modify or update an existing vault configuration, or just handle the normal day-to-day Admin tasks such as creating new users or tweaking permission settings, the SOLIDWORKS PDM Administration Tool has all the features you need to be successful in a convenient graphical interface.