What is DraftSight?
DraftSight is a professional-grade 2D solution for creation, editing, and markup for 2D drawings and design. For those that remember the 2D Editor SOLIDWORKS used to provide, DraftSight is a far superior replacement that looks and feels like a traditionally expensive 2D CAD package.
What is the advantage(s) of using DraftSight over other 2D CAD packages?
It has a familiar user interface, short learning curve and easily transitions files and workflow from your current legacy 2D data.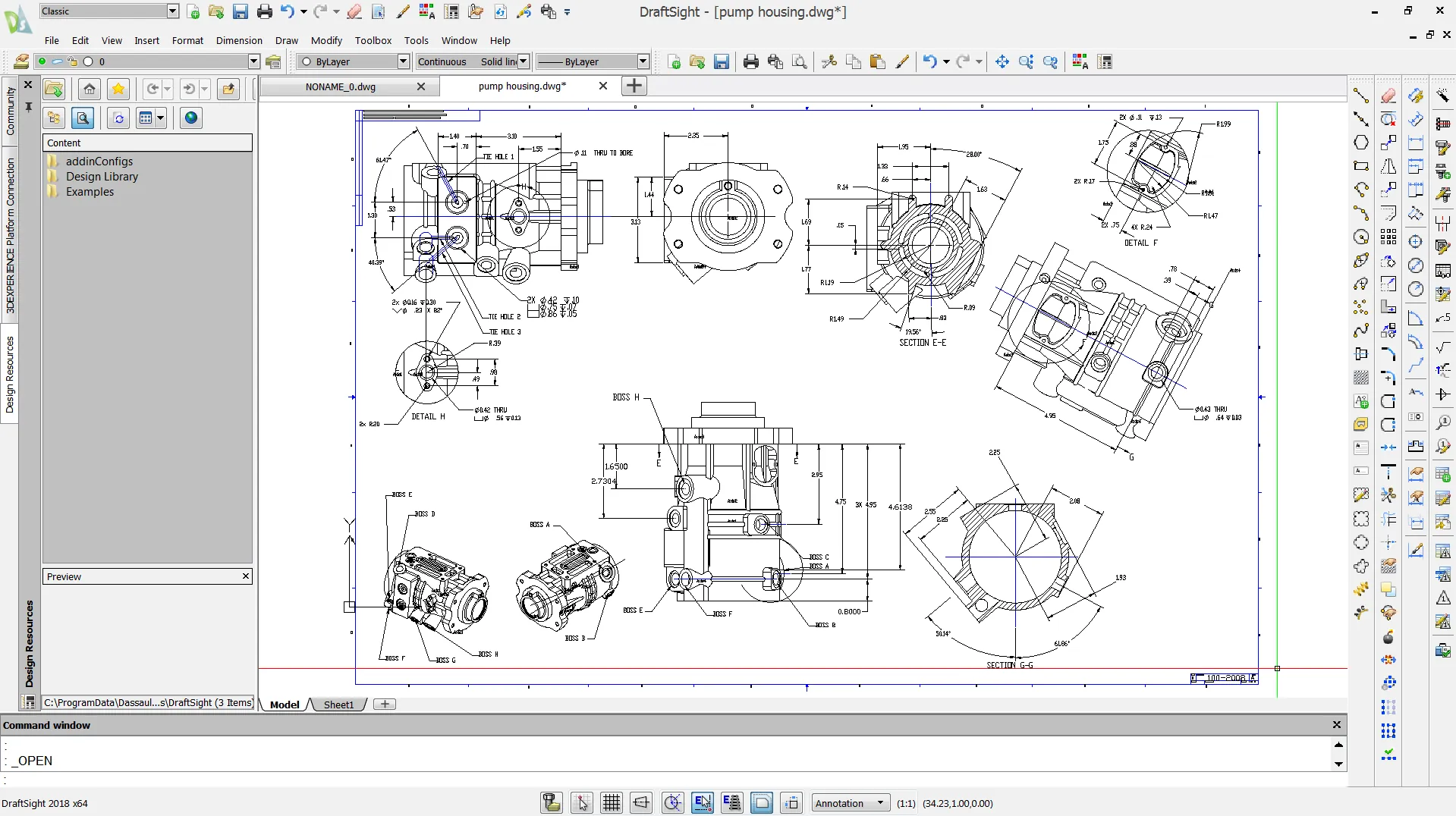 What are the differences between DraftSight Standard, Professional, Premium & DraftSight Enterprise &plus?
Download and Installation
What are the recommended download and installation settings for any DraftSight version?
Settings before starting any download and/or install of SOLIDWORKS products…
Wide open read/write permissions to the computer and entire registry
Turn off firewalls
Turn off ALL antivirus, malware detection etc.
Turn UAC(user account control) down or off
Shut down all other programs especially MS Outlook
Run as administrator for the setup (right click with mouse button on the setup.exe)
Add an exception for 3DS.com in all Antivirus-Firewalls-Email
What are the DraftSight system requirements?
Learn what those requirements are here.
How can I access Technical Support for DraftSight?
Options will vary based on the product level. Contact GoEngineer or your local value-added reseller for details. Also, see here.
Transitioning from 2D to 3D
I'm about to start using 3D CAD (SOLIDWORKS) for newer projects. Is there a way to use any of the 2D drawings to convert them into SOLIDWORKS?
Yes and No. There's no 'push-a-button-and-make-it-happen' solution. Depending on the geometry, you can utilize our 2D to 3D tool (included with all SOLIDWORKS packages). With a little user input, SOLIDWORKS can calculate what the 3D model should look like based on three 2D views. Here is an example of how this tool is used.
Many people find that once they enroll in our 4-day Draftsight Information class, it is faster to simply model it in 3D from scratch.
What file formats does Draftsight support?
Draftsight supports both DWG and DXF and both of these formats are also compatible with SOLIDWORKS.
I've been using another 2D CAD package for 20 years. Now my company is transitioning to SOLIDWORKS. What does the learning curve look like if I have to learn Draftsight too!?
Transitioning to new software can be daunting, but Draftsight offers a familiar User Interface with a command line, command shortcuts, snap grid, and more. It will not only be easy to use, but it will be easy to collaborate with other CAD users.
To get a jumpstart in SOLIDWORKS, our Training Classes are available in a classroom setting or online You also get a manual to keep and refer to for future projects. When you leave class, you'll have the knowledge to create parts, assemblies, and drawings. You'll even learn some cool introductory FEA capabilities! You can leverage SOLIDWORKS to design and develop new products, and meanwhile, lean on Draftsight for legacy data changes/needs.