Have you ever wanted to use a font in SOLIDWORKS that isn't appearing in the font list? Or have you received a file from an outside source but get this warning when opening the file? Installing the font you want or that is used in a particular file is a fairly simple process. This article will go over tips for how to install and troubleshoot fonts in SOLIDWORKS.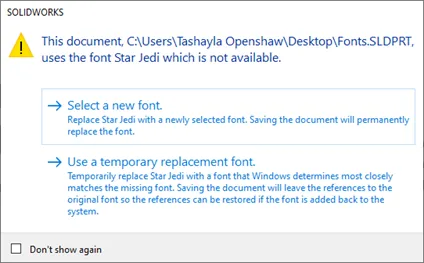 Font Types Used by SOLIDWORKS
SOLIDWORKS does not work with all font types, but there are two different types of fonts, True Font Type and Open Font Type, in which the software will. SOLIDWORKS primarily works with True Font Types; these font files will have the extension '.TTF'. This type works in part, assembly, and drawing files.
The Open Font Type extension is '.OTF'. Some of these fonts can be used in part and assembly files, but not in drawings. It's best to take the safe route and stick to using '.TTF' font files.
Installing a New Font
Once you have found the font you would like to use, download the file on your computer. Once downloaded, the file will need to be extracted (unzipped) to have access to the .TTF file. To install the font, double-click the .TTF file to open it, and there you will see the option to install.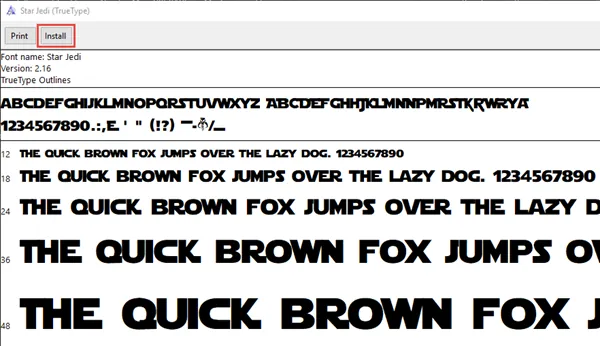 When the font is installed, it will now appear in your Windows fonts. To get there go to the Windows Control Panel (Start > Control Panel), and there will be a Font folder and the new font will appear in there.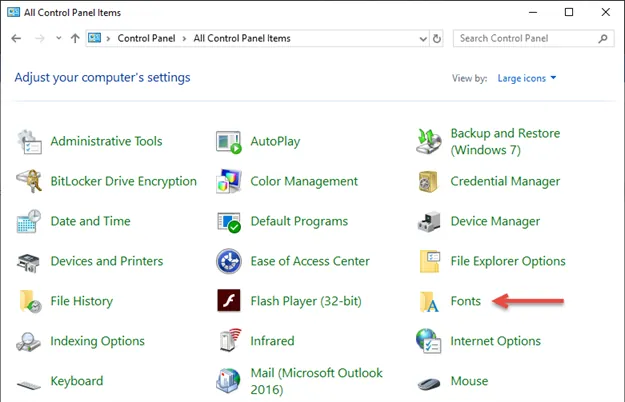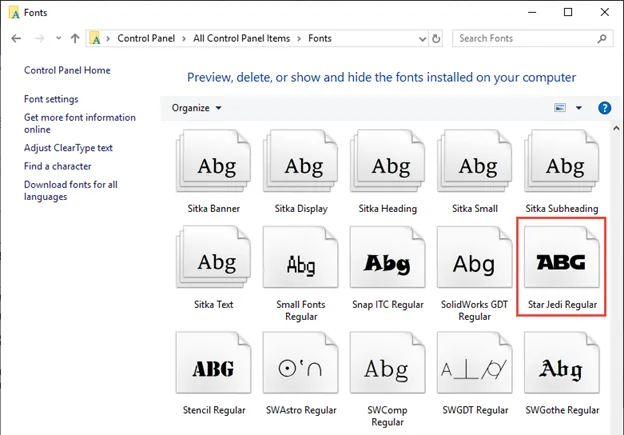 You should now be able to use the font in SOLIDWORKS.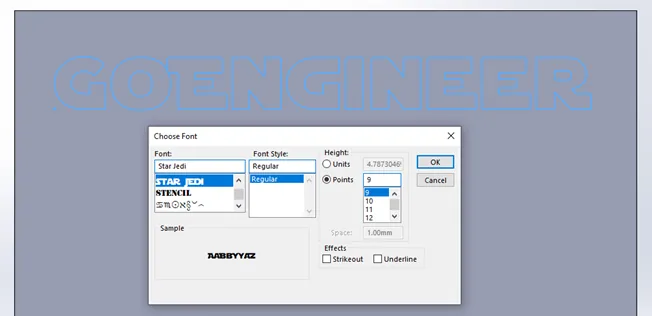 Unable to See a Font in SOLIDWORKS?
If you are unable to see the font inside SOLIDWORKS, the font file may be "hidden" in the Fonts folder. This can be checked by going to the folder (Start > Control Panel > Fonts), if the font is "hidden" the icon will appear lighter, as shown below.
To get it to show, right-click on the file, and select 'Show'.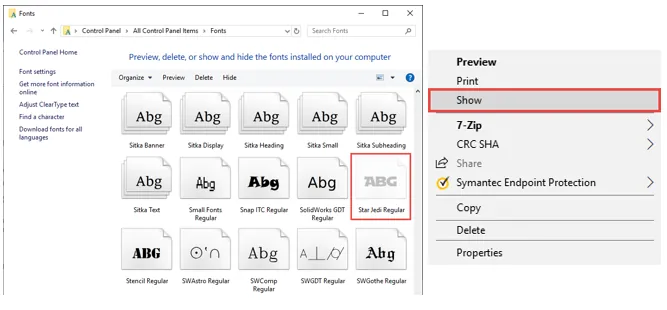 Single Line Fonts
Most machinists prefer working with single line fonts because they play nicely with CAM software and CNC machines, however, they aren't ideal when designing parts/assemblies. These font types cannot be used to create features within SOLIDWORKS as they consist of single lines. These are things to consider when using fonts in SOLIDWORKS.
Something to Keep in Mind
When sending someone a part, assembly, or drawing with a unique font, it is likely that they will not have the font installed on their computer. If this is the case, they will get the warning message as seen above. To avoid this issue, make sure to send the font file with your documents.
I hope you enjoyed this SOLIDWORKS tip, for more tutorials and best practices, check out more of our articles below.
More SOLIDWORKS Tutorials
Missing Cosmetic Threads and How to Fix them
How to Use the Import Diagnostics Tool