SOLIDWORKS Composer 2020 – MP4 Support
If you are like me, the traditional AVI output for Composer animations is nothing but headache after headache. SOLIDWORKS Composer 2020 now supports animation output in MP4 format, so there won't be a need to find a (free) translator online and convert the AVI down to a reasonable size. Also, since AVI format is still 32-bit based, it would corrupt itself and be un-playable if the size got over 2GB! MP4 will allow you to make larger and longer animations without jumping through any hoops that were necessary with AVI's!
SOLIDWORKS Composer 2020 – 360 Degree Captures
Working with both technical illustrations and high-resolution images, a series of images can be easily created orbiting around your Composer geometry. You can find this function under the "Multiple" tab in the Technical Illustration and High Resolutions workshops. One thing to note, upon testing this function I found that jpeg was the only supported format when creating 360 Capture in the High Resolution workshop.
Basic Attach Type for Annotation
I have done quite a bit of training for Composer. During the training we talk about creating new Styles for annotations since NO ONE likes the stock one. Now in 2020 when using annotations, there is a new Attach Type called Basic that will remove the box and background in one click. YAY! See below for a quick example of what it looks like:

BOM Changes
A new BOM table property lets you display only the table entries for geometry that has visible callouts on them. This will help when using a BOM table with multiple views and allowing the table to easily adapt to what is shown in the view. Prior to this new Composer functionality, it required jumping through a bunch of hoops. BOM tables are looking better now!
The BOM callouts have also received an upgrade! Now it is possible to turn on Exponents in the callout properties. This exponent property will put a number that signifies the quantity in the BOM. I have had to do this in the past and it entailed creating an annotation and hand typing a value in. If anything changed, I had to manually update the quantity. Now the quantity update is automatic. Here is an example of the property and what it looks like:

Arrow Inlaid Text Property
Finally, there is an additional property for straight Arrow's. The new property will allow you to add text on top of it, like the image shows below: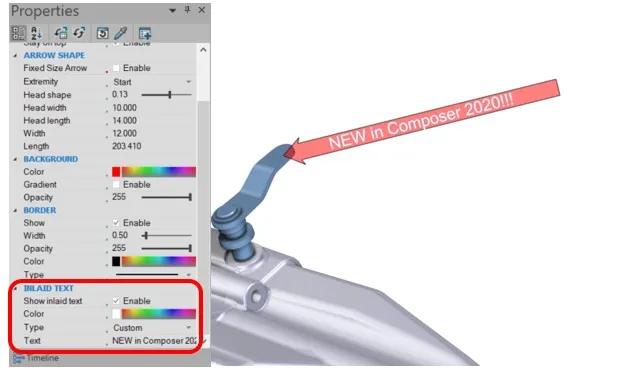 The inlaid text is sized to the width of the arrow itself. As stated previously in this blog, the new function gets us away from creating a separate annotation and manually adjusting it. As of now there isn't any support for circular arrows, maybe 2021…
These additions are helping Composer stay ahead of the competition and make it easier to generate technical illustrations leveraging your 3D geometry. Thanks for taking a moment to find out about What's New in Composer 2020.
Interested in learning more about what's new in SOLIDWORKS 2020, check out our collection of videos here.