There's a gap in the marketplace around end-use 3D printed products on aircraft. In the not too distant past, each additively manufactured (AM) end-use aircraft component—regardless of AM method—had to be qualified individually. To build 100 aircraft with a 3D printed component you had to individually qualify each printed component or 100 qualifications.
This long, drawn-out process essentially made it cost-prohibitive, if not impossible, for the economics to make sense. Even if the part is not flight-critical, the FAA still requires specific documentation and controls before any component can be used on aircraft.
Aircraft Interiors Certification
In conjunction with the National Center for Advanced Materials Performance (NCAMP), Stratasys created an FAA-recognized certification framework that enables the reproduction of a single part after qualification of just one part. This is a huge opportunity for aircraft component manufacturers to save time and money using additive manufactured end-use parts that are non–flight-critical.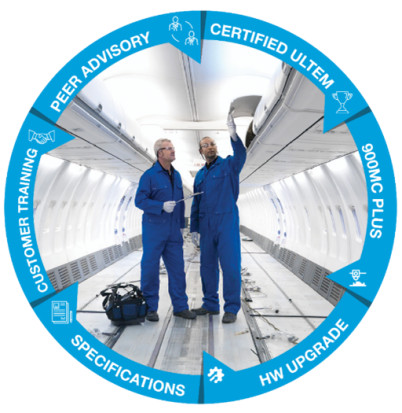 Related Article: GoEngineer Brings 3D Printing to Michigan
In the process of certifying additive manufactured parts for use in non–flight-critical applications, Stratasys had to make material, software, and hardware modifications to consistently meet FAA standards.
Certified ULTEM 9085
Stratasys uses the designation "certified" ULTEM 9085 to indicate that the quality management system governing the creation of the material, using a controlled specification and process, has been audited and approved by the FAA.
Certified ULTEM 9085 filament is produced in smaller batches, is more frequently tested, and is accompanied by additional documentation. Resin lot changes require complete cleaning of extrusion equipment to provide absolute lot identification and eliminate the possibility of cross-contamination between material lots.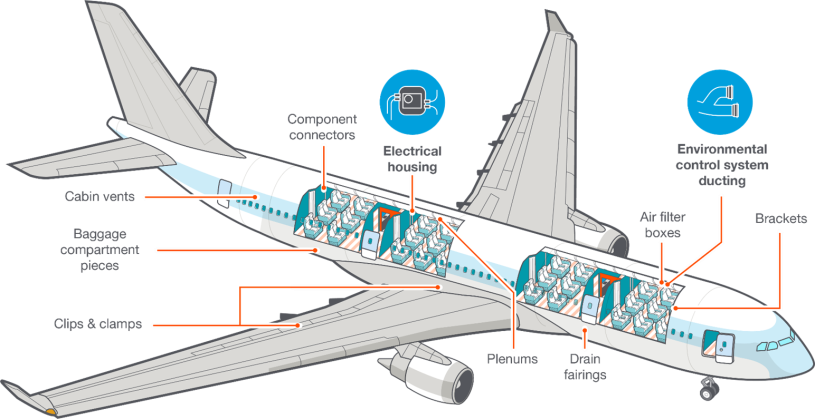 Aircraft Interiors Configuration F900
There are also software upgrades to the motion controls in the F900 3D printer. Within the framework is the required Aircraft Interiors Configuration F900 Production System; this upgraded system produces consistent build results necessary to show equivalency to the ULTEM 9085 resin design allowables dataset.
Related Article: Stratasys - 2019 New Product Announcement Conference
It also provides improved material characteristics over the original configuration. An important element is the Process Control Document that provides the procedures for validating proper system operation prior to equivalency testing.
The Future of Additive Manufacturing in the Aerospace Industry
The Aircraft Interior Certification Solution gives aerospace companies the tools and process for achieving certification of additively manufactured parts for aircraft installation using NCAMP-qualified ULTEM 9085 resin material. The Solution creates a clear procedure for part certification so companies don't have to create their own set of design allowables. Instead, companies only need to show equivalency to a much smaller test lot using the Aircraft Interiors Configuration F900.

Companies can expect to save significant time and money, and accelerate the implementation of certified additively manufactured parts. Please contact us for more information.