For the uninitiated, BattleBots is a robot combat competition, which in 2018 aired on the Discovery and Science channels. Participants design, build, and operate 250 lb remote-controlled armed and armored machines designed to fight in an arena combat elimination tournament.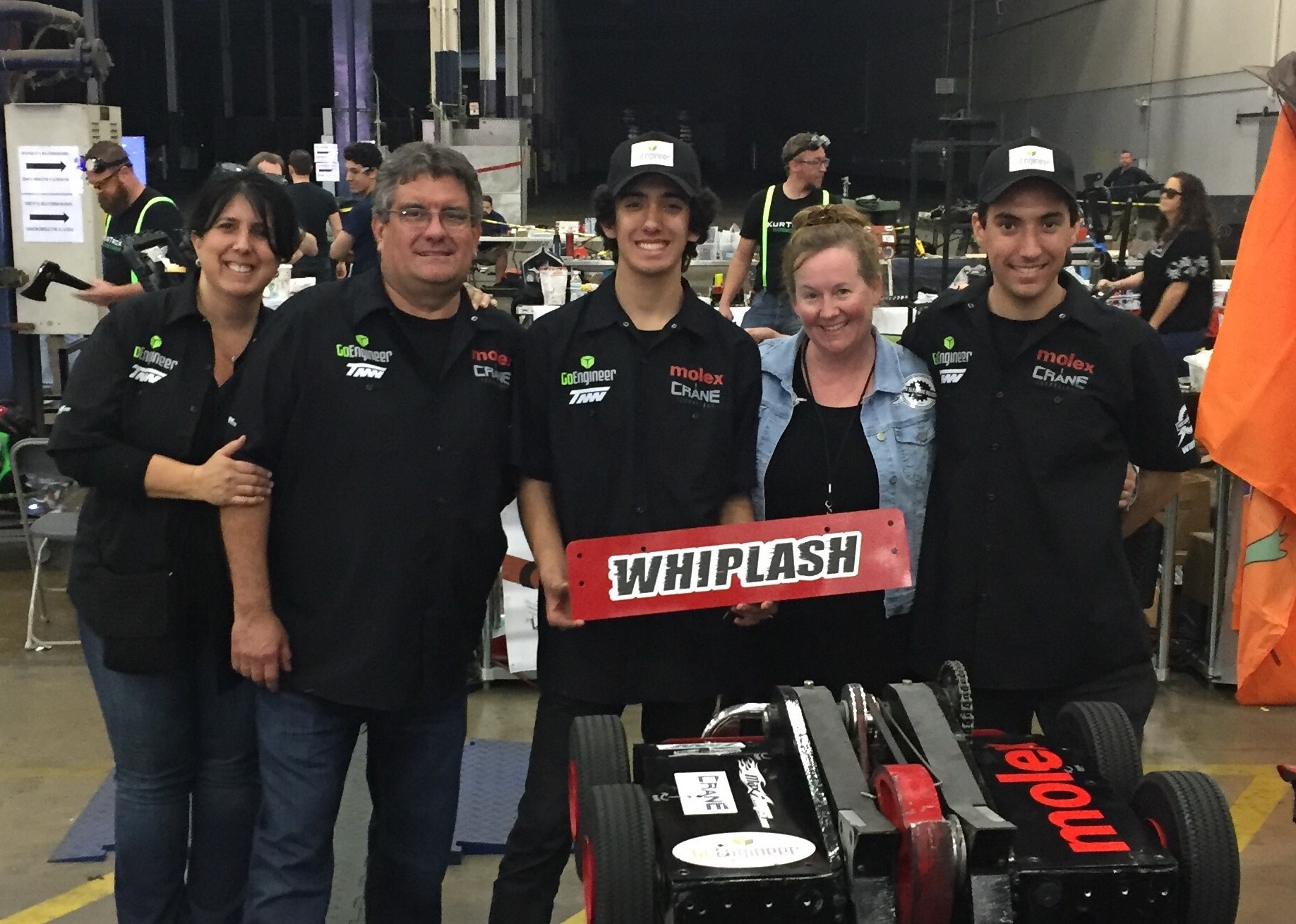 Enter the Vasquez family: Mom, Dad, Matthew, and Jason. GoEngineer has been following their robot building adventures since 2016. (Deb Bell, marketing manager at GoEngineer, pictured here with the family.) This year was especially exciting. Their team, Fast Electric Robots, made it to the BattleBots World Championship semi-finals and earned a highly coveted award in the competition with their robot "Whiplash"—more on that later.
Even Faruq Tauheed, the ring announcer at the BattleBots competition was excited about Whiplash and Matthew Vasquez, its driver: "It [Whiplash] has done the impossible: bucked the Bronco and slayed a Yeti with a 19-year-old driver who's proven he's ready. The Vasquez family is in the big show at last. Ladies and gentlemen, it's WHIPLASH!"
That announcement (and many others) rang throughout the BattleBots arena introducing the GoEngineer-sponsored team at this year's competition.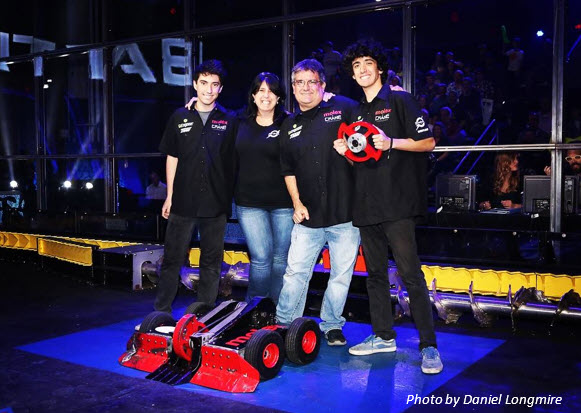 The Vasquez family, with its growing robot innovators, has been featured on the GoEngineer blog for several years. On Team Fast Electric Robots are Matthew Vasquez (CAD designer, builder, driver), Debbie Vasquez (mom, team manager) Jeff Vasquez (dad, team captain), and Jason Vasquez (co-designer, builder).
Win Some, Lose Some
This year Team Fast Electric Robots won 5 of 7 matches, four of which were knockouts. "We went up against some top-seeded robots and beat them," said team captain Jeff Vasquez. After proving themselves worthy in this year's competition, Whiplash was paired against one of the best—Tombstone, an insanely destructive robot known for demolishing everything in its path.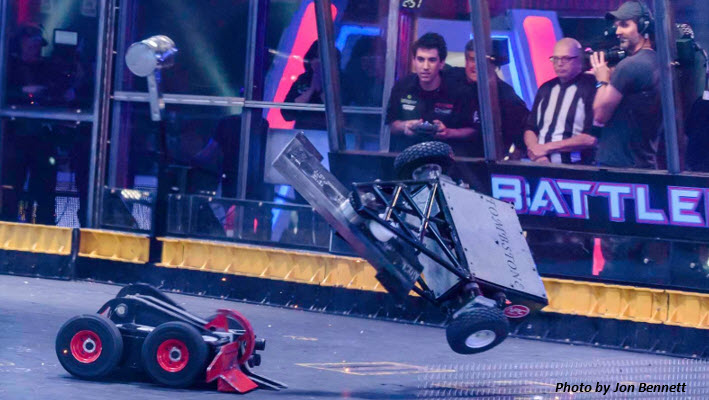 When the match began, things were looking good for Whiplash, as it withstood blows from Tombstone. However, the tide turned when Whiplash lost a tire and one of its two front wedges.
Even so, driver Matthew Vasquez managed to corral Tombstone into a corner and keep it there. But soon after, Tombstone tore off another of Whiplash's wheels and, after another hit, Whiplash was left stranded in the arena, smoking and motionless.
Tombstone won by a knockout.
Getting on the Map
"We put up an amazing fight. We felt like even though we lost, we won," enthuses Debbie Vasquez. "That fight put us on the map and earned us a huge following." Team Fast Electric Robots earned a place in this year's top 16 BattleBots tournament. They ended up placing third.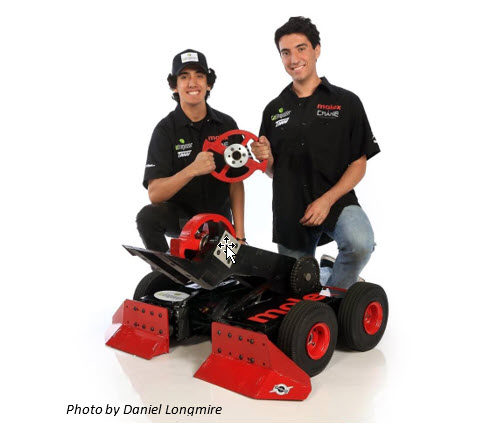 In a recent BattleBots poll, Matthew Vasquez' driving earned him the Best Driver Award for 2018. At age 19, Matthew was the youngest driver in the tournament, so it was quite an honor to be named the best of the best. "I never thought I would be voted as the best driver at BattleBots, it was really a dream come true," said Matthew Vasquez. "We are already looking forward to next season!"
More Opportunities
Younger brother Jason, age 17, is excited for his turn to drive. For now, he is the backup driver, but Jason will get his chance next year in a tournament (in Shanghai, China!) called King of Bots. Jason is collaborating with one of the international teams that will be competing at King of Bots. He was recruited to fabricate a 30 lb. robot to supplement the team's main bot; he's already designing it in SOLIDWORKS . "I am very excited to travel to China—it's going to be awesome," said Jason Vasquez. "It was an honor to be invited, and I'm really looking forward to driving in the tournament.
"Mom and Dad Vasquez are a bit worried about schoolwork, but both young men have already demonstrated they are willing to work extra hard to keep doing well in school so they can continue their adventures with robots. Matthew, a sophomore at Cal Poly Pomona is studying electromechanical engineering and Jason is a straight-A student and high school senior. "I told him we just need to make sure he graduates," laughs Debbie Vasquez. "These are opportunities you can't pass up."
Innovative Designers
Both young men are already adept SOLIDWORKS users, and sponsored private training classes from GoEngineer have been instrumental in helping them hone their CAD skills. And, this year their robot Whiplash, with vertical disk and lifter, was one of the most innovative and effective BattleBot designs at the competition.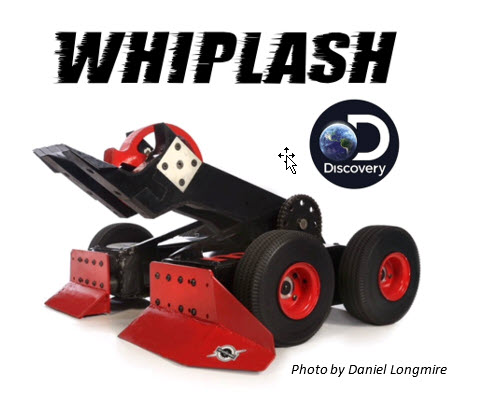 Matthew and Jason came up with the idea to design a vertical spinning blade in the lifting arm on their own. They can simultaneously flip the competition's robot, and pummel it with a spinning blade.
All designs were done in SOLIDWORKS. The brothers started with drawings on paper and then entered the design into CAD to see if it was viable. Perhaps without even consciously realizing it, these young men are participating in the product development process, from first crude sketches to final production. (All top-four finishers in this year's BattleBot competition were designed in SOLIDWORKS.)
Probably one of the most satisfying and exciting parts of the competition happened after the tournament was over. One of the creators of BattleBots approached the Vasquez family and exclaimed, "Welcome to the big leagues!"
GoEngineer is proud of Team Fast Electric Robots!
In honor of this year's robot, GoEngineer 3D printed several mini versions of Whiplash on a Stratasys J750 3D Printer and also made a fun video showing off the 3D printed models of Whiplash. Enjoy!
Related Articles
Engineering Students Gain Real-World Experience in Formula SAE Series Racing