General Session Recaps: Day 1 | Day 3
3DEXPERIENCE World 2021 Day 2 was filled with customer testimonials whose dreams turned into reality. Yesterday's theme was using the 3DEXPERIENCE platform to collaborate; today's theme is using the 3DEXPERIENCE platform to create experiences, not just products.
MC Tracey B. Wilson introduced Florence Hu, Executive Vice-President Research & Development, Dassault Systèmes, who gave an inspiring speech about the differences between a product and an experience, and how the transformation between the two occurs. She then welcomed us to "the age of experience."
According to Hu, our challenge is to "bring to life unique and memorable experiences." She discussed how this is being accomplished on the 3DEXPERIENCE platform and that in order to design a realistic product, you must create a "virtual world that mimics how [the product] will be used in the real world."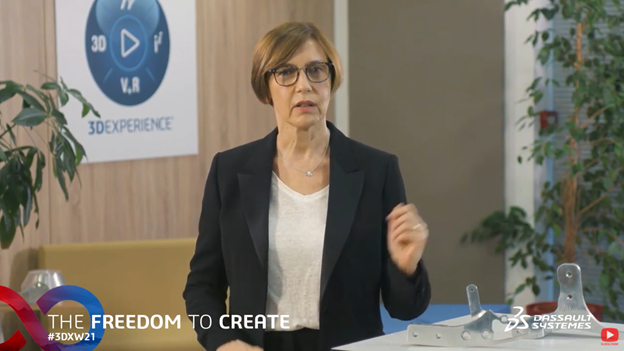 "In order to perfectly match the real world, the virtual world must be continuously improved and calibrated… reducing the distance between the virtual and real world."
Manish Kumar, SOLIDWORKS Research & Development Vice President of Dassault Systemes, proceeds to share with us three stories with three different companies and their experience using the 3DEXPERIENCE platform.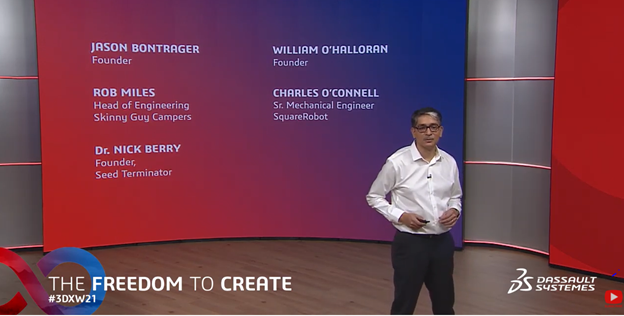 Manish Kumar, SOLIDWORKS Research & Development Vice President of Dassault Systemes, shared three stories with three different companies and their experience using the 3DEXPERIENCE Platform.
The first company story was from Jason Bontrager, Founder and CEO of Skinny Guy Campers. He shared with us his innovative design for a camper that mounts to the top of a truck. One of the challenges the company faced was making the camper universal among the many different types of trucks. They are almost ready to launch with their first production line, and they said that the 3DEXPERIENCE platform helped them because they had contributors in several states.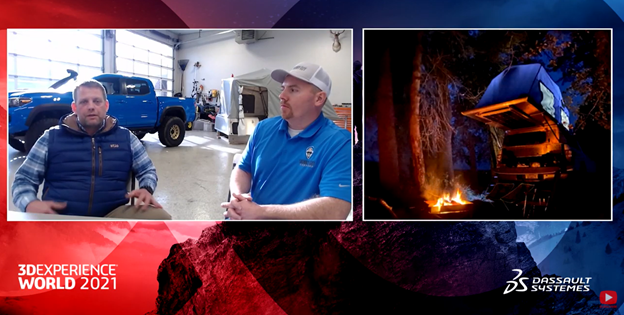 Returning from last year's event, Clipt is an autonomous lawnmower company. They use virtual whiteboards on the 3DEXPERIENCE platform to collaborate in real-time. The company uses a variety of different 3DEXPERIENCE tools, including 3D Mold Creator and xFrame.
Chris uses SIMULIA on the platform to run studies that ensure the design can hold up in the real-world, while Jane, from marketing, can create photorealistic renders using 3DRender.
Manish Kumar expresses, "3DEXPERIENCE… it is a complete solution. One of the key parts of the solution is an extensive and complete solution that is now available to you in a browser. Mechanical, mechanism, shape, sheet metal, molds, structure, 3D annotation-based documentation, size rendering, product documentation. All of it is available to you now."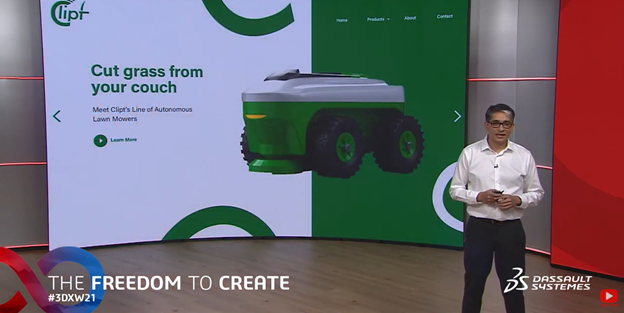 He also promises that these solutions will be enhanced rapidly and that you will get even more power this coming year.
Manish Kumar then welcomed Charles O'Connell and Will O'Halloran from Square Robots. The company was founded with the express goal of becoming the world leader in above-ground storage tank inspection - oil storage tanks specifically. They design, build, and operate an autonomous mobile robot that allows them to inspect oil tanks while they are still full of oil.
Will states, "This is a big change from how the industry was operating before." He also expressed that the company works towards the goal of a sustainable planet. Charles identifies the reason they chose to use the 3DEXPERIENCE Platform as being that they wanted their company to be completely cloud-based, so they needed a mechanism to store and organize CAD data in the cloud.
Charles says, "We looked to 3DEXPERIENCE to do that, and it has enabled us to synchronize our local CAD data sets over long distances." Charles works remotely, even before the pandemic, so they already had the requirement of connectivity for their entire team to collaborate effectively.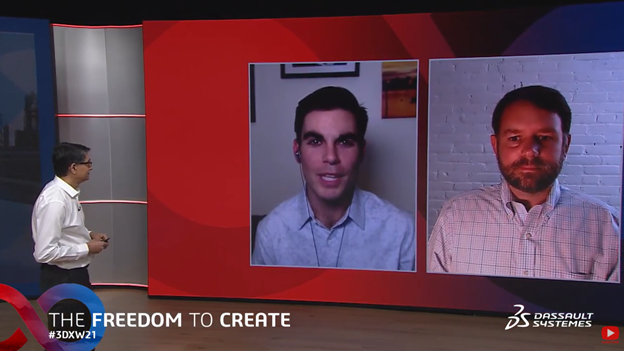 During the pandemic, I certainly did a significant amount of gardening, and this must have been on the mind of others as well considering that the next customer experience example was from another mowing company, RideOn.
RideOn's Zero-Turn Mowers are designed for "YOUR comfort" and to reduce mowing time. RideOn utilizes the various roles on 3DEXPERIENCE to collaborate and complete their projects, roles that can be assigned and managed remotely. "The whole team is able to stay connected through the entire product development process."
We were given a tour of each team members' role and the tools they use. One of the tools that stood out to me was the design improvement study, which helps the team to select the most efficient design, truly utilizing computer augmented design.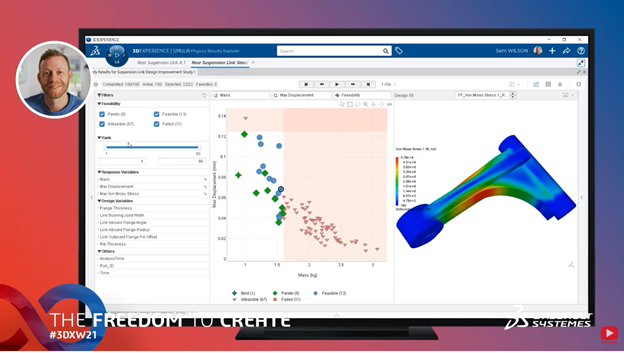 Manish Kumar then invited the next guest, Nick Berry, Founder and Director of Research & Development at Seed Terminator. Seed Terminator empowers farmers to leave their farms in a better state than they found it by preventing weeds from existing in the first place.
Seed Terminator chose the 3DEXPERIENCE Platform because it was "really the only choice for us," since the team started as a distributed team. Why would you limit your team to who lives locally when talent is distributed all over the world? Nick expressed, "I am really passionate about hiring the best people in the world for certain parts of design or development…. servers are old-school and this is really the future."
Concluding the customer stories, the third customer is about IDH Tractors. To continue to compete in a global economy, they have a globally diverse team. Another excellent example of being able to collaborate virtually, with the entire team having access to various roles on the platform.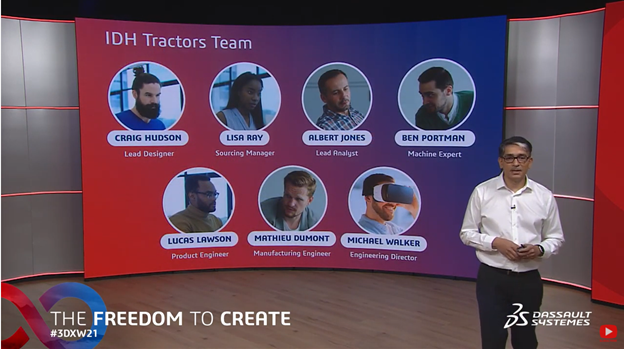 Next up was Frank Stephenson who took our imagination to new levels with conversations about running race competitions on the moon. He quoted Mario Andretti by saying, "If everything seems under control… you're not going fast enough." And he keeps this quote in his mind when he thinks about our approach to technological advancement.
Frank discussed three factors he is dedicated to in his work: the growing need to reduce delivery timescales, creating new and evolving current design tools, and the third factor is improving the warmth of connection between designer, product, and client. He also "wins" in my mind for having some of the coolest props on his desk.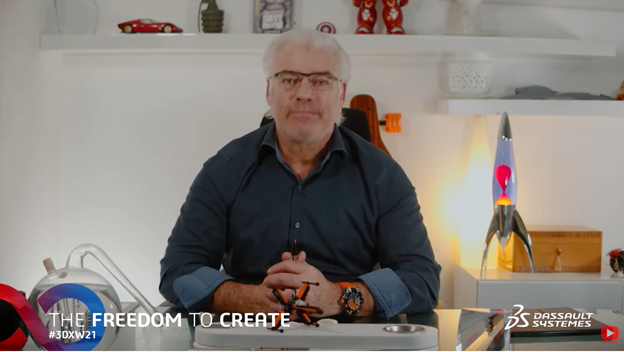 Tracey signed off wishing us all a great day, as did those in the live-chat.
Jgaron

"I have to say, this virtual conference exceeded my expectations"
Deepak G

"​Another rocking General Session!!"
And likewise, I am also impressed by another successful day and look forward to what Day 3 will bring!
Expand Your 3DEXPERIENCE Platform Skillset
3DEXPERIENCE SIMULIA Interference Fit and Sequential Loads
3DEXPERIENCE Tutorial - Platform Setup