General Session Recaps: Day 1 | Day 2 | Bonus Recap: CSWE NetWorking Event ("Day 0")
3DEXPERIENCE World 2021 Day 3 began with MC Tracey B. Wilson expressing her regrets that this event could not have been in person but promising that "next year, whatever we do together, it is going to be special."
The theme of Day 3 was all about relationships. Suchit Jain, Vice President of Strategy & Business Development, enters the stage and states that "SOLIDWORKS is everywhere." He discussed the growth and progression of technology over the years, from PDP-8 to the Apple Watch.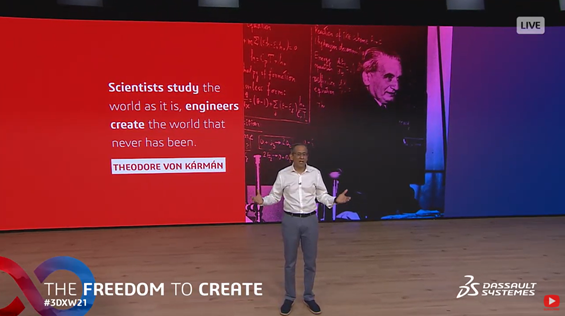 Suchit Jain then shares a quote from Theodore Von Karman, "Scientists study the world as it is; engineers create the world that never has been." I love this quote. It makes me so proud to be an engineer.
He explained that the goal is no longer to create products, but to create platforms. And as the world of technology and innovation changes, Suchit Jain says that "Our mission stays the same: to make our customers successful. To help you create the best products in the shortest amount of time… the future of CAD and SOLIDWORKS goes much beyond design. It is about uniting the entire ecosystem… connecting people, applications, real-time data, improving productivity, increase collaboration, and really accelerated innovation." 3DEXPERIENCE Works is helping us to do exactly that.
Last year, we heard about the LN-4 project - a hackathon to create a prosthetic hand - and this year, the LN-4 2.0 design continues. I spotted Jacob Bakovsky, an Elite Applications Engineer for GoEngineer, as a member of team 3 of the LN-4 project as shown in the image below.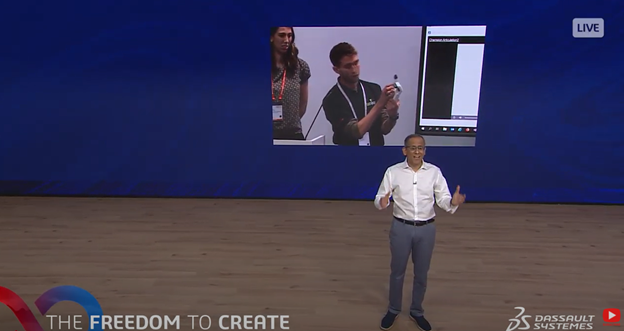 Dassault Systèmes is dedicated to empowering the workforce of the future. With 4.5M+ Students, from high school to universities around the world, the user community continues to grow, with over 500,000 certified users. These certifications have "become the proof of competency in the industry."
Suchit Jain discusses how not being able to have physical meetings has affected the world, but that "Even if we can't be in the same physical space with one another right now, it is no time to stop connecting." And this has held true in the SOLIDWORKS User Group Community, transferring to virtual meetings and onboarding 40 new user groups and over 200 new SOLIDWORKS champions last year.
We were then treated with a clip from Adam Weir, Champion and SWUGN Member, who talked about how inspiring it is to be surrounded by SOLIDWORKS lovers from around the world. If you are not part of one, definitely consider connecting to a user group!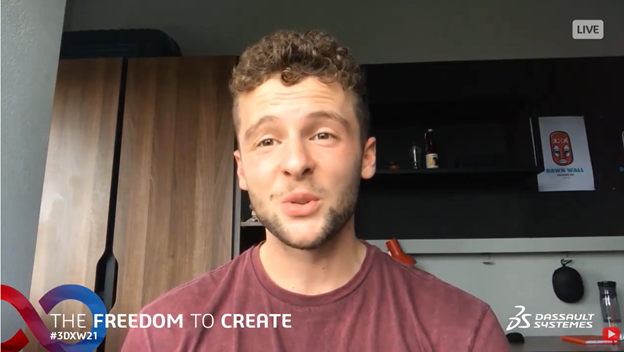 Suchit Jain signs off with the amazing quote, "You are at the heart of creating the world around us, and it is our mission to enable you to do so."
Next, an exciting interview occurred between Marie Planchard, Senior Director Education & Early Engagement at Dassault Systèmes, and two SOLIDWORKS users.
I totally did not scream "BATTLEBOTS" when I saw Paul Ventimiglia, the Lead Mechatronics Engineer at Aptyx Designs. He was sporting a "BITE FORCE" tee and was sitting in what looked to be his workshop, with tool chests and robots behind him.
I love hearing his story because it contains elements that are similar to my own story: animatronics and robotics are the reason he became interested in mechanical engineering as well as his passion for mentoring FIRST Robotics Competition teams. He signs off with the advice, "Find a personal project that you are passionate about."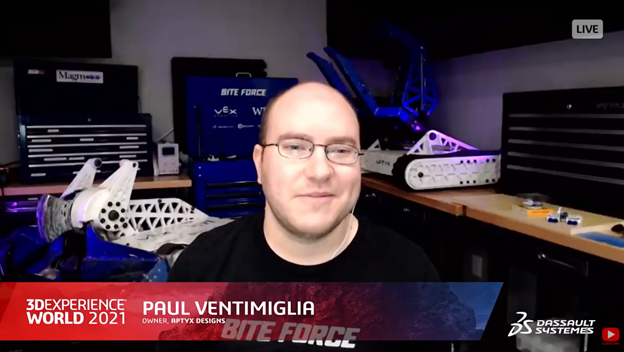 Next, Eric Beatty himself, an active user group leader and senior mechanical designer at OMAX Corporation, joined us to talk about how important to him it is to pass on knowledge. He said SOLIDWORKS user groups are an awesome way of collaborating with others, and it is what allowed him to transition from being a teacher to working in the industry. He signs off with the instruction, "Once you learn something, don't be content just to know it… you also have to share it. Pay it forward."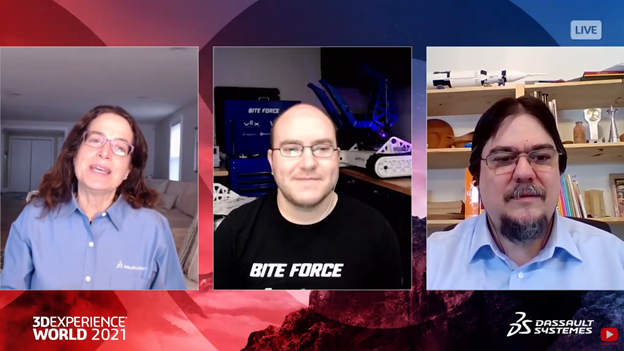 Next, Matt Carney, Co-Founder of Open Standard Respirator, joined us from his gorgeous a-frame workspace to explain the process of transitioning from creating bionic legs to respirators amid the pandemic. He wanted to find a way to use "his engineering powers for good" and he was successful by collaborating with strangers in a global hackathon. His team focused on creating a respirator and relied on Dassault Systemes for the collaborative ability of the 3DEXPERIENCE platform. As Suchit Jain says, "The world came together to address these shortages."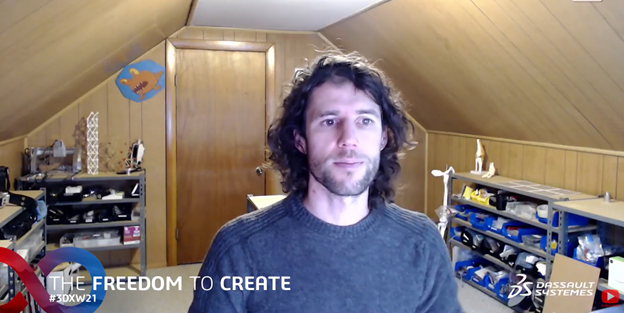 Tej Patel, president of FLUXERGY, joined us next to discuss the rapid development cycle that was necessary for them to develop a COVD-19 assay. They used SOLIDWORKS to quickly iterate their design and scale it up to create test kits quickly.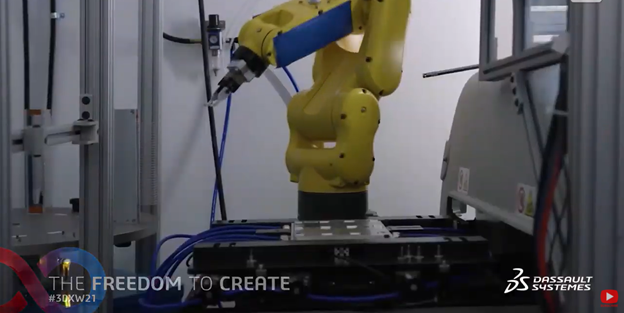 The next speakers truly inspired me with their process of innovation, just as Tracey B. Wilson said they would.
Three generations joined us: Nolan Bushnell, founder of Atari Inc and Chuck E. Cheese; Brent Bushnell, Co-Founder and Chairman of Two Bit Circus; and Ellis Bushnell, Brent's infant son. We received an incredible background story on how Atari and Chuck E. Cheese started and Nolan Bushnell stated that "Entrepreneurship is actually a muscle that you have to build." He said that it is not about how much money you have, but how willing you are to try various projects until you find something that works.
Atari started with only $250. Do not let not having enough money stop you from using your entrepreneurial spirit. Brent Bushnell adds that "Creativity comes from that weird intersection between domains." So find two things you are interested in, combine them, and use that entrepreneurship spirit! I felt so motivated after that interview, and I was not the only one!
Philip V

"​The personal glimpse into the lives of these inspiring creative people, adds so much more power, than rehearsed dialog. A real positive side of the Pandemic, thank you."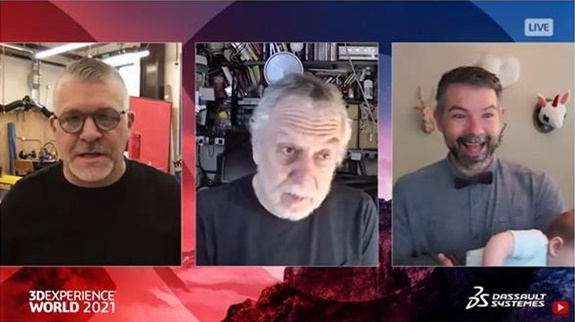 Gian Paolo Bassi signed off with the powerful statement, "We hope we have inspired, entertained, and most importantly send a clear message... of our priorities moving forward… always dream of a better world."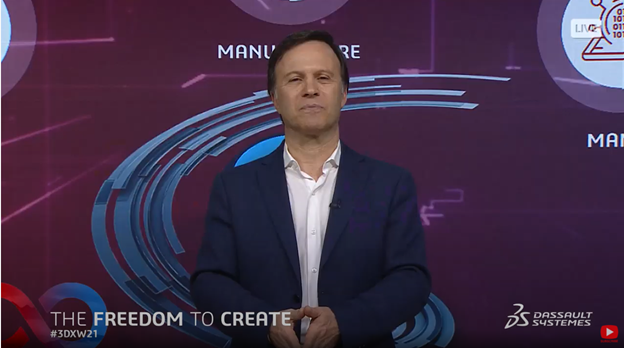 And then he announced that 3DEXPERIENCE World 2022 will be in Atlanta, Georgia! Just peachy. I hope to see you there!
Expand Your 3DEXPERIENCE Platform Skillset
3DEXPERIENCE SIMULIA Interference Fit and Sequential Loads
3DEXPERIENCE Tutorial - Platform Setup