There are two ways to create Stress-Strain Curves in SOLIDWORKS Simulation, an "easy" way and a "custom" way. In this article, we will discuss each of those processes. Regardless of which method you use, the information gained can be inputted by the user for however many rows are needed using various unit types.
The "Easy" Way
To create a stress-streain curve the easy way, right-click on the part file, then edit the material.
Select a customer material folder, then set the units to one of the three types that use Stress-Strain curves (Non-Linear Elastic, Plasticity-Von Mises, Plasticity-Tresca). A button will appear and will create a Stress-Strain curve from the material information.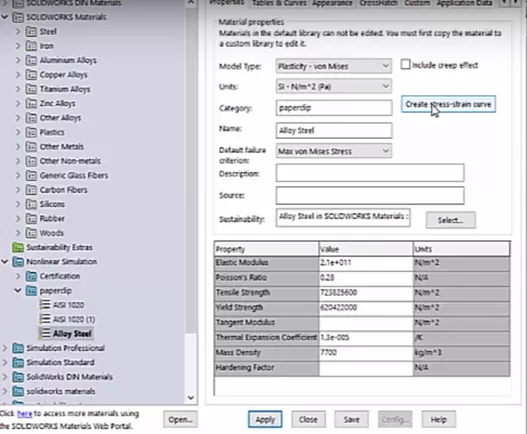 The "Custom" Way
It's not hard, but it is a little bit slower. Within the Material Properties window, once you have clicked on a material, you will find the Stress-Strain curve under the Tables and Curves tab within the property window.
There is still the ease of a Stress-Strain Curve selection which will again allow you to easily input your numbers to produce the Stress-Strain curve you need.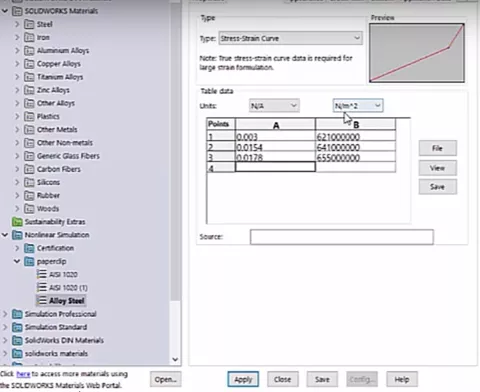 Notes of Interest
When using the Stress-Strain curve, the first point of 0,0 (yield point) is the point of elasticity and anything beyond that is the stress strain curve.
Make sure that you input the information under the correct Unit type.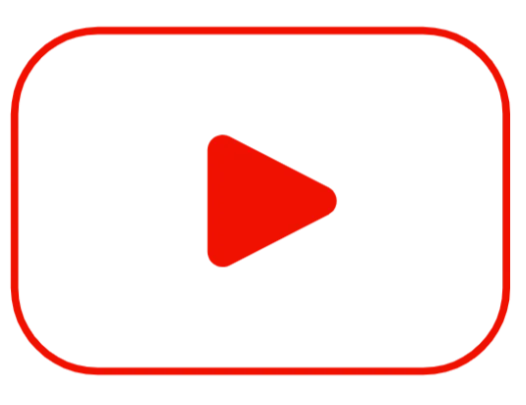 For a visual of this process, watch our YouTube video here.
More SOLIDWORKS Simulation Tutorials
SOLIDWORKS Simulation Nonlinear Material Models Stress-Strain Curves Explained
SOLIDWORKS Simulation Premium Material Model Types Defined
SOLIDWORKS Simulation: Missing Material Data? No Problem!
Understanding Thermal Expansion with SOLIDWORKS Simulation
Using Remote Loads in SOLIDWORKS Simulation