Over time, deleted files will build up in the background, taking up space in the database and archive. Periodically (depending on how often disk space is an issue and how many deleted files are created over time) it's smart to destroy previously deleted files.
Access the list of deleted files by right-clicking the white space of a folder and selecting Properties.
The properties dialog lists several tabs; select the Deleted Items tab. Here is a list of files that have been deleted as well as who deleted them and when as well as the size and location.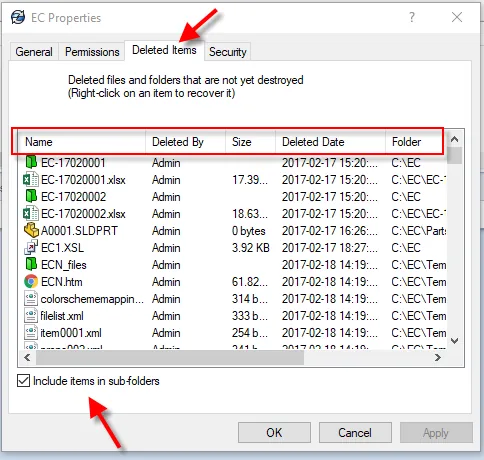 This action can be repeated in any folder; however, it may be best suited from the root of the vault. From here, the option to "include items in sub-folders" can be selected to see all files deleted through the entire vault.
If all the permissions to destroy have been granted, any file can be right-clicked to get the option to destroy or restore. Once this is selected, there is a final prompt before the file is permanently removed from the database. ( Note : The actual files will be removed once the cleaner service runs – results will be not seen until then.)
Check out part two to learn how to manage your SOLIDWORKS PDM archive with distribution techniques.