SOLIDWORKS Envelope Mode dramatically improves Top Down design performance. Envelopes are used in SOLIDWORKS assemblies as reference components and selection tools. Envelopes (part or assembly) are ignored in the bill of materials and mass properties.
The FeatureManager Design Tree icons look like this:

Note: Separate Envelope parts are a solid volume, not shelled.
Uses
Keep-out areas or volumes

Design to

Selection sets for configurations from different sub-assemblies

Visibility
Getting Started with SOLIDWORKS Envelope Mode
Open up an assembly in

SOLIDWORKS

.

Right-click on a part or sub-assembly in the FeatureManager Design Tree and select

Component Properties...




Set it as an Envelope at the bottom right corner.





Notice that when you set it to Envelope, that

Exclude from bill of materials

is set by default, and the icon in the FeatureManager Design Tree has changed.
Can I Select All Components Within An Envelope?
Yes. Right-click the envelope part and choose Envelope. There are two options: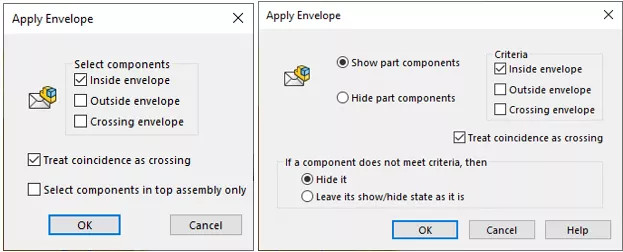 These options allow you to choose to Show/Hide the models that fall in or outside the envelope or a combination of selections.
What about my drawings?
By default, the Envelope feature(s) will be hidden. They can be shown by right-clicking View Properties > Show Envelope.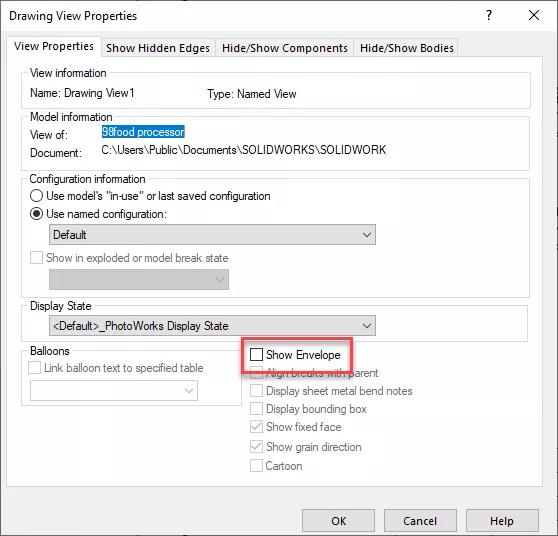 Are there any Options Settings for Envelopes?
Yes. There are four under Colors, Assemblies, External References, Export Options…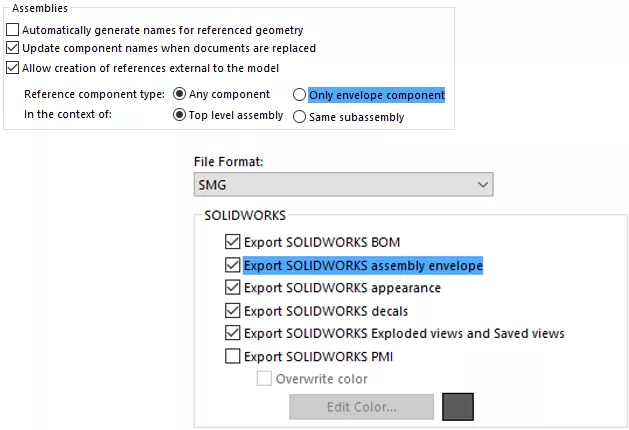 Use case; Assembly Performance with configurations.
I have an assembly with a bunch of small, detailed parts scattered through the tree that aren't part of a subassembly, but I still need to design around them.
I created a new solid Envelope part and added it to my assembly in a position that envelops all those parts. I used the process above to change that part to an Envelope.
I right-clicked on the envelope part, selected Envelope, chose Select Using Envelope, chose Inside envelope for everything, and hit OK.
SOLIDWORKS then reads through the tree selecting everything inside the envelope part and adding them to a selection. This makes it easy to select all those scattered parts and suppress them in short order. Now I can make a configuration of suppressed parts to speed up the performance of the top-level assembly.
I hope you found this quick tutorial for using Envelope Mode in SOLIDWORKS helpful. Check out more tips and tricks below.
More SOLIDWORKS Tutorials
2 Ways to Reference a Cross-Section in SOLIDWORKS
Improve SOLIDWORKS Decal Image with Mask
Optimizing SOLIDWORKS for Faster Performance
Finding and Fixing SOLIDWORKS Circular References
7 Ways to Improve SOLIDWORKS Large Assembly & Drawing Performance