Over the last few years, more and more SOLIDWORKS users have preferred machine-based Standalone licenses over Online Licensing. SOLIDWORKS has therefore announced that they will no longer be supporting the Online Licensing option after February 2022.
But wait, that's me!
If you currently use a Standalone license of SOLIDWORKS 2018 through 2021 via Online Licensing, your license will switch to machine activation automatically on or after February 5th, 2022. To avoid disruption, you should manually make the switch before that phase-out date.
What kind of SOLIDWORKS License Do I have?
If you sign in when you launch SOLIDWORKS, you are using online licensing, and this article applies to you!
GoEngineer customers can also get license info at a glance on the Customer Portal; simply sign in and click on the assets tab. Depending on your user role, you'll see the serial numbers, license types, and expiration dates assigned to you or your company, allowing you to alert your team about these changes.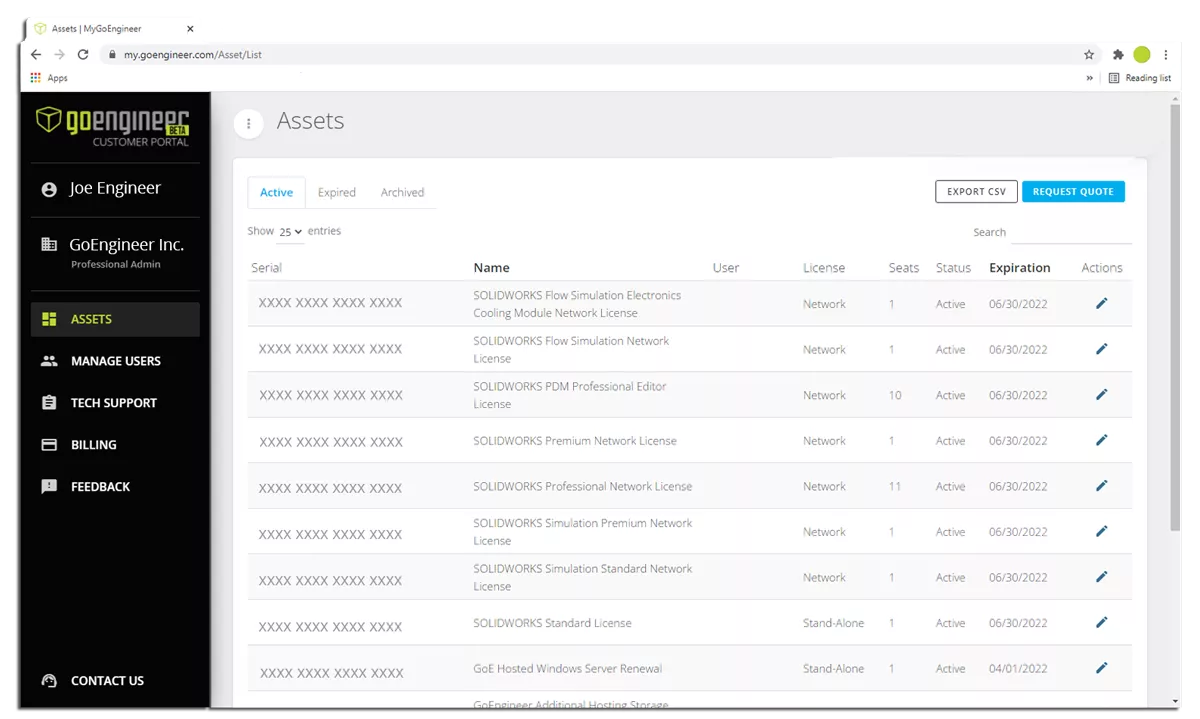 How to Switch to Machine Activation
Now that you've established that you're using online licensing, follow these steps to switch to machine activation.
Log into your

MySolidWorks account in a web browser.




Select Admin Portal from the drop-down menu under username. (This step must be performed by an Admin)





Select the Members tab.

Select the user that will be assigned the Machine activation.





Select the Product that you want to assign, and you will be brought to the product details page. In the middle of the page, you will see the option

Change to Machine Activation

.



That's it! The next time you launch SOLIDWORKS, you'll be prompted to Activate your license. If you run into any issues or have questions regarding this change, please do not hesitate to contact our Technical Support team.
Related Articles
Ultimate Guide to SOLIDWORKS Licensing: Types, Activation, & Borrowing
SOLIDWORKS Standalone Serial Number Management Skills
[VIDEO] Standalone License Deactivation and Activation