In the 3D printing space, there has been a long-standing need for a more functional type of rubber-like material. Stratasys has finally answered that call, leveraging their F123 series of FDM 3D printers and announcing the FDM TPU 92A material that can now produce flexible prototypes that closely mimic final parts made from rubbers, elastomers, and urethanes.
Elastomers are not new to the Stratasys line of 3D printers; however, the TPU 92A material is a first on the FDM platform. There are several automotive applications for this material, such as prototype cup holder inserts; gripper gaskets for temperature, radio, or GPS controls; hoses and vacuum lines; and much more.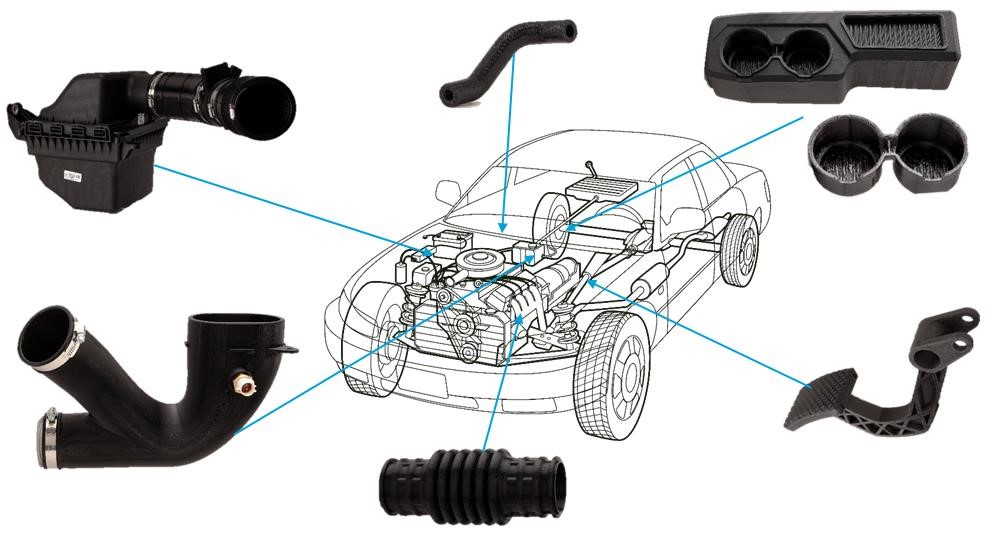 Strong and Easy to Work With
Because the F123 machines are office-friendly, it has a modular head design, so it is easy and relatively inexpensive to drop in a new head that can print thermoplastic urethane. The FDM TPU 92A material also provides soluble support for fast and easy post-processing: it's the same soluble support used with the ABS and ASA materials that wash away in detergent after the printing process is complete.
Additionally, the properties of the FDM TPU 92A material are superior to anything else currently available in the market. From comparing elongation to break, tear strength, or the flexural modulus, the FDM TPU 92A bests them all.
As an example, a 3D printed five-inch-long test strip of the FDM TPU 92A material would stretch 25 inches before it broke—a 500 percent elongation to break which will best specimens from made from all forms of other technologies. See the chart below.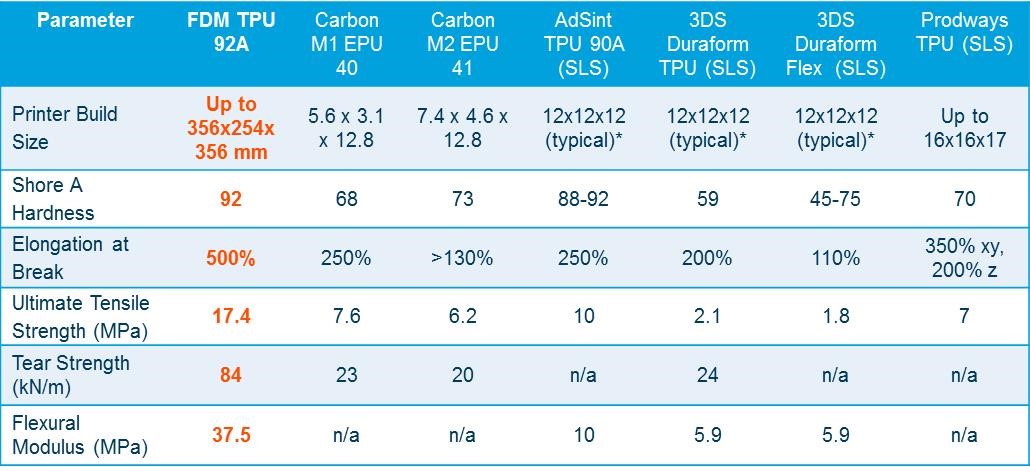 Potential Applications
Robots that grab, grip, or have suction cups would be a great application for the FDM TPU 92A material, especially to avoid scratching other parts. For manufacturing applications, the material would be great for jigs and fixtures where a soft touch is required, for one-off custom enclosures that need to be sealed, for cooking utensil prototypes, or for modern drills with soft handle grips that are over-molded. Also, the applications for custom gaskets are seemingly endless, especially those with more complex and non-planar boundaries.
Flexible Material
The Shore A value of the material is 92, which is based on solidly filled parts. As with all FDM materials, sparse infills, where the infill is not 100% solid (and contains air cells) are possible. For sufficiently bulky pieces a sparse fill in this material can simulate lower durometers.
For example, if only 20% of a part's volume is filled with Shore A 92 material and the other 80% is little air cells in between, the material is much more spongy, with a softer feel that helps simulate more of the hardness spectrum.
Simple Upgrade Path
To get started, load the latest version of the software and attach the new head assembly that's specific to the TPU material, and—boom! You are off to the races.
After November 13th, 2018, all F370 purchases will come from the factory with the material and the head that can extrude it. (For the 170 and 270 the head and material is a separate purchase.) A semi-translucent color of the material will be available soon.
If you have further questions, feel free to contact us.
Related Articles
GoEngineer Brings 3D Printing to Michigan
Fortus Tip & Build Sheet Combinations: 3D Printing Tutorials
3D Printing with the F123 Series: Hardware, Software, and Materials