On April 28, 2021, Stratasys released the Origin One 3D printer as a production-ready solution for high yields of functional end-use parts rivaling injection molding quality. This machine uses Programmable Photo Polymerization (P3) technology, an evolution of DLP 3D printing, to achieve high accuracy, fast printing speeds, and reliability.
Certified high-performance printing materials developed by chemical manufacturers like Henkel, BASF, and Covestro are the premier choice for the Origin One. The material offerings certified by Stratasys provide users with an end-to-end workflow for processing and print settings for these photopolymers without the need to adjust or tune settings.
Even with the continuous growth of certified materials for the Origin One, what happens if the material properties your application demands aren't provided by the current offerings? Fortunately, Stratasys offers an Open Material License (OML) for the Origin One, allowing customers to explore, develop and optimize advanced photopolymers meeting their specific needs.
What is an Open Material License (OML)?
The Open Material License (OML) is an advanced set of tools offering users control over critical printing parameters and settings. The OML:
Enables users to print with non-certified materials (third-party photopolymers)

Provides the ability to formulate new printable chemistries

Includes a set of advanced tools to optimize prints for speed, throughput, quality, strength, and experimentation.
Material development requires a significant number of tests – a process that can take several months or even years. Without control over the printing process, it can be difficult to distinguish printing failures due to improper print settings or the chemical formulation.
The Origin One OML provides complete control over all critical printing parameters through highly configurable settings. This results in accelerated material development and formulations, making the Stratasys Origin One preferred by current chemical manufacturers and OEM's. Key process parameters of the OML, which can be modified on a per-layer basis, include:
The Stratasys Origin One, combined with the OML, is a powerful tool for developing photopolymers without limitations set by high heat, high viscosities, and reactive chemistries. It is ideal for users involved in material science, chemical formulations, process optimizations, educational & research institutions, and/or third-party material exploration.
Exploring Third-Party Material Offerings
On May 10, 2022, Stratasys officially announced the exploration of new material partners expanding possible use cases for customers with the Origin One and an OML. Stratasys identified eight new materials that are currently available and printable on Origin One 3D printers for those wishing to explore exotic or novel applications.
Although OML users can develop or print any available 385 nm DLP material, narrowing down the selection to a list of recommended materials can expedite the process. If the chemical manufacturer has already developed a print profile for a material, it is possible for this to be shared amongst additional OML users.
Photopolymers announced by Stratasys for the Exploratory Materials include:
Covestro PerFORM HW

BASF Forward AM RG1100

PolySpectra COR Alpha

Evonik RG3101 L

Liqcreate Strong-X

Mechnano Formula1

Arkema N3D-CAST011
Keep reading to learn more about these particular resins and additional third-party offerings for photopolymer printing.
High Temperature
Covestro Somos® PerFORM HW
HDT @ 0.46 MPa 289°C | Tensile Modulus 9,000 MPa | Elongation at Break 1.4%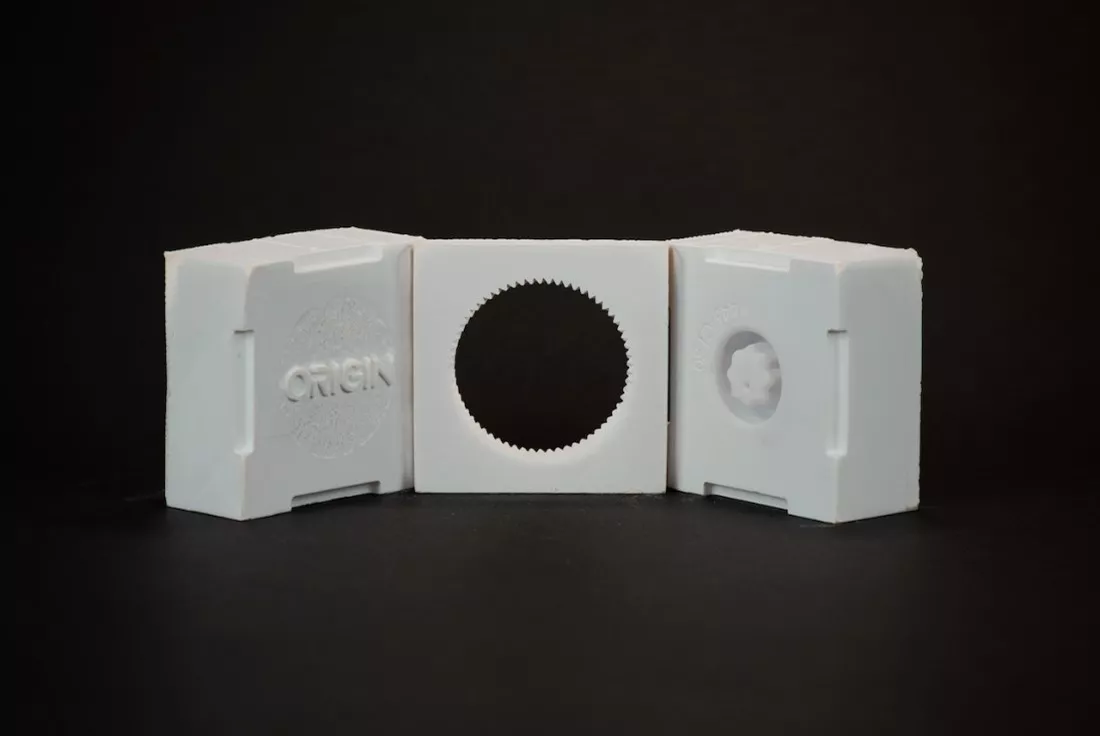 Tooling mold printed on Origin One with Somos ® PerFORM HW. Photo provided by Covestro.
Somos® PerFORM HW is the DLP version of industry-leading Somos® PerFORM stereolithography resin. The unique formulation of PerFORM HW is a ceramic-polymer hybrid providing exceptionally high strength, stiffness, and temperature resistance. This robust polymer features high dimensional stability, low warpage, and performs under high pressure and harsh environments.
The combination of these mechanical properties results in a 3D printing material capable of directly printing injection mold tooling. Furthermore, users can choose between UV or thermal (2 hours @ 160C) post-processing methods to reach desired mechanical characteristics.
Covestro offers a comprehensive design guide for rapid tooling with Somos® materials to help users unlock the full benefits of 3D printing rapid tools and quickly achieve successful prints with helpful printing guidelines.
Key considerations for common mold features like gates, ejector pins, draft angles, and applicable geometries are discussed in addition to recommended injection pressures, temperatures, and cycle times. Current thermoplastics qualified for rapid tooling include ABS, polyethylene, polypropylene, high impact polystyrene, glass-filled nylon, and polycarbonate.
Complete mechanical properties can be found in the Technical Data Sheet.
BASF Ultracur3D® RG 1100
HDT @ 0.46 MPa 116°C | Tensile Modulus 3,080 MPa | UL 94 HB Flammability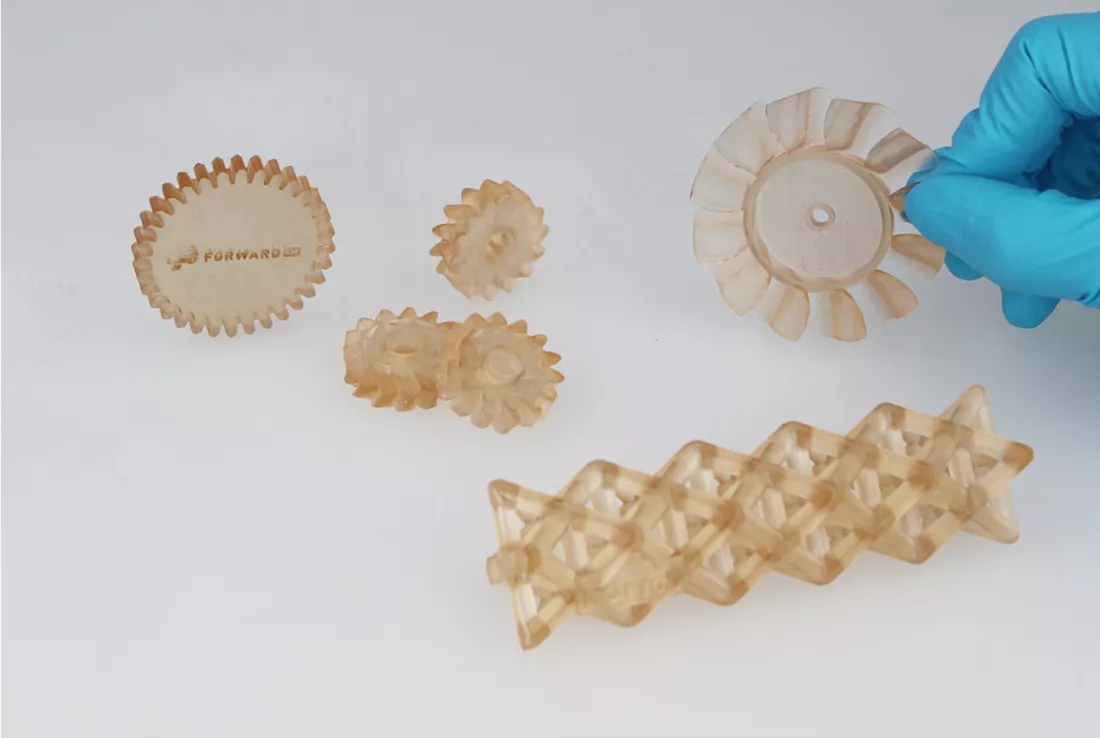 Mechanical parts printed using RG 1100. Photo provided by BASF.
Ultracur3D® RG 1100 is a high-strength polyurethane-based engineering-grade resin with mechanical properties comparable to widely spread injection molded plastics used in automotive and other demanding industries. RG 1100 has great chemical and temperature resistance and long-term UV-stability making this material well suited for applications such as automotive connectors, exterior covers, demanding engineering parts, brackets, and housings.
Tensile Modulus: 3080 MPa

Flexural Modulus: 2880 MPa

Ultimate Tensile Strength: 70 MPa

Flexural Strength: 119 MPa

Elongation at Break: 5%

HDT at 0.45 MPa: 116°C
Complete mechanical properties can be found in the Technical Data Sheet.
PolySpectra COR Alpha
HDT @ 1.82 MPa 136°C | Tensile Modulus 2,000 MPa | Elongation at Break >20%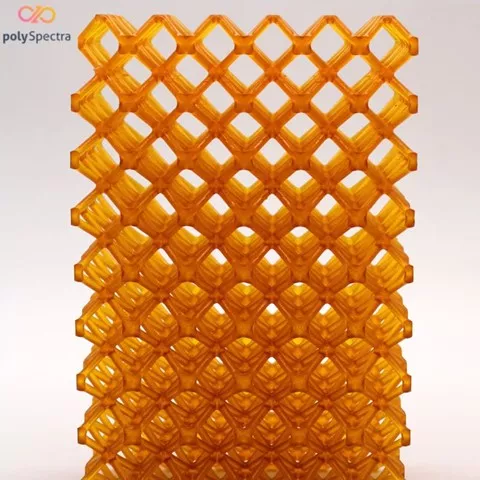 Lattice structure printed using COR Alpha. Photo provided by PolySpectra.
COR Alpha photopolymer resins are a new family of engineering-grade materials for additive manufacturing developed by PolySpectra. COR Alpha is derived from Cyclic Olefin Resin, an extremely rugged polymer comparable to metal, check out the videos below putting printed parts through various tests. This material combines the need for toughness, temperature stability, biocompatibility, and chemical resistance – unlocking new applications for production photopolymers.
The material properties of COR Alpha place it amongst a small class of truly engineering-grade 3D printing resins. Notable properties of this photopolymer are:
Temperature Range: -60 to 150°C

Impact Strength: 35 J/m

Ultimate Tensile Strength: 66 MPa

Water Absorption: 0.191%

Biocompatible: Grade 0 ISO 10995-5

Low Permittivity and Dissipation Factors: 0.0058 & 2.66
COR Alpha vs. Oven
COR Alpha vs. Hydraulic Press
Complete mechanical properties can be found in the Technical Datasheet.
High Strength
Evonik INFINAM® RG 3101 L
Tensile Strength 52 MPa | Tensile Modulus 2100 MPa | Izod Notched Impact 45 J/m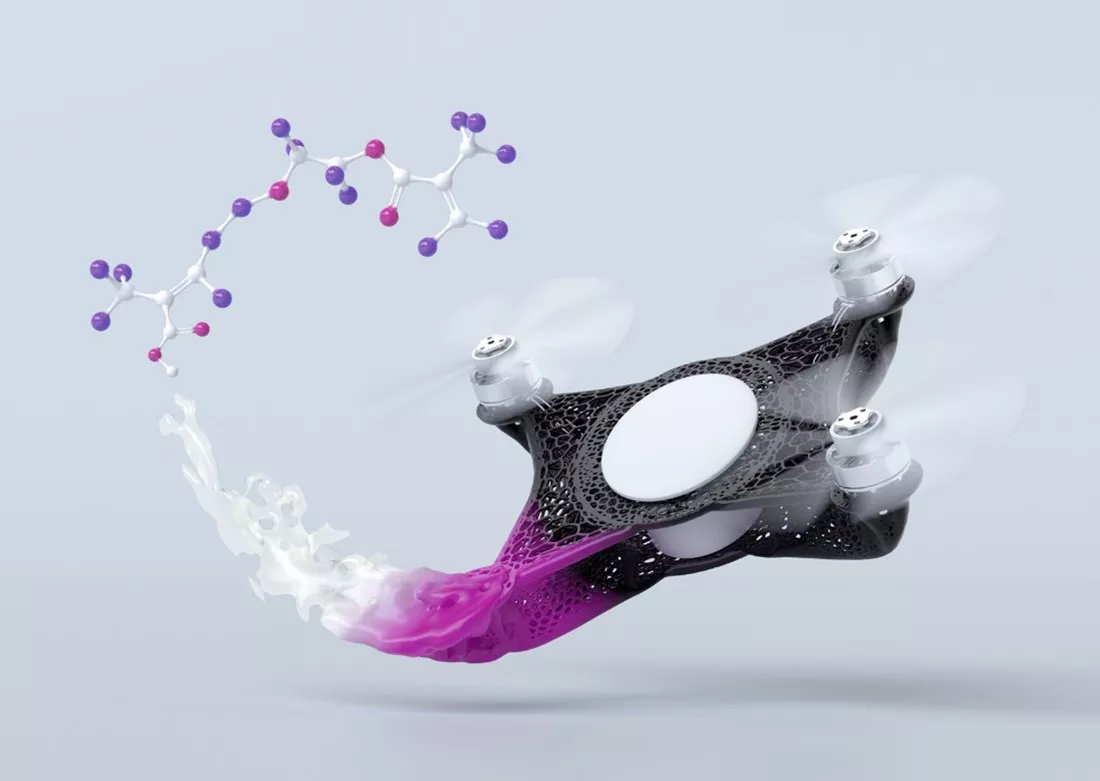 Drone body printed with RG 3101 L. Photo provided by INFINAM®.
Evonik INFINAM® RG 3101 L resin is a black, fast-curing photopolymer with easy processability and clean-up. Evonik currently offers three different specialty formulations, focusing on impact resistance, high strength, and rigidity. 3D printed parts using RG 3101 L have an excellent blend of impact and temperature resistance while exhibiting long-lasting thermomechanical performance. This material is a great fit when looking for a photopolymer with mechanical characteristics similar to ABS and applications such as drones, buckles, or automotive parts.
Complete mechanical properties can be found in the Technical Data Sheet.
Liqcreate Strong-X
Tg 128C | Tensile Modulus 3,250 MPa | Shore 90 D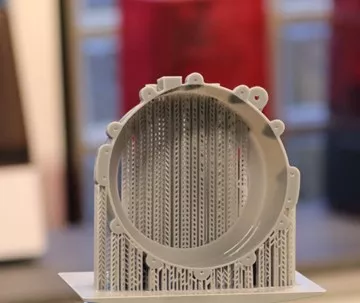 Part printed with Strong-X resin on Origin One. Photo provided by Liqcreate.
Liqcreate Strong-X competes with some of the strongest photopolymer resins available in the market. Its flexural and yield strength (137 MPa and 72 MPa respectively) compares to industry-leading dual-cure cyanate ester resins. This material has excellent features like high strength, high stiffness, and high temperature resistance making it ideal for injection molding and heavy-duty applications.
Furthermore, Liqcreate conducted thermoplastic compatibility tests using Strong-X injection molds and the following materials: polypropylene (PP), polyethylene (PE), HDPE, ABS, PETG, nylon 6 (PA6), and nylon (PA12) at temperature ranges between 230 and 280°C (446 - 536°F).
Liqcreate was officially adopted into the Stratasys material ecosystem following the announcement of the Origin One Exploratory Materials. This is an exciting step forward in production additive manufacturing with photopolymers and was highlighted in a recent press release.
Complete mechanical properties can be found in the Technical Data Sheet.
Elastomeric and Flexibles
Liqcreate Flexible-X
Shore 55 A | Elongation @ Break 150% | Tear Strength 14.9 kN/m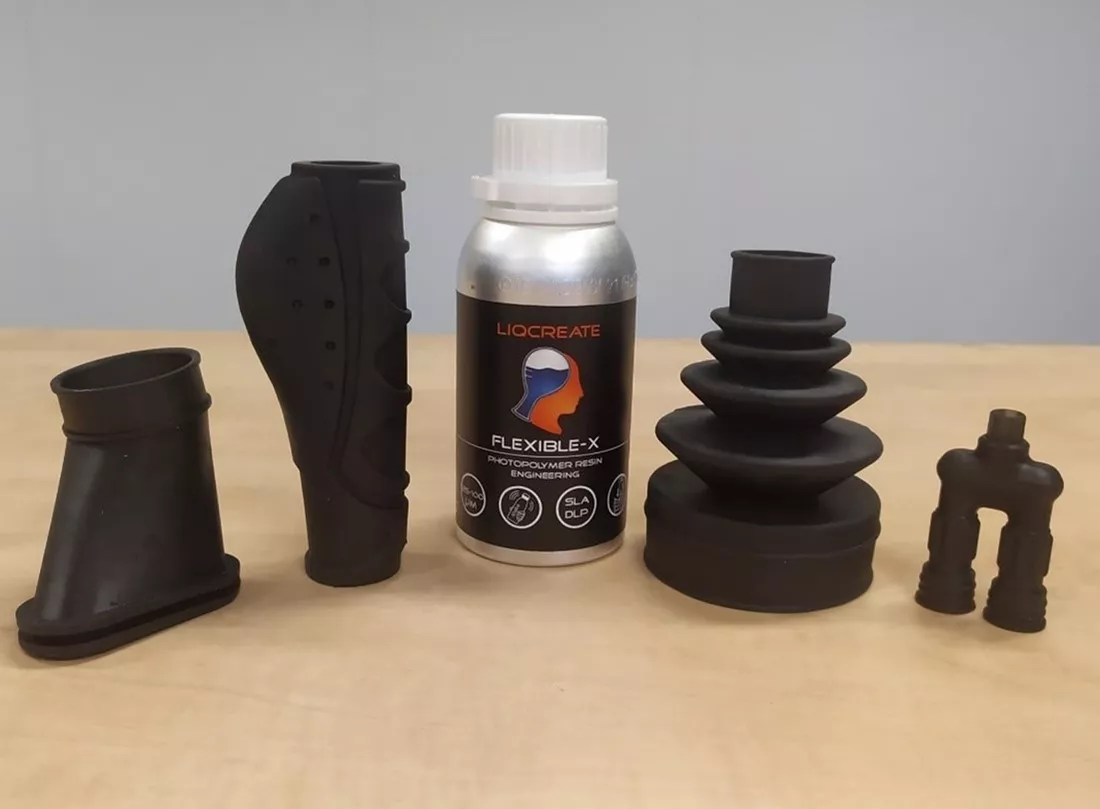 Parts printed with Flexible-X resin. Photo provided by Liqcreate.
Liqcreate Flexible-X is a soft opaque black photopolymer with great processability and printing speeds attributed to the moderate liquid viscosity. 3D printed parts using this material have exceptional flexibility and great rebound properties. Its low hardness of 55 Shore A and elongation of up to 160% make it a great fit for the production of diverse industrial applications. Flexible-X is perfect for the manufacturing of soft touch and elastic parts for industrial use. Watch this video to see these properties in action.
Complete mechanical properties can be found in the Technical Data Sheet.
BASF Ultracur3D® Flexible/Elastomeric
Shore 40 – 90 A | Elongation @ Break 90 – 245 % | Rebound Resilience 11 – 30 %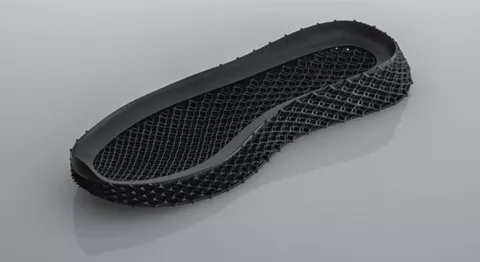 Black coated sole printed with EL 60. Photo provided by BASF.
The Ultracur3D® Flexible/Elastomeric (FL/EL) lineup by Forward AM is a well-balanced group of reactive urethane photopolymers for flexible applications featuring a large variety of possible shore harnesses. The FL/EL lineup provides a highly diverse portfolio of material properties for printable elastomerics for applications ranging from sporting equipment, footwear, energy absorption, soft touch surfaces, seals/gaskets, and more.
More impressively, parts printed with Ultracur3D® FL/EL can be preprocessed using the Ultrasim® software and CAE tools, modifying the print structure to match intended properties and rebound behavior.
Flexible and elastomeric materials include:
ESD Properties
Mechnano Formula1
HDT 91°C | Tensile Modulus 2,600 MPa | Surface & Volume Resistance: 10⁷ Ω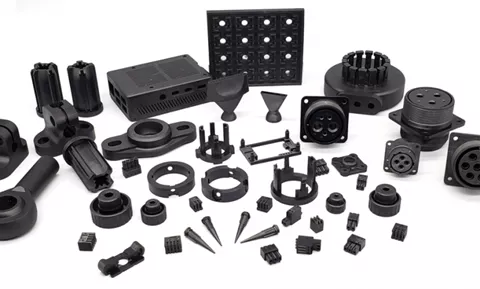 Functional end-use parts printed with Formula1 resin. Photo provided by Mechnano.
Mechnano Formula1 is a black, rigid, static-dissipative photopolymer resin that was created using proprietary discrete Carbon Nanotubes called MechT. Formula1 uses a urethane di-methacrylate base that includes a stable dispersion of discrete functionalized CNTs to achieve consistent static dissipative properties. MechT does not settle in Formula1 resin, resulting in consistent ESD-capable parts.
"We welcome Mechnano to our growing materials ecosystem as we work together to create unlimited opportunities for additive manufacturing across the product value chain," said Ronen Lebi, Vice President, Head of Production (P3) at Stratasys. "The goal of our open, exploratory materials program is to rapidly expand the availability of novel materials, because that means compelling new additive manufacturing applications for our customers. We're excited to see the innovation that this program will unleash."
The discrete nature of MechT produces parts that leave no carbon trails with improved key mechanical properties such as tensile strength, modulus, and impact resistance when compared to Mechnano's Base Formulation.
Notable properties of this photopolymer are:
Isotropic surface and volume resistance: 10⁷ Ω

Impact Strength: 24 J/m

Ultimate Tensile Strength: 68.1 MPa

Shore Hardness: 87 D
Complete mechanical properties can be found in the Technical Data Sheet.
Ceramic Sintering
Tethon

3D

Komitsudo Ceramic
Working Temperature 1700 °C | Shrinkage 12% | Density 3.61 g/cc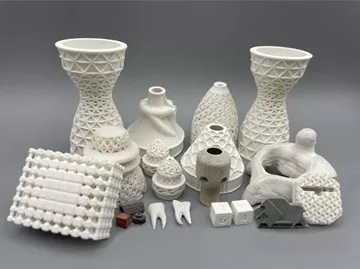 Ceramic sintered parts printed with various Tethon 3D resins. Photo provided by Tethon 3D.
Tethon 3D offers an impressive lineup of composite filled 3D printing resins with specialized chemistries to produce:
Glass ceramics – low porosity, high strength, density, and thermal shock tolerance.

Porcelain ceramics - food safe, microwave, oven, dishwasher, and freezer safe

Low shrink aluminum silicate – 5% shrinkage after firing
High iron content – 100% iron after firing similar to cast iron

Biocompatible ceramics – hydroxyapatite (calcium phosphate) for research

Investment casting molds – ceramic shell single use molds for metal castings

Development base resin – experimental base resin for those interested in formulating resins with large particles and powders
A recent partnership between Tethon 3D and Stratasys will bring Komitsudo Ceramic resins to the Origin One platform.
Investment Casting
Arkema N3D-CAST011 for Stratasys
High Resolution | Efficient Burn-out Resin | Origin One Specific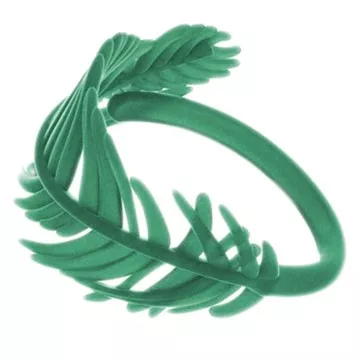 Ring printed with Arkema casting resin. Photo provided by Arkema.
Arkema joined forces with Stratasys to develop an investment casting resin specific for Origin One P3 technology, the result is N3D-Cast011. This 3D printing photopolymer has a matte green surface finish and consistently prints high resolution, high detail parts. Tiny features and intricate designs are easily seen due to the surface color and finish. Printed parts melt during the burnout cycle to provide high-quality castings with an outstanding surface finish. Resin is low viscosity and is easily cleaned up with a variety of cleaning agents.
Conclusion
The OML removes limitations to material availabilities and selections opening the doors to new possibilities and applications. If you are interested in unlocking the full potential of your Origin One system, please contact us and we will be happy to assist you.
Editor's Note: This article was originally published in June 2022 and has been updated for accuracy and comprehensiveness.
More 3D Printing News
Stratasys Introduces Composite Ready FDM, New Materials, and More at Manufacturing Event
Dental 3D Printing Technology: PolyJet and P3
GoEngineer Enters Canadian Market
Stratasys Introduces Open Material Option for FDM
Stratasys VeroUltra White and Black Materials for Color 3D Printing