In order to meet the rise in demand and better accommodate patient needs, dental labs have been shifting away from traditional manufacturing methods, toward cutting-edge additive manufacturing technologies. In this article, we'll explore two dental 3D printing technologies offered from Stratasys (PolyJet and P3) and how they operate on the J5 DentaJet and Stratasys Origin One Dental respectively.
3D Printing Dental Technology
Dental applications can run the gamut - from impression trays and night guards to customized implants and color-matched prosthetics, and Stratasys' impressive dental portfolio continues to expand to meet that demand with their latest dental solutions.
PolyJet - J5 DentaJet
PolyJet technology is renowned for producing ultra-realistic, full-color models. Photopolymeric resin is deposited (like inkjet printers deposit ink) with microscopic layer resolution (down to 0.018 mm) and with unrivaled accuracy (±2µm/mm). The ability to print and combine several materials at once makes PolyJet technology ideal for labs producing a wide range of dental appliances, especially prosthetics.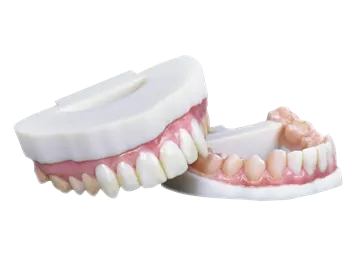 The J5 DentaJet is a compact PolyJet 3D printer recognized by its unique rotating build tray. Its ease of use, multi-material capability (including three biocompatible materials), and 500k+ color selection enable a wide range of applications.
Simultaneously printing orthodontics, implants, removables, crowns, and more is a breeze - simply add the parts to a tray in GrabCAD Print, start the printer, and walk away.

For PS Dentallabor Linz, an Austrian-based dental lab specializing in dental splints, drilling guides, models, and prosthetics the color selection and ease-of-use of the J5 DentaJet was game-changing.
"The J5 DentaJet has drastically accelerated our production of 3D printed parts. Previously, we 3D printed two to three parts in the same materials overnight on one build tray. Now, the optimized rotational build tray of the J5 printer allows us to produce as many as 30 models in the same print job overnight — even if those parts require different materials. This has been a game-changer in terms of the quantities of customized models we can now produce." Read the full case study.
P3 - Origin One Dental
P3 (Programmable PhotoPolymerization) technology uses digital light projection (DLP) to produce exceptionally accurate, consistent, and fully-biocompatible single-resin parts. The tightly synchronized print process employs pneumatic controls to reduce pull forces during the print process, reducing the need for support structures. P3 technology best benefits dental labs with high throughput for surgical guides, models, and splints.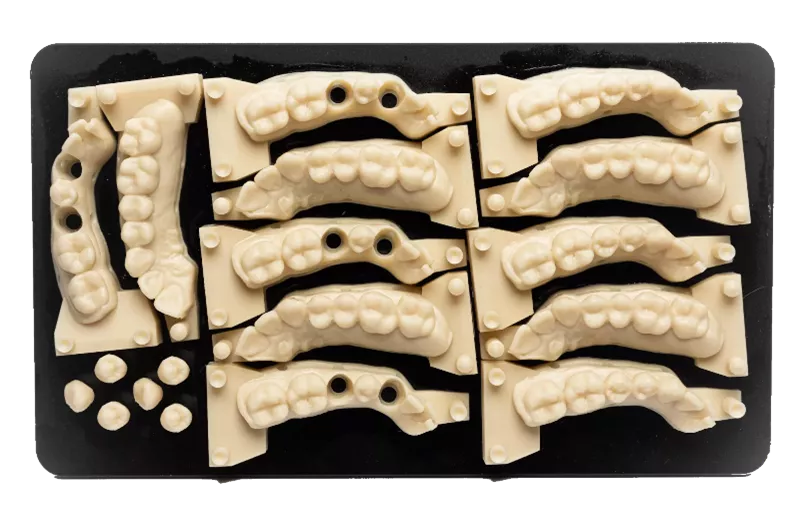 The Stratasys Origin One Dental 3D printer is a workhorse that effortlessly churns out batches of single material prints again and again - requiring short print time and streamlining the production process.

The three dedicated material options, (DM100, KeyGuide, and KeySplint Soft) print in transparent or beige for repeatable, manufacturing-grade production.
Protec Dental Laboratories LTD, an early adopter of digital printing, needed a scalable, cost-efficient solution after a rise in demand following the COVID-19 lockdown. They also needed a machine they could rely on to produce their surgical guides.
"Before Origin One, we were rejecting roughly 30% of guides and having to reprint them before they could actually go out the door" said Neil Appelbaum, Managing Partner of Protec. Now, with the Origin One Dental, Protec can rely on the repeatability of quality and accuracy when producing guides and models. Read the full case study.
Want to learn more?
Whether you need a solution for multiple applications or a workhorse to keep up with single-material demands, reliability and ease of use is essential. To learn more about developments in digital dentistry, contact us.
More 3D Printing News
Stratasys & USA Luge Team Aim for Gold in 2022 Winter Olypmics
3D Printing Highlights: 2021 Edition
Stratasys Introduces Open Material for FDM
GrabCAD Shop: Improve Communication & Collaboration
Stratasys VeroUltra White and Black Materials for Color 3D Printing