Since 2014, VELO3D has made it their mission to develop a metal 3D printing solution that could overcome the challenges faced by the additive manufacturing space. Applying experience and knowledge gained in the semiconductor manufacturing industry, process control, data acquisition, and quality assurance form the backbone of VELO3D's success. Today, VELO3D is pushing the envelope and addressing even the most difficult manufacturing challenges with their next-generation, support-free, metal additive solutions.
Flow Software
VELO3D's FlowTM software is an intelligent pre-print software that significantly reduces preparation time. Flow interrogates the model, and varies laser parameters according to the geometry. Working directly from native CAD files and surfaces also allows users to retain design intent, simplify file management, and streamlines the pre-processing workflow.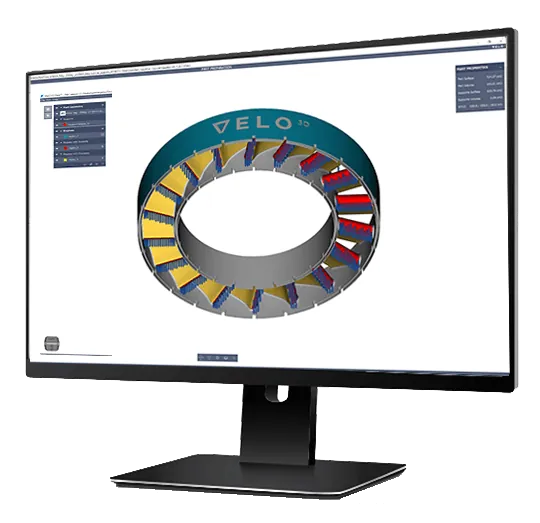 The need for support structures and the associated challenge of removing them has been a primary contributor to the stagnant adoption of metal additive in the last decade. With VELO3D, part features down to 0° (horizontal) may be produced "support-free".
Production Printing with Sapphire
VELO3D's Sapphire is a robust 3D printer offered in three variants: The Sapphire, Sapphire 1MZ, and SAPPHIRE XC, each with 1 kilowatt lasers but differing in their build envelope. Their cylindrical build envelopes avoid problems commonly associated with the corners of rectangular build chambers.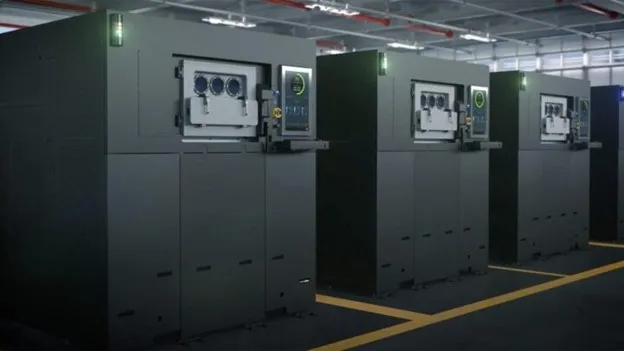 Sapphire and Sapphire 1MZ each use a 315mm diameter build envelope, with 400mm and 1000 mm Z heights, respectively. The Sapphire xc, with a 600 mm diamter and 500 mm Z height, is expected to be released later this year and is geared toward serial production and mass production and uses 8 lasers for rapid throughput.
Additional highlights of the Sapphire 3D printer(s) include:
Non-contact recoating:

Unparalleled reliability and efficiency as a direct result of VELO3D's proprietary powder recoating technology.

Pursuing perfection through data:

900+ on-board I/O sensors generate actionable data in real-time.

High-Performance Metal Materials:

Print with a broad range of high-quality alloys including: Aluminum F357, Inconel IN718, HASTELLOY C22, HASTELLOY X, and Ti 6AI-4V ELI
Quality Assurance
Assure is VELO3D's quality assurance and quality control software. Sapphire 3D Printers are built to self-calibrate with minor user input and are designed to make calibrations quick and simple so they can be performed with every build. These one-click pre-build calibrations ensure that the beam stability, laser alignment, thermal sensor, laser focus, and powder bed are optimal before you begin printing.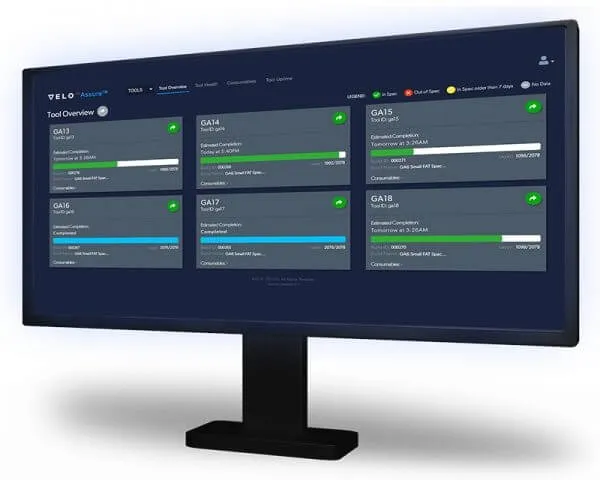 In-situ monitoring are critical markers that are monitored for real-time understanding of part integrity. Information like peak height, oxygen level, recirculation filter, humidity, and remaining powder all are watched and monitored in real time.
Assure automatically generates a build report that can form the foundation of a Certificate of Compliance. This report provides full traceability of system performance, leading to unprecedented confidence in every printed part.
Is your project a challenge for VELO3D? Let us know!