3D printing is a proven tool for prototyping, tooling, and production. Almost every industry uses 3D printing to develop better products, shorten production times, and reduce costs. In addition, the flexibility of 3D printing means designers and engineers can be more creative and experiment in ways they otherwise wouldn't be able to.
When purchasing a 3D printer, it's essential to choose one that meets your current needs and supports you as you grow. However, with so many different 3D printing technologies available, finding the right fit can be challenging. Unfortunately, the weight of this decision often leads to companies outsourcing instead of purchasing a printer.
Many companies think they must decide between buying a 3D printer or outsourcing. However, one of the largest 3D printing service providers surveyed their customers, and over 85% owned a 3D printer. This hybrid approach gives users the best chance at success with 3D printing, and we believe it's the right choice for a lot of companies.
Benefits of In-House 3D Printing
Design Validation
One critical aspect of designing a successful part is eliminating designs that don't work. A great way to accomplish this is by getting creative and making several versions of a part. Having a 3D printer allows companies to create multiple iterations, enabling them to hold the parts in their hands to determine what works and what doesn't quickly.
A company we work with held a design challenge where everyone from interns to long-time employees submitted their version of a new product in development. By the deadline, the designers had submitted seven unique iterations of the part. The engineering team was asked to vote for their favorite without knowing who designed each iteration.
Who won the design challenge? An intern and the product became a big success. Without a 3D printer, that iteration may have never seen the light of day.
Flexibility
Companies typically purchase a 3D printer for one or two critical applications for their business, such as prototyping, production tooling, production parts, etc. However, having a printer at your fingertips allows you to expand into applications you hadn't even considered before.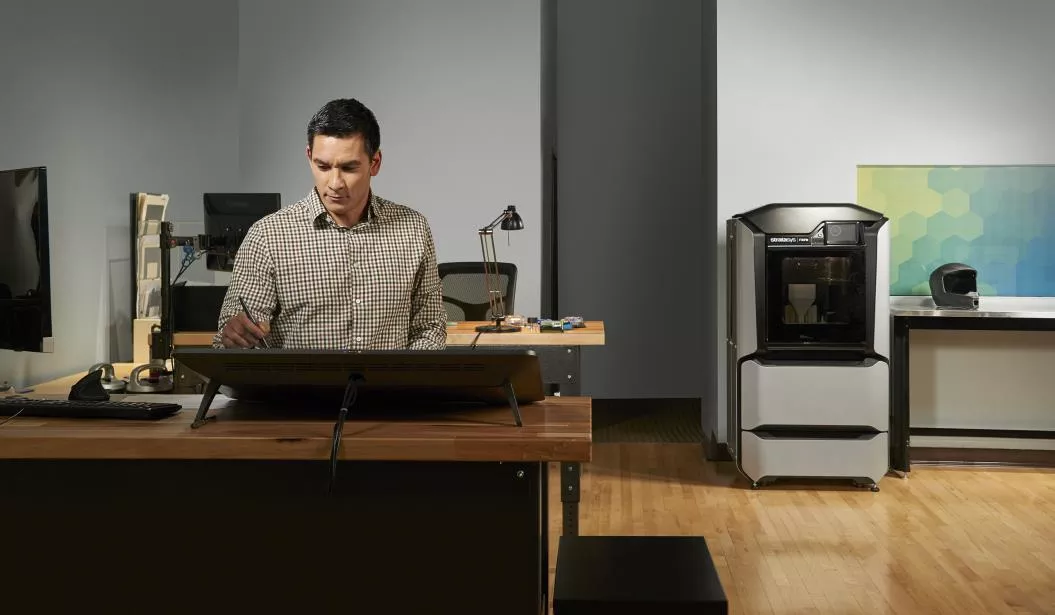 3D printer in image above: Stratasys F370
Here's an example. A heavy-equipment manufacturer purchased a 3D printer primarily to make functional prototypes. Once the printer was installed, they started thinking about what else was possible. That's when a team member had a great idea.
The cost of shipping their equipment to trade shows and other events was enormous due to the weight of the parts. To reduce the expense, they decided to replace production parts with 3D printed replicas and even painted them to match. As a result, the printed parts were aesthetically and dimensionally accurate, weighing up to 90% less than the original. The cost savings of reducing the weight allowed them to pay off the 3D printer in less than one year.
Soon, every office had 3D printed replicas on display, and every salesperson had smaller versions of these replicas in their sales kit.
Demand
Owning a 3D printer allows you to print nearly 24/7. For example, designers & engineers can create a CAD model one day, print it that night, and have it in their hands the next day. This cycle helps keep multiple projects running simultaneously and on schedule.
"Our 3D printer is the perfect employee! It works days, nights, weekends, holidays, and never asks for a raise." - GoEngineer Customer
Printer featured in video: Stratasys J55 Prime
Benefits of Outsourcing 3D Printed Parts
Access to Cutting-Edge Technology
You can choose nearly any material, print size, surface finish, or other specification, and you'll find a 3D printing services provider to make it for you. Service providers spend millions of dollars on equipment and hire teams to operate and maintain them, so you don't have to.
Hands-Off Production
Simply create a CAD model, upload it, and a printed part will show up at your door when it's done. You don't have to prepare the printer, build the part, perform any necessary post-processing, reprint the part if it fails, etc. Some service providers even provide post-processing services such as sanding, priming, painting, plating, and more.
Facility Requirements
Service providers often undergo significant modifications to their facilities in order to install specific equipment. For example, some 3D printers are too large to fit through standard doorways, some have advanced power requirements, some require ventilation, and some even require a cleanroom environment. These modifications are costly, and some may even be impossible at your facility.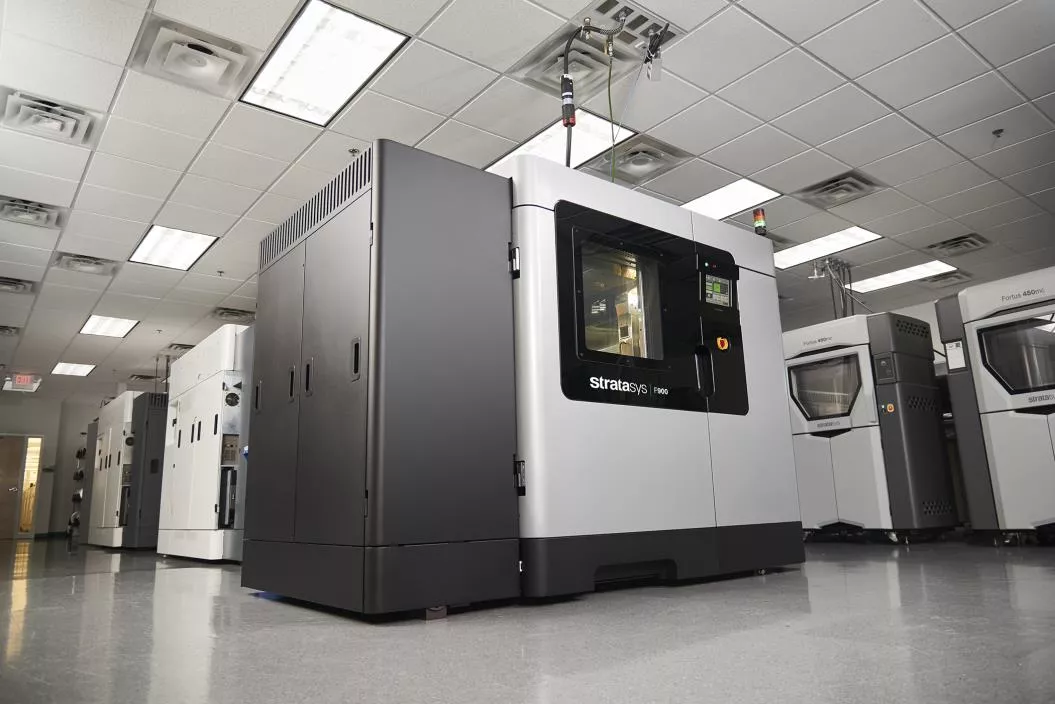 Benefits of a Hybrid Approach
Specialty Parts
There are some parts your printer won't be able to print. This could be due to several reasons, including material properties, part size, geometry, etc. While you should be able to produce most jobs on your printer, you can outsource parts outside your printer's capabilities.
And, if you find yourself ordering parts printed with the same technology or material over and over, it may be time to consider purchasing another 3D printer. Think of it as a technology test drive.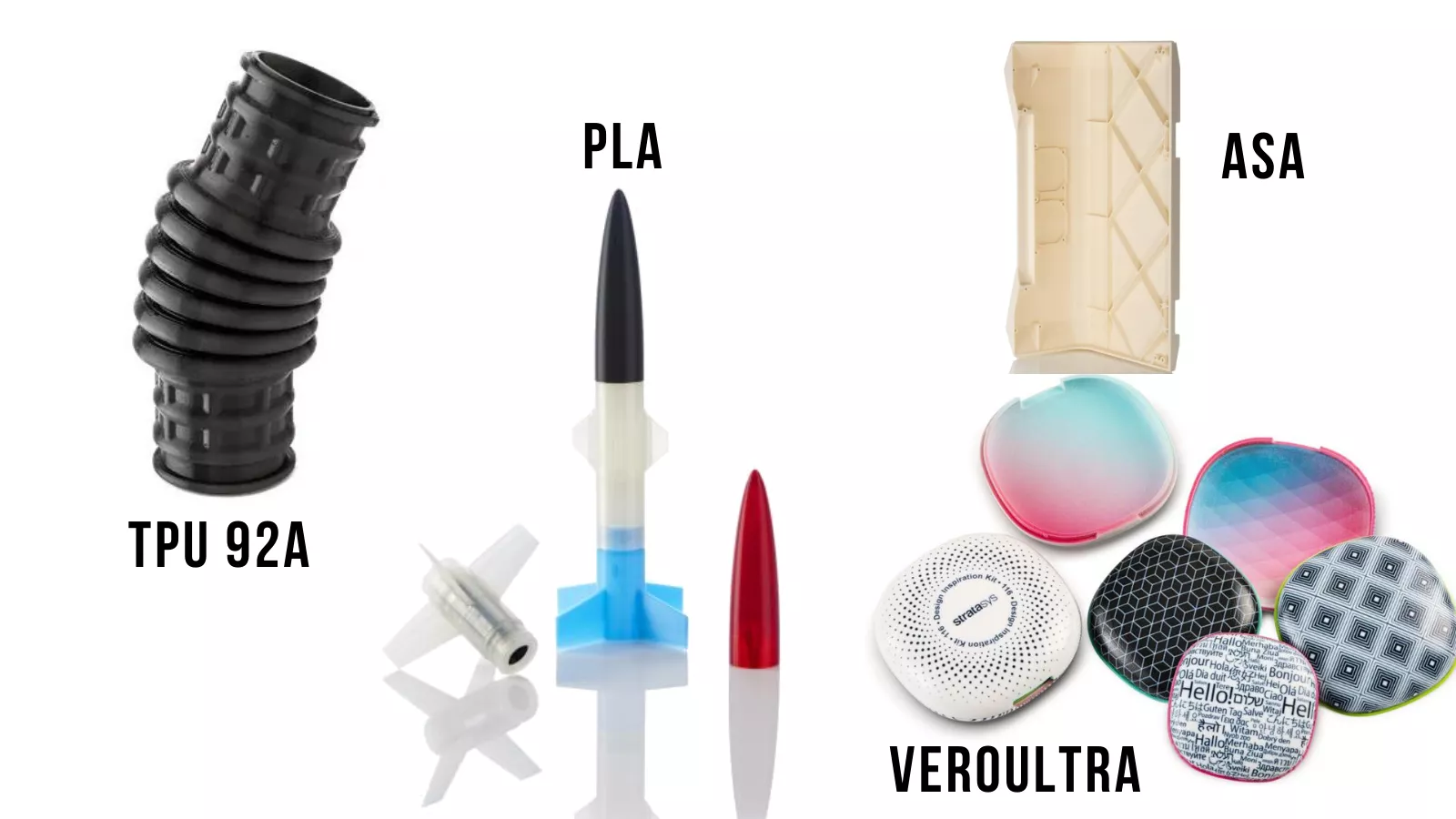 View all Stratasys 3D Printing Materials here
Demand
Once you own a 3D printer, other departments will probably ask you to print their parts. This increased demand can lead to a long list of jobs waiting to be printed. A service provider lets you offload some of the overflow keeping your processes moving smoothly.
Also, if you have a large part in the queue that will take days to print, you may consider offloading that part to a service provider, freeing up your printer for other jobs.
Learning Curve
Working with a partner like GoEngineer and gaining hands-on experience will help you get to know your 3D printer inside and out. You'll learn what materials you prefer, which orientation works best, your ideal infill, etc. Then, when you outsource parts to printers you're unfamiliar with, you don't have to learn everything about that technology as well. Instead, you'll have a good baseline knowledge of how you want your parts to turn out and a good service provider will help you with the rest of the details.
Summary
The critical takeaway from this article is you don't have to decide between the two. Both 3D printing in-house and outsourcing has its benefits, but combining the two solutions is a winning formula. It's all about finding the perfect balance for your specific needs, and that's our specialty.
When considering a partner for your 3D printing needs, consider GoEngineer. We've been helping everyone from startups to Fortune 500 organizations get the most out of 3D printing for nearly 30 years. For more information, visit us at: https://www.goengineer.com/.
Related Articles
The Future of Digital Dentistry: Stratasys Solutions
­­Stratasys Origin One Exploratory Open Materials
Stratasys Introduces Composite Ready FDM, New Materials, and More at Manufacturing Event
Experts in Additive: 3D Printing with GoEngineer
New VORSA 500 FDM Support Removal System