If it's necessary to have multiple versions of SOLIDWORKS installed on your computer, it can be an inconvenience if every time we double click on a SOLIDWORKS file, it is opened in the wrong version. In this article, you will learn how to change which version of SOLIDWORKS opens your files when double-clicking on them in File Explorer.
In this example, I want to make sure SOLIDWORK 2015 opens all my SOLIDWORKS files. My default version is 2016 and I'm running Windows 7 but the same should apply for Windows 10.
Right-click on any part, assembly,

or

drawing file (.sldprt, .sldasm, .slddrw) and make sure SOLIDWORKS Launcher is the Open With default program for all three file types. Any set of files will do.




Launch the SOLIDWORKS version you'd like to make your default one. When launching that version make sure to run as Administrator and that version is the only version open. Then go to System options > General > Restore file associations.





You should get a dialog box saying that all file associations have been restored.




Go back to File Explorer and double click on any SOLIDWORKS file (.sldprt, .sldasm, or .slddrw) and you should get an option to select your default SOLIDWORKS version. Select your version but before you do make sure and tick to remember the version selection at the bottom of the dialog. Otherwise, it will ask you every time to choose a version.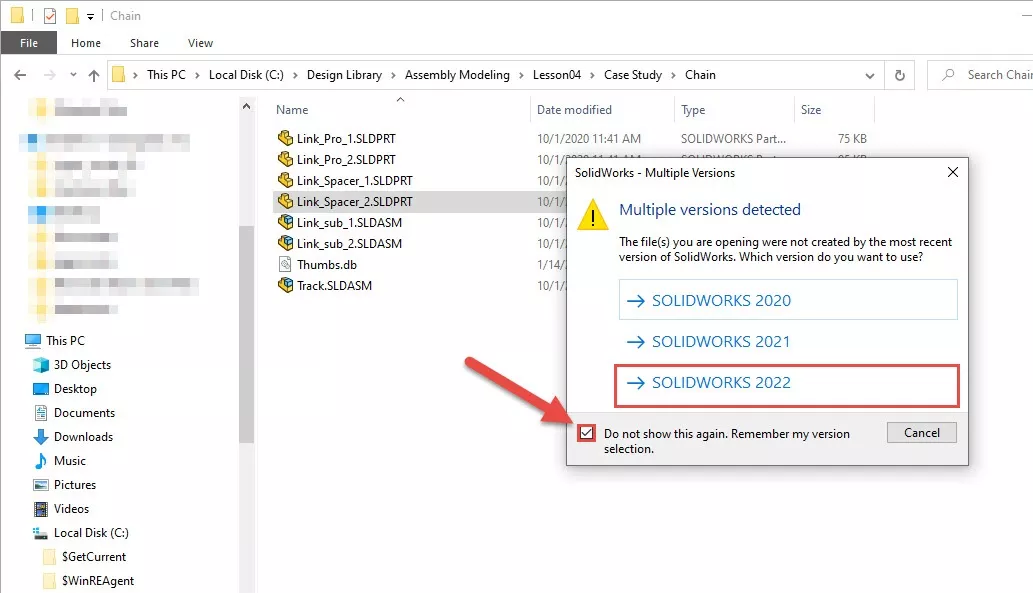 You might have to do the same process for all three file types but, in my experience, you only need to do it to one file type.
Now each time you double click any SOLIDWORKS file, the new default version will open it.
Editor's Note: This article was originally published in July 2016 and has been updated for accuracy and comprehensiveness.
More SOLIDWORKS Tutorials
Clean Uninstallation/Reinstallation of SOLIDWORKS
SOLIDWORKS Trial Installation and Activation
My SOLIDWORKS Installation Manager is Blank!
SOLIDWORKS Installation Repair
Best Practices for Parallel Installations of SOLIDWORKS