Managed DSLS, which stands for Dassault Systèmes Licensing Service, is a free service offered by Dassault Systèmes to customers that purchase Abaqus or their other products.
Managed DSLS is a cloud-hosted licensing service that removes the need for a dedicated physical machine to act as the licensing server. The service is managed entirely by Dassault Systèmes and requires almost no intervention by you, the user, or an IT team. Moreover, if you're connected to an external network, there is no need for a VPN, which would have been the case if the licensing was configured locally using FLEXnet or Hosted DSLS. Therefore, you can connect to any network and still use Abaqus without worrying about connecting to your company's network.
1. Receive Authentication File (.LIC)
Request the Managed DSLS licensing option by contacting your GoEngineer account manager. After doing so, you will receive an email with the attached authentication file (<filename>.LIC) from the address DoNotReply.ag.license-keys@3ds.com. If you can't find it in your inbox, it's likely in your spam folder.
The authentication file, which has a ".LIC" extension, proves your identity to access your company's licenses. Unlike license keys, the authentication file is not tied to a ComputerID. That means that you can deploy the same file on multiple machines. Additionally, this authentication file has no expiration date, so it only needs to be deployed once.
Copy the authentication file (.LIC) to every computer you wish to run Abaqus on and place it in C:\ProgramData\DassaultSystemes\Licenses\<FILENAME>.LIC. Create this folder if it does not exist.
ProgramData is a hidden folder that can be accessed by typing the folder name in the address bar:

2. Create DSLicSrv.txt File
On the same computer and in the same folder (C:\ProgramData\DassaultSystemes\Licenses\), create the file DSLicSrv.txt. This file references the Managed Licensing Service and its redundant servers listed on one line. The contents are specified in the email from Dassault Systèmes:
customerID-eu1-licensing.3dexperience.3ds.com:443, customerID-eu1-licensing-1.3dexperience.3ds.com:443, customerID-eu1-licensing-2.3dexperience.3ds.com:443
In this case, make sure customerID is the customer identifier (Tenant ID or Online Instance ID) provided by Dassault Systèmes.
3. Final Configuration
During the Abaqus installation, choose skip licensing configuration. (Shown below)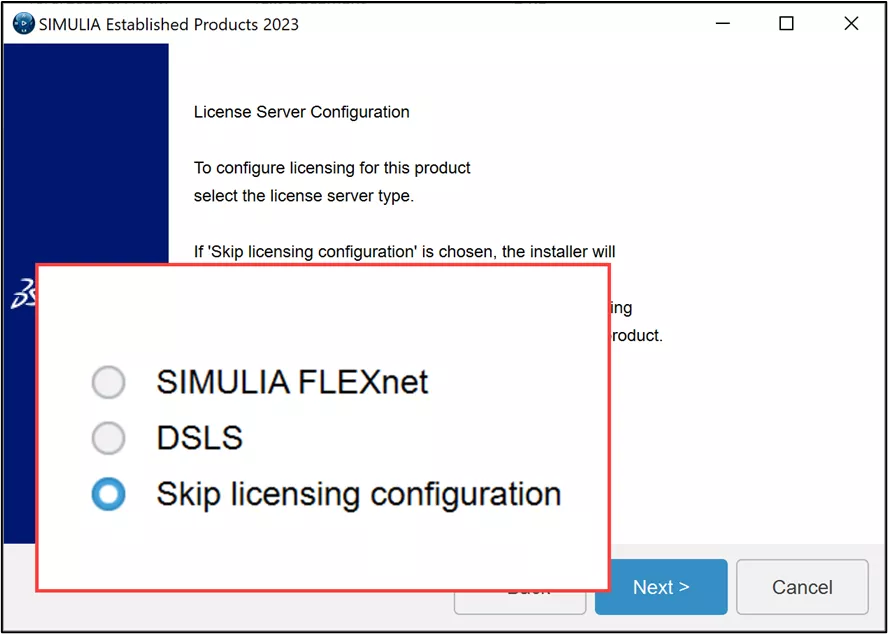 4. Run Abaqus
With the authentication file and the DSLicSrv.txt placed in the same folder location, you can launch Abaqus and perform your analysis.
Conclusion
Managed DSLS is a free service offered, fully hosted, and managed by Dassault Systèmes. It requires zero maintenance and no IT overhead. You set it up once and forget about it. This cloud-based license makes it possible to run your application anywhere, anytime.
Related Articles
3DEXPERIENCE Fluid Dynamics Engineer: Simple Internal Flow
Create 3DEXPERIENCE Simulation Study Search Widget
Fix Abaqus CAE IOError Permission Denied
How to Import SOLIDWORKS Parts Into 3DEXPEREINCE
3DEXPERIENCE Platform Beam Analysis