Is your company adding or switching over to CATIA? When deciding between CATIA V5 and 3DEXPERIENCE CATIA, there are a few considerations to keep in mind.
CATIA V5 (also known as CATIA V5-6) is the original desktop version. 3DEXPERIENCE CATIA (V6) is the platform-based version.
Both of these products are very powerful and capable.
Many CATIA users currently use CATIA V5, which will likely make this decision easy for suppliers wanting to collaborate with customers. Like most 3D CAD packages, there is no backwards compatibility between software versions of CATIA, so it is necessary to match the version your customer/vendor is utilizing. For most, this is the deciding factor when selecting a CATIA version.
A majority of companies adopting 3DEXPERIENCE CATIA, are those that do not have ties to customers or vendors utilizing CATIA V5. These are typically startups or companies that may be switching from another CAD system as there are a lot of advantages to 3DEXPERIENCE CATIA.
Dassault Systèmes' developments with the 3DEXPERIENCE Platform are what it can offer to an entire company, so they have enhanced the 3DEXPERIENCE product at a faster pace than legacy V5.
Let's compare some differences between CATIA V5 and 3DEXPERIENCE CATIA.
Interface
CATIA V5 is still the original interface, and even though very capable, it might not be quite as intuitive as 3DEXPERIENCE CATIA.
3DEXPERIENCE CATIA has a more user-friendly interface and navigation. It utilizes context-sensitive popups and selections to minimize mouse movements. 3DEXPERIENCE CATIA is also easier to transition to from SOLIDWORKS or other CAD packages.
CATIA V5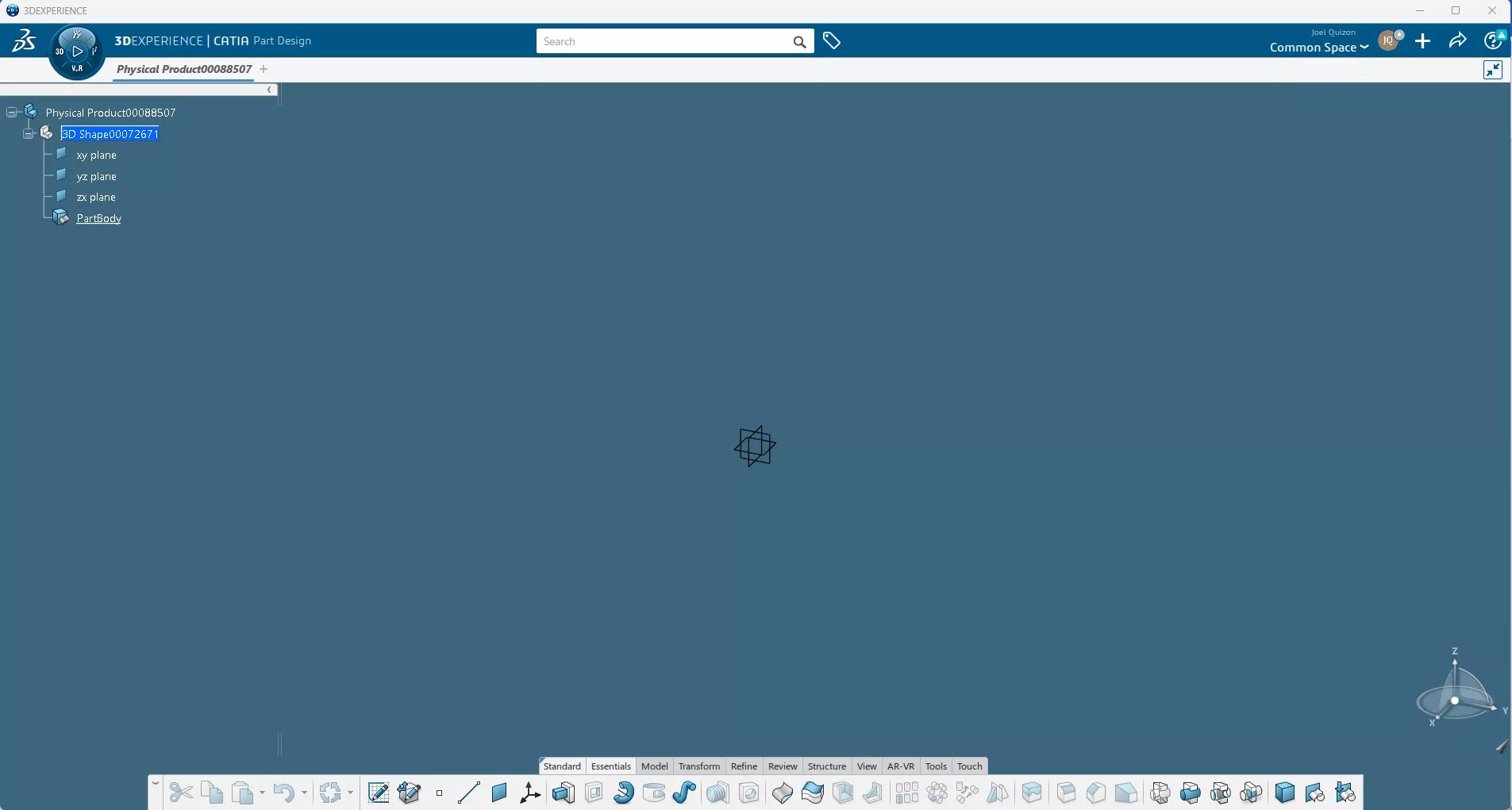 3DEXPERIENCE CATIA
File Structure
CATIA V5 is file based with extensions like .CATPart, .CATProduct, and .CATDrawing. These are saved onto the hard drive or network drive like SOLIDWORKS.
3DEXPERIENCE CATIA is more database-driven, and files are 3DXMLs. With the data-driven structure of 3DEXPERIENCE, it is even faster than CATIA V5, especially when working with assemblies.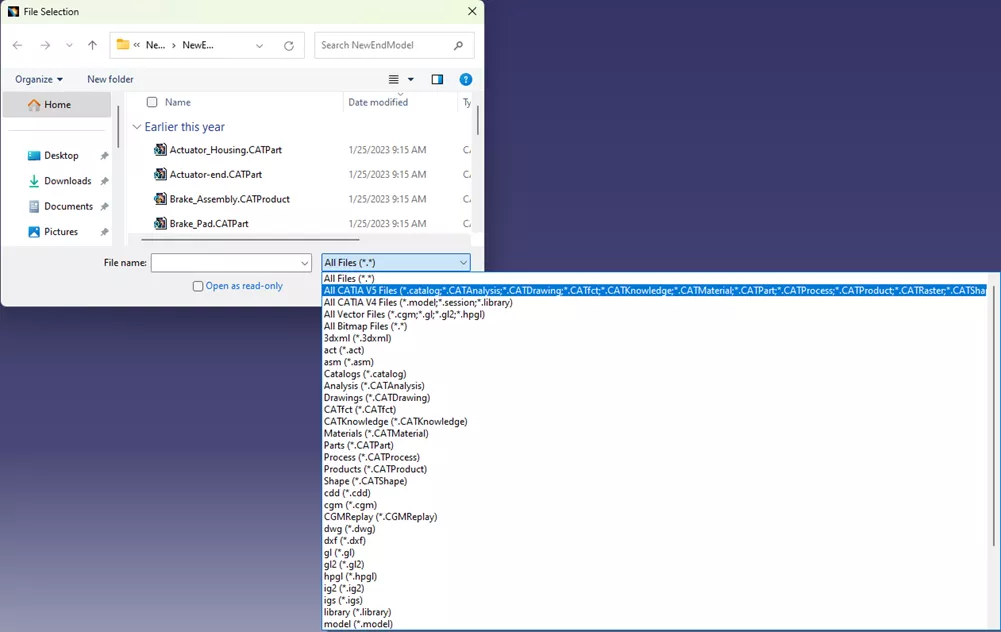 CATIA V5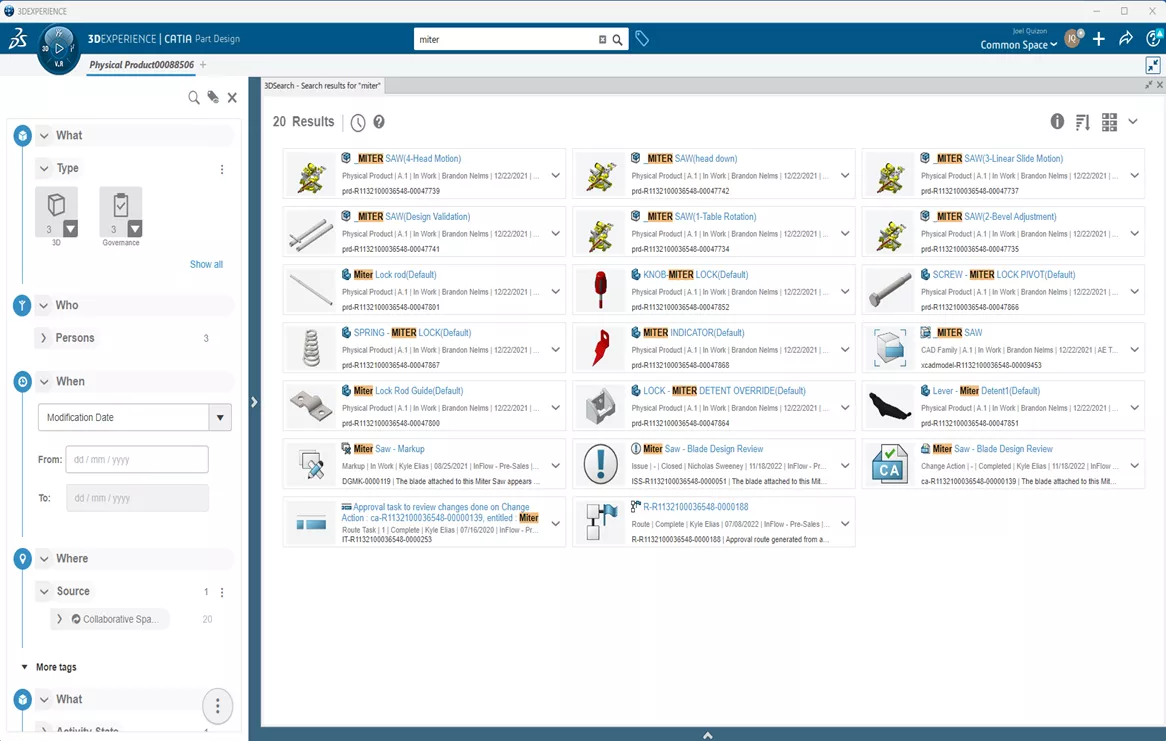 3DEXPERIENCE CATIA
Licensing
CATIA V5 and 3DEXPERIENCE CATIA both utilize the Dassault Systèmes License Server (DSLS). There is also a Managed DSLS option where Dassault Systèmes hosts the license server for you instead of installing DSLS onto a server, all you need is internet access to ping their server for your licenses.
With CATIA V5, it is a floating license. If there are two licenses, then two concurrent users can utilize the software. If a third user attempts to launch the software, they will get an error.
3DEXPERIENCE CATIA has either a named-user or shareable license. The shareable license, which comes at a higher cost, is basically a floating license that any client can utilize (similar to CATIA V5). The named-user license is tied to a specific user. An admin assigns the user a specific license and that user has access for a minimum of 30 days. You can only change user assignments after 30 days.
3DEXPERIENCE CATIA also has a cloud offering where both licensing and all data are managed on the cloud. This option has the least amount of IT involvement - if any. Customers get a specified amount of space on the cloud to save and manage their data and installation of the software and updates are automatic.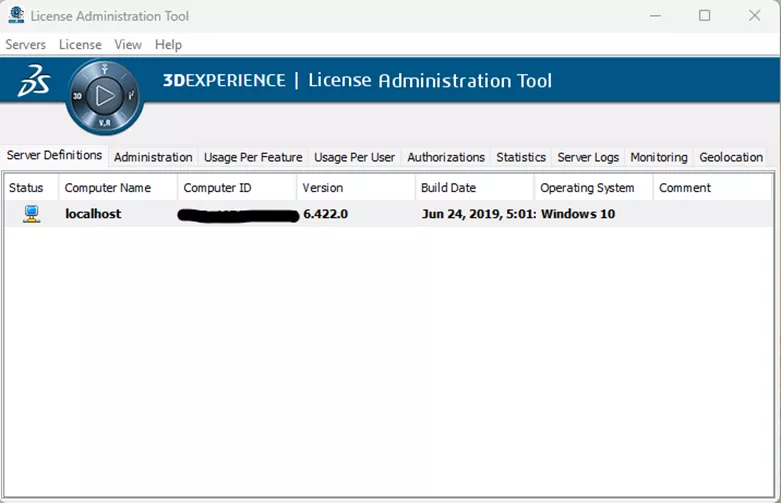 Dassault License Server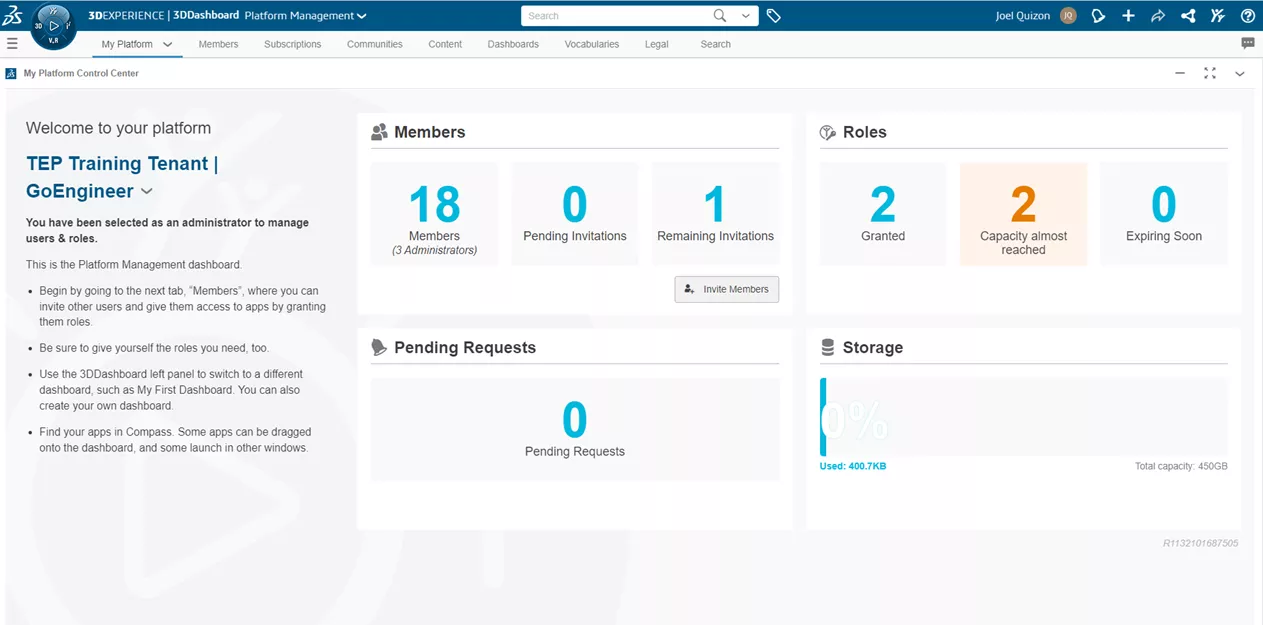 Cloud Platform Management for Users
Installation & Setup
CATIA V5 is considered traditional in regard to installation and management. Files are saved onto a hard drive or a network drive and can be managed with most data management software via a CATIA plug-in.
Dassault Systèmes' preferred PDM/PLM solution for CATIA V5 is the PDM & PLM tools on the 3DEXPERIENCE Platform, which are excellent at managing all types of CATIA files. You may see this set of tools also referred to as "3DEXPERIENCE ENOVIA". It was at the release of the 3DEXPERIENCE Platform in 2012 that Dassault Systèmes introduced the "V5-6" version naming, in order to represent V5's new connection to cloud data management.
3DEXPERIENCE CATIA users will be required to work on a 3DEXPERIENCE Platform with 3DEXPERIENCE data management. Their platform can either be "on-premise" or "on-cloud". An on-premise Platform would be implemented and managed on a company's own serves. An on-cloud Platform is hosted by Dassault Systèmes at their data centers.
The vast majority of companies opt to have an on-cloud 3DEXPERIENCE Platform, much like they choose on-cloud services such as Office 365, Salesforce, Dropbox, or countless others. It's much more cost-effective than trying to buy and maintain that considerable IT infrastructure.
Large companies or companies with ITAR compliance needs made need an on-premise option where they run and support the 3DEXPERIENCE Platform from their own servers. This option is more costly since multiple servers are required and implementation is more complex.
Smaller companies or startups that might not have or want much IT support will choose the cloud option. This means Dassault Systèmes hosts the platform for a company and provides them with cloud storage.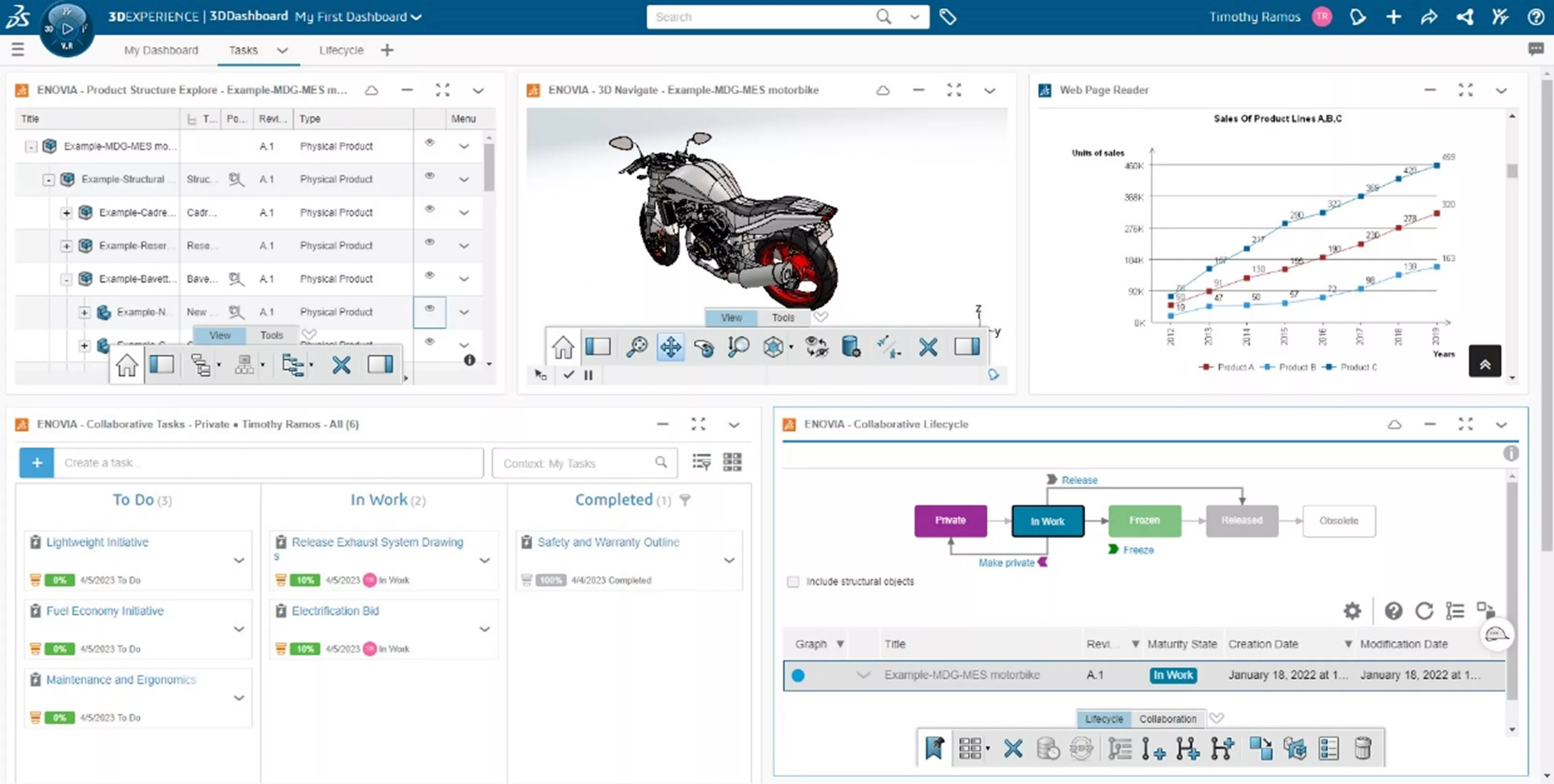 ENOVIA dashboard example
Design Capabilities
CATIA V5 and 3DEXPERIENCE are both very capable modeling programs and most functions are in both programs. The basic functions for modeling parts, creating assemblies, and drawings are the same in the programs, besides having the different user interfaces. As it was stated earlier the 3DEXPERIENCE version has been enhanced at a faster pace so there are quite a few capabilities in the 3DEXPERIENCE version that are not in V5. Additional design and visualization capabilities through new apps are available in the 3DEXPERIENCE version. Additionally, a focus on a collaborative design environment with the 3DExperience version really differentiates it from V5. Being on the 3DEXPERIENCE platform opens up a lot more tools for this version of CATIA.
Just look at the number of roles available in the CATIA 3DEXPERIENCE portfolio:
https://www.3ds.com/products-services/catia/products/3dexperience/whats-new/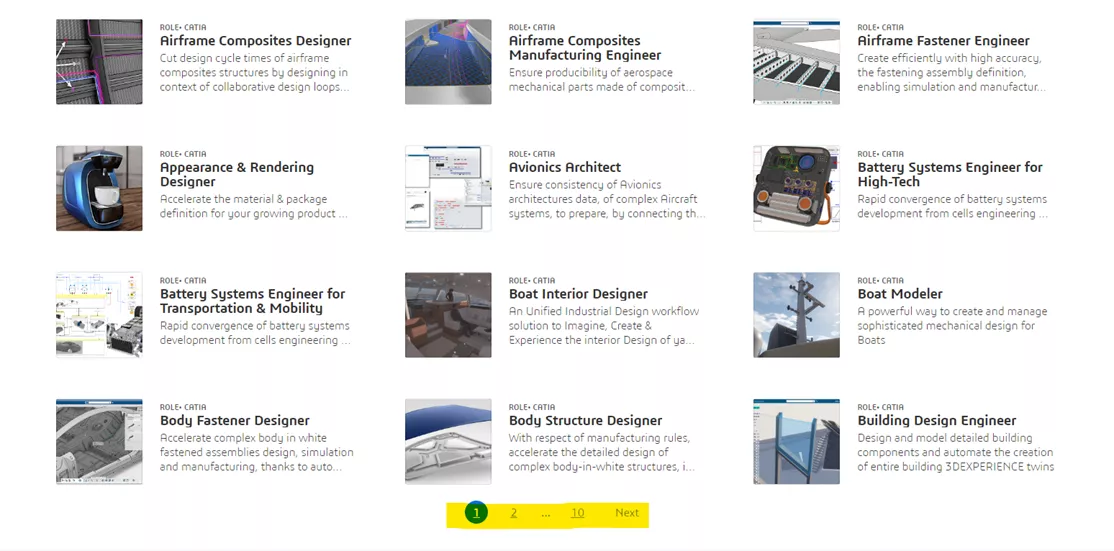 These are just a few key differences between CATIA V5 and 3DEXPERIENCE CATIA.
Unless you are required to utilize CATIA V5 by a customer or vendor, 3DEXPERIENCE CATIA, with its extensive toolbox, is a great solution. If you have any further questions or would like to explore more of the differences between the CATIA V5 and 3DEXPERIENCE CATIA, please do not hesitate to contact GoEngineer.
For More Information, please refer to our CATIA Buying Guide

Related ARticles
Getting Started with 3DEXPERIENCE: Setup, Dashboards, Connectors & More
How to Import SOLIDWORKS Parts Into 3DEXPEREINCE
3DEXPERIENCE 2023x Data Management Improvements
3DEXPERIENCE Apps Local Installation: Setup, Versions, and More