Do you have a great idea that could make SOLIDWORKS better for everyone? Good news! There is a way to tell SOLIDWORKS your idea. The SOLIDWORKS Enhancement Request is an option available within your SOLIDWORKS Customer Portal account. Note: You must be on current SOLIDWORKS subscription support to submit enhancement requests.
If you don't have one, follow these steps to access the SOLIDWORKS customer portal.
Quick List of Steps
Navigate to solidworks.com
Login (or create an account)
Select Enhancement Requests (found under the MY SUPPORT header)
Search for any existing SPR's
Select an SPR that is the closest match
Vote for that SPR, or create a completely new request
Navigate too the SOLIDWORKS Customer Portal and login.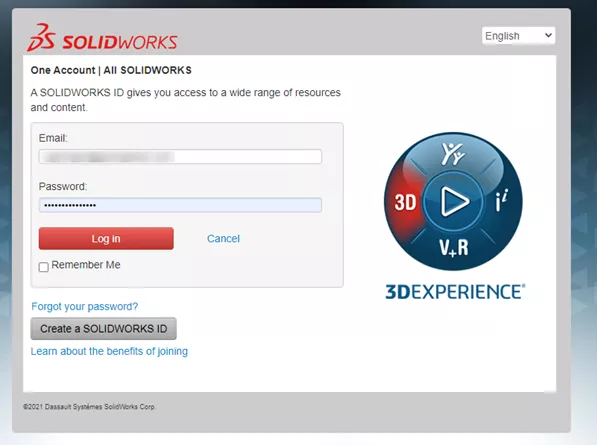 Under the MY SUPPORT header, select Enhancement Requests.
Search for any existing SPR's that may be a close match to your new idea. In this example, we searched for topics related to Explode Step.


Review the search results and click on any SPR that may match your new idea.
If you do not see anything similar to your idea, there is a link immediately below the search box to submit a new request.
In this example, SPR 671853 appears to match our new idea.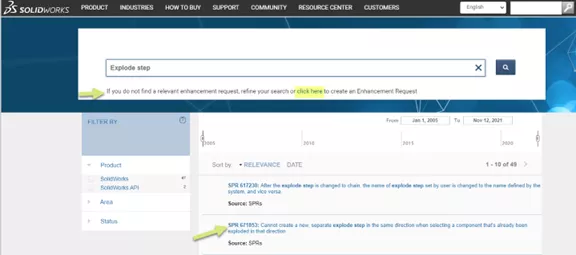 To vote for this SPR, click Vote for This Enhancement.

Complete the lower half of the voting form and click Submit.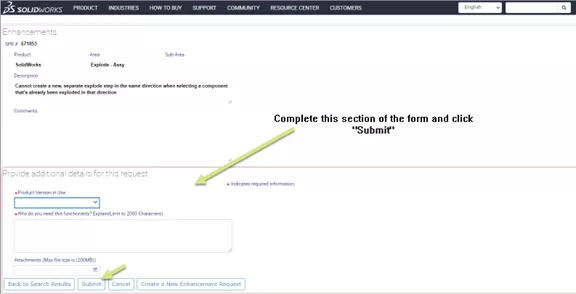 Like we mentioned earlier, there is a link on the search page to submit a new request as well as a Create a New Enhancement Request button at the bottom of the Voting and SPR pages.

Complete the New Enhancement Request form and click Submit. Make sure to keep a record of the newly assigned "ER #" before you click the submit button.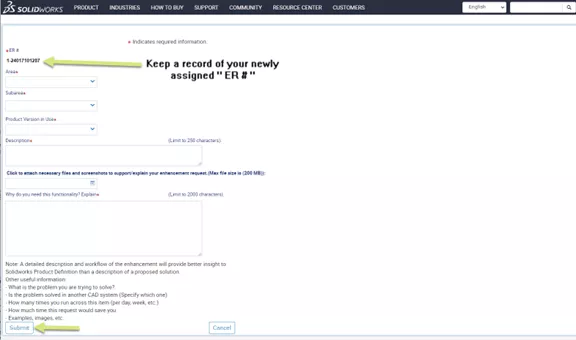 I hope you found this tip helpful! For more SOLIDWORKS tutorials, hit the subscribe button.
Related Articles
Free SOLIDWORKS Certification Codes for Subscription Customers