Every new release of SOLIDWORKS results in the question, "how do I open a future version SOLIDWORKS file in an older version of SOLIDWORKS?" Perhaps our vendors are using a newer version than we are, and we can't open their models, or maybe a coworker upgraded and converted a file to the new year before you were ready. All of these scenarios result in an error stating that the file is from a future version. So what can we do? Here, we discuss everything you need to know about SOLIDWORKS backwards compatibility.
Can I Open Files from the Newest Version of SOLIDWORKS in a Previous Version?
Yes! Open the file using Service Pack 5 of the previous release. This allows users to use a mix of SOLIDWORKS files from consecutive releases right inside the previous version. Files can be opened directly and associativity is maintained. You do not have to export and import files!
Adding a future model to an assembly is like adding a neutral file (e.g., STEP or a Parasolid). We can mate it into position, pattern it, display it in a Bill of Materials—anything that doesn't involve feature data. Use interference detection when mating, suppress and unsuppress future version components, and access to the default planes and origins.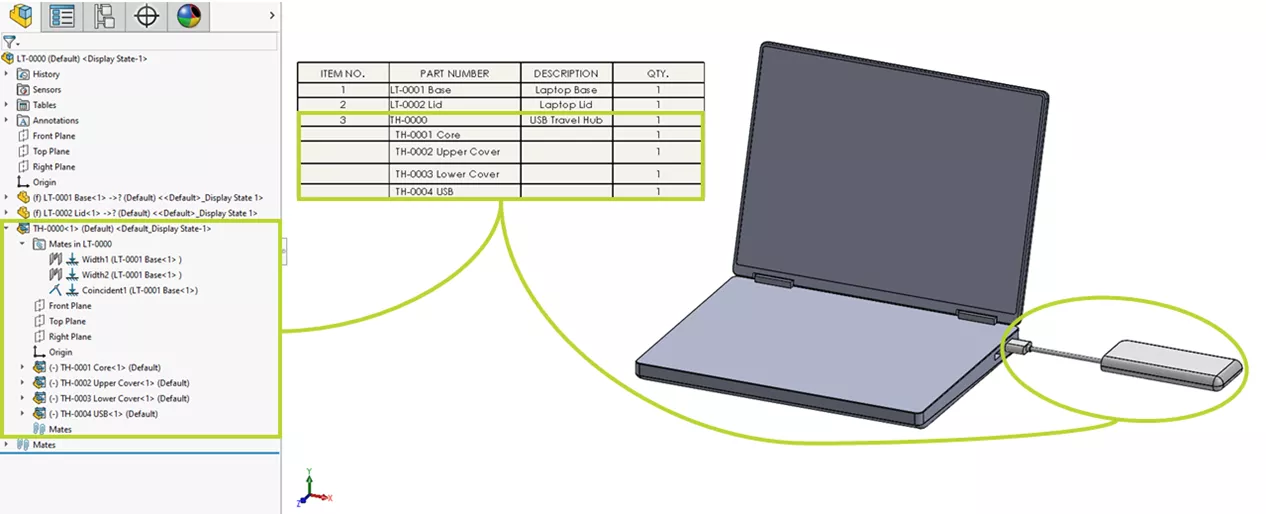 Although we can't open future drawings in an earlier version of SOLIDWORKS, we can create drawings with future models. We can create a drawing of an assembly that includes future version and current version components. The same rules for assemblies apply here, where we can't use commands that require the FeatureManager information (like Model Items), but we can still insert Smart Dimensions or other annotations.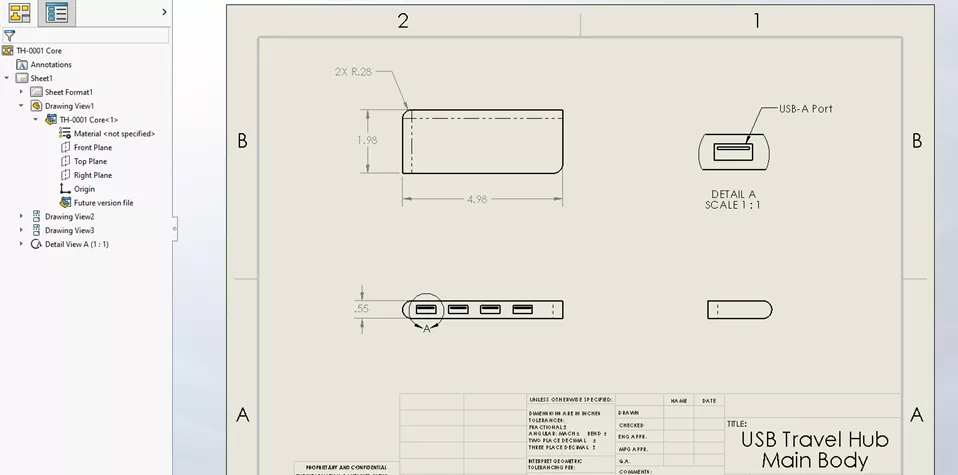 SOLIDWORKS maintains associativity when we insert a future model into an assembly or a drawing, so any modifications to the model in the new version will be reflected in the previous release. When we open the "Future version" file back up in its original version, all the FeatureManager design tree data of the file is once again available.
SOLIDWORKS Future Version Files Read-Only State
Future version files load in a read-only state when opened in the previous version of SOLIDWORKS and have reduced functionality. The FeatureManager design tree contains limited data. When we open a part or assembly file, the FeatureManager design tree will not show the individual features. It will just say "Future version file."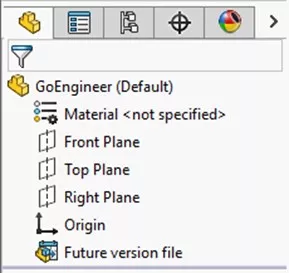 Even though we can technically open parts and assemblies in the prior release of SOLIDWORKS, we do not have the same capabilities as if we were working in their native version. We will be able to see the model's material, configurations*, and properties, but there is no way to edit. We can't add new features either. Most of the commands are inaccessible, except for a few items like Measure, Mass Properties, and Interference Detection.
*We can only view configurations that were up to date when the model was saved.
If we need to edit a future part, we can work around this restriction by creating a new part document and using Insert Part to add in the future version file. This enables us to work on the model as though it were imported geometry but be careful. This approach does not support linking to the original document. If the model is updated in the future software, the changes will not propagate back to this earlier version.
Another note to keep in mind, is that future version files are only supported between consecutive releases. In other words, SOLIDWORKS can only be one year older than the file, and we must have the final Service Pack.
Why Upgrade Your SOLIDWORKS Software
There isn't a 3D solid modeling CAD software on the market today that offers true previous release interoperability using their primary CAD format. CATIA, NX, Solid Edge, Creo, and SOLIDWORKS do not have a save-as to prior version option that lets us continue to have access to the parametric design tree.
What about AutoCAD? AutoCAD users cannot save an Inventor file as a previous version. AutoCAD is not a 3D solid modeling program and uses DWG format. For exmample, AutoCAD 2020 uses the same DWG format as 2018 and 2019. If someone with AutoCAD 2018 wants to open a drawing created with AutoCAD 2020, they can because no conversion is needed. 2020 still uses the same old version of DWG. And as noted above, Inventor, the 3D modeler from AutoDesk, is similar to SOLIDWORKS in that it cannot get the new version's parametric data into the older version. But AutoCAD can save as a previous DXF version! Meaning AutoCAD can convert entities to make them readable in old releases of AutoCAD. This works most of the time, but not all objects work well after that. And it is not a parametric modeling program.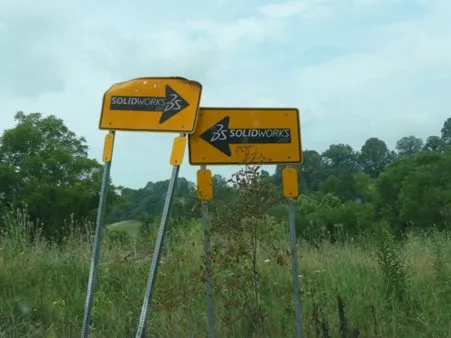 So, the bottom line is that we cannot go both ways at the same time. If we want to keep up with technology, if we want the latest and greatest features, we must upgrade our software in order to take advantage of all the new features and tools.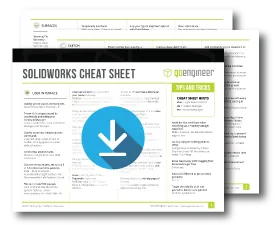 SOLIDWORKS CAD Cheat Sheet
Our SOLIDWORKS CAD Cheat Sheet, featuring over 90 tips and tricks, will help speed up your process.
Related Articles
How to Add Another SOLIDWORKS License to your License Server
SOLIDWORKS Magnetic Mates Explained
How to Reactivate Your SolidNetWork License Manager
SOLIDWORKS Standalone Serial Number Management Skills
Recover SOLIDWORKS Part, Assembly, & Drawing Templates