Did you know that SOLIDWORKS has certifications that you, as a customer, can take? These certifications can cover everything from 3D CAD, Simulation, Project Data Management (PDM), Technical Communication, Electrical, Collaboration, and Manufacturing. And will help you become more efficient, create more robust designs, and set yourself apart from other users in the SOLIDWORKS community.
As a bonus, for those who are on active Subscription, SOLIDWORKS offers some exams free each year.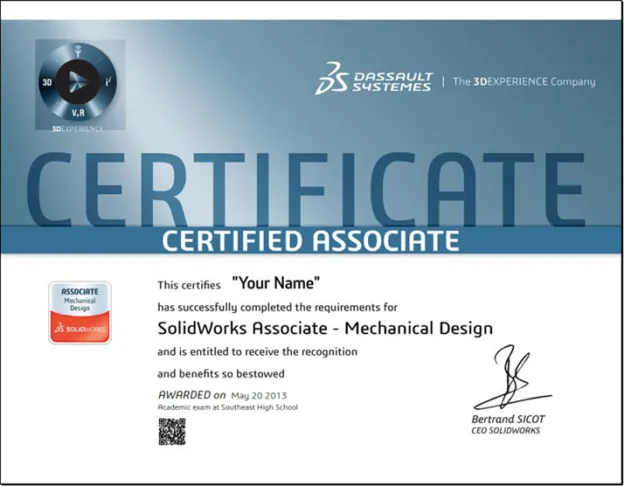 Retrieving the Free Exam Coupons
There are new coupons posted every Jan 1 and July 1 so essentially everyone at the company gets free exam coupons twice a year.
To get to the free coupons you will need the Customer Portal [Here's how to access the SOLIDWORKS Customer Portal] login that your company uses to access SOLIDWORKS Service Packs. (Note: This Customer Portal login has nothing to do with your login for SOLIDWORKS Certification testing.)
This login allows access to free and important SOLIDWORKS items such as the CSW Certification coupons, future SOLIDWORKS Service Packs, and new version upgrades. Most likely the person at your company in charge of downloading SOLIDWORKS service packs has this Customer Portal login.
If someone else in your company already has this Customer Portal login then have them use their login to get to the coupons. The coupons are the same for everyone and can be shared with everyone at your company once they have been downloaded. You can obtain a code for every single seat of SOLIDWORKS your company has purchased.
To get to the coupons visit the SOLIDWORKS Certification Program page and click on the Subscription Offer link on the top-right of the page. Then be prepared to log in with the Customer Portal login. You will find coupons for the following:
1 coupon for a free CSWA or CSWP

1 coupon for a free CSWP Advanced Exam (Drawings Tools: DT, Mold Making: MM, Sheet Metal: SM, Surfacing: SU, Weldments: MD, Additive Manufacturing: AM)
Once you get the coupons, follow the instructions to obtain your test code via SMS.
If you already have the above certifications, you can email certification@solidworks.com for help with obtaining free codes for other certifications.
Now you're probably thinking, "well how do I prepare for these exams?"
We have several training classes that will help you prepare for any SOLIDWORKS certification. Along with our classroom training, at one of our many locations, we also offer online and self-paced training.