SOLIDWORKS Manage and SOLIDWORKS PDM were made to get along and work together. To do this, a PDM add-in must be installed. The process for this is fairly simple but worth noting some steps that will be specific to every install.
Adding the PDM Add-in to the PDM vault
The PDM add-in doesn't come in a convenient package for us to drag and drop into the vault. We have the add-in file located in the installed Manage client directory, and we have the SOLIDWORKS Manage Configuration file (.SWMC) that is environment-specific. The SWMC file should already be in place to connect to Manage. It may be stored in a network or a local location.
If there is uncertainty of the file location, we can find it launching Manage.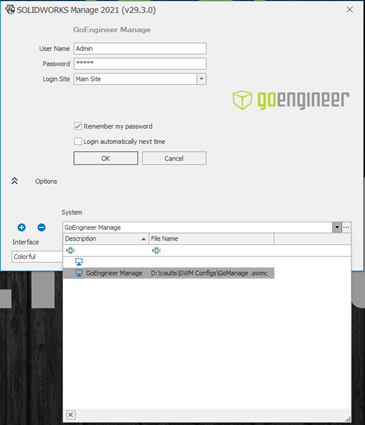 On the bottom of the login dialog is an Options button. This will expand the window to show other available Manage vaults and configurations that we've used along with the path to your SWMC file.
With our SWMC file in hand, we can find the remainder of our files in a standard location. This will be the installed location of your SOLIDWORKS Manage client.
We are looking for the file swm.swpdm.dll.
Now we can open the PDM Administration application. Log into your vault and go to the Add-ins node.
Right-click and select New Add-in. A dialog will appear to select our files. First, we will need to select the swm.swpdm.dll. Click Open to get the Add-in Properties dialog.
We will need to add the SWMC and the PDM library to get this working. Select Files, hit Add Files, and find epdm.interop.epdm.dll. This file is located in the SOLIDWORKS Manage Client folder.
Then click Add Files again and navigate to your SWMC file. You may need to adjust your dialog filters for All Files.
Add this file and click OK to the properties dialog. A warning will show that .NET assemblies may not be loaded properly until the next restart.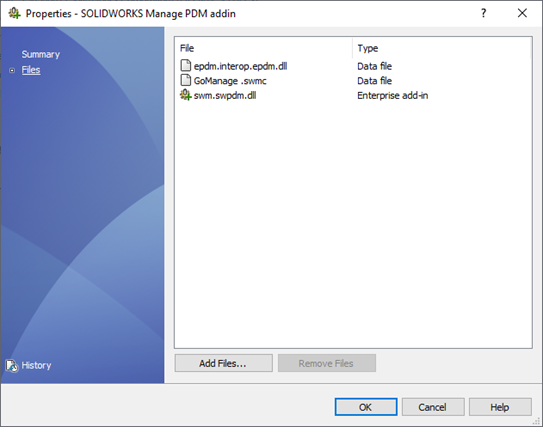 If this has all been done correctly and the PDM vault is properly tied to the Manage vault we should have an additional tab within our PDM interface providing us with Manage-specific information. Files will also have additional options in the right-click menu to send to a process, create a task, open the record, or run a report on the selected file.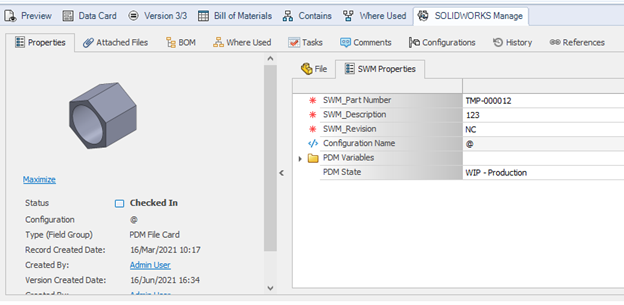 This add-in will help us maintain our connection to SOLIDWORKS Manage from PDM and allow users to move between the two applications with daily tasks.
Learn More about SOLIDWORKS Manage & PDM
Importing Files into SOLIDWORKS Manage from a Folder
Creating Custom Reports in SOLIDWORKS PDM
Ultimate Guide to SOLIDWORKS PDM Permissions
SOLIDWORKS PDM Professional SQL Server Changes for 2022
Sharing Your SOLIDWORKS PDM Vault Without Sharing Licenses