3D printing has revolutionized the manufacturing industry by allowing for the creation of complex and intricate parts with a level of precision and accuracy that was previously impossible. One of the key players in the 3D printing space is Stratasys, a leading provider of 3D printing solutions and the creator of Fused Deposition Modeling (FDM) technology.
FDM technology is a process in which a filament of thermoplastic material is melted and extruded layer by layer to build a 3D object. It is a versatile technology that can be used to produce a wide range of parts with different materials and properties. Stratasys, founded by Scott & Lisa Crump, is credited with creating this technology that has become a staple in the industry.
Over the years, Stratasys has invested heavily in research and development to continuously improve FDM technology and expand its capabilities. According to data from the company, Stratasys has over 1,800 granted or pending patents related to 3D printing, with a strong focus on Fused Deposition Modeling. This extensive patent portfolio is a testament to the company's commitment to innovation and its leadership in the industry.

Advantages of Stratasys FDM Technology
Build Size
Stratasys' FDM technology is known for its versatility in terms of build size. Their lineup of FDM 3D printers includes options that can produce everything from small intricate components to large industrial parts up to 36 inches in size. This flexibility allows for greater design freedom and the ability to produce parts for industries including aerospace, automotive, and railway.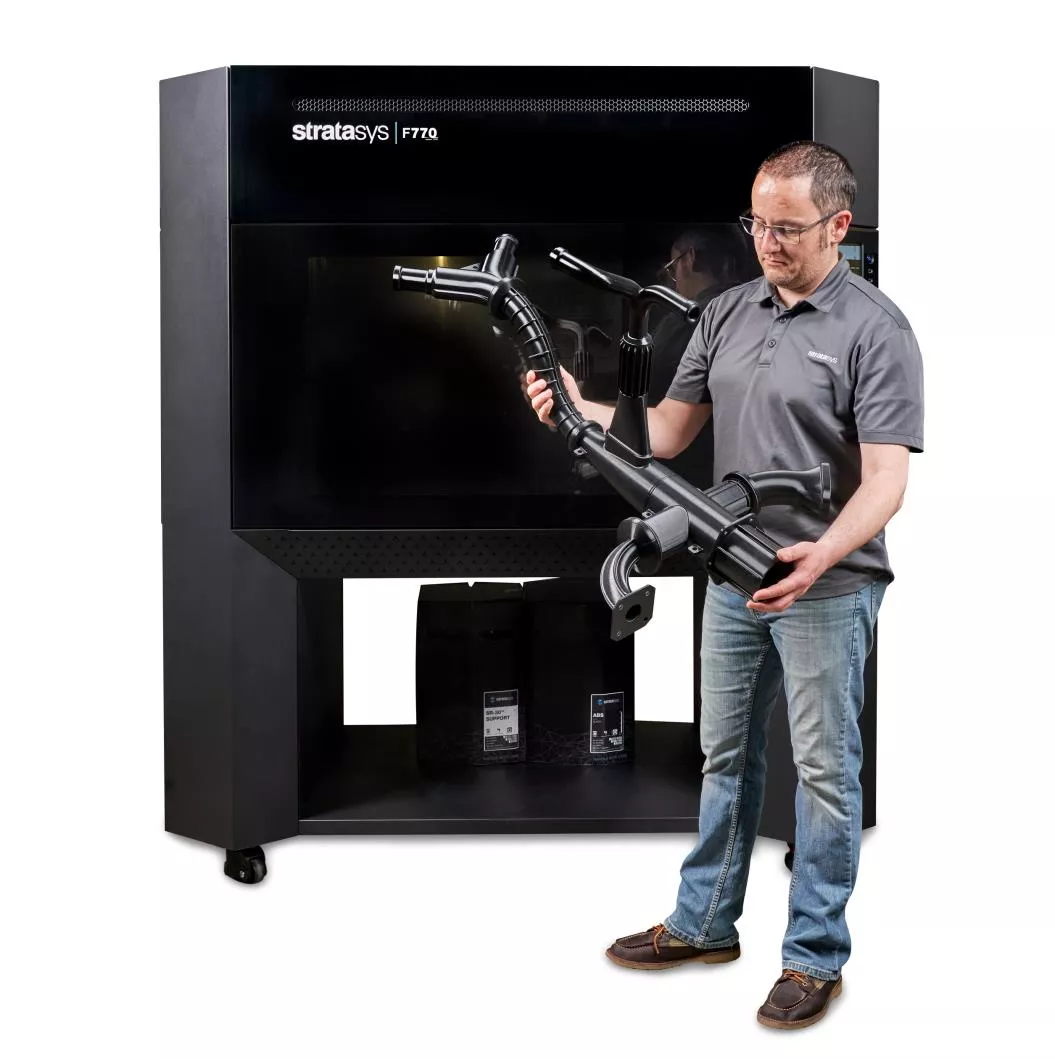 Material Options
The wide range of FDM materials, including engineering-grade & high-performance plastics as well as composites, can be used to produce everything from prototypes to production components. This enables Stratasys to meet the needs of aerospace and automotive to healthcare and consumer products.
While high-quality materials are a critical component in the 3D printing process, they are not a real benefit without a 3D printer that is fine-tuned to run them. Other 3D printers on the market may struggle with high-performance materials, requiring significant trial and error to dial in the settings for a successful print. With Stratasys, users can have the confidence that their 3D printer has been calibrated to run these materials seamlessly, making the printing process efficient and easy. This eliminates the need for extensive trial and error, saving the user time and resources.

Reliability
Stratasys' FDM technology is renowned for its reliable performance. The company's printers are able to consistently produce high-quality parts without interruption, making them an excellent choice for businesses that need dependable 3D printing solutions. The reliability of Stratasys' printers is particularly valuable in production environments, where any downtime can be costly and disruptive. With Stratasys, you can trust in the consistent, dependable performance of their 3D printing technology.
Service & Support
In addition to innovative technology and reliable performance, Stratasys has a global network of partners, like GoEngineer, who provide assistance and support. This ensures that customers can get the help they need when they need it to keep their operations running smoothly.
As a Stratasys partner, GoEngineer is dedicated to helping customers find the best 3D printing solutions for their needs. Our team of experts has extensive knowledge and experience with Stratasys' products and can provide valuable insights and guidance to help customers make informed decisions. We also offer a wide range of services, including training, technical support, and maintenance, to ensure that customers get the most out of their investment.
If you're interested in learning more about Stratasys' 3D printing solutions and how they can benefit your business, don't hesitate to contact GoEngineer.
Related Articles
Concept to Production 3D Printing: How it Works
3D Printing In-house and Outsourcing: Why a Hybrid Approach Works
Experts in Additive: 3D Printing with GoEngineer