Have you ever imported a STEP file into SOLIDWORKS and saw the error Encountered invalid record index? This error occurs because SOLIDWORKS found problematic data in the file.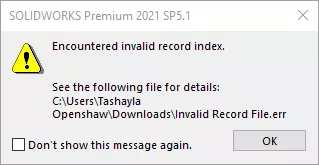 Fixing the Error
Luckily fixing this error is relatively straight forward and simple.
Start by checking the Import settings in your System Options.

Tools

>

Options

>

System Options

>

Import

Deselect the setting

Enable 3D Interconnect.





Open the STEP file in Notepad so that it appears as text.

Go to

Edit

>

Replace.

For the

Find what

section, look for 'PRESENTATION_STYLE_ASSIGNMENT' and

Replace with

the word 'Pres'. Then select

Replace All

.





Save the file in Notepad. Now, that parameter will be overlooked and should import properly into SOLIDWORKS.

Attempt the import again with the newly saved file. It should open without that error.



I hope you found this tutorial helpful. To learn more about SOLIDWORKS, check out more tips and tricks listed below.
More SOLIDWORKS Tutorials
SOLIDWORKS Assembly Hole Series Explained
Create a SOLIDWORKS Assembly from a Multibody Part
How to Link Values with External Files in SOLIDWORKS
Quickly Create a Radial Explode in SOLIDWORKS
How to Use SOLIDWORKS Feature Freeze