New to Visualize 2021 is the ability to utilize SOLIDWORKS model configurations. Previously, configurations could be added in Visualize only. Visualize configurations were much like Display States in SOLIDWORKS; only the appearances of the models could change. In Visualize 2021 users can now access their SOLIDWORKS configurations to show geometric changes in a single Visualize project.
Where to Start
Before SOLIDWORKS configurations can be selected in a Visualize project, you will have to add the Display Data Mark to the configurations in SOLIDWORKS.
To do this, open the model in SOLIDWORKS and switch to the

Configuration Manager

. Then right-click one or more configurations and choose

Add Display Data Mark

.





SOLIDWORKS gives a visual queue to each configuration in which the

Display Data Mark

is added.

To remove the

Display Data Mark

, right-click the configuration and choose

Remove Display Data Mark

.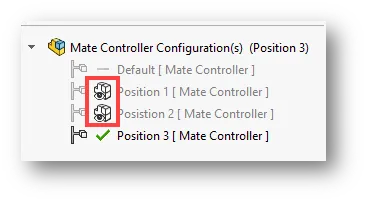 Accessing Configurations in Visualize
Once you have added the Display Data Mark to your SOLIDWORKS configurations, export the model to Visualize from the Visualize toolbar, or import within Visualize by going to File -> Open, then browse for your model.
The configurations will become a

Model Set

in Visualize

.

In Visualize click the

Model tab

and use the pull-down to switch between the configurations (Model Sets). Your model will update in the

3D Viewport.





Each

Model Set

name matches the configuration name in SOLIDWORKS.

The active configuration in SOLIDWORKS will also become a

Model Set

. If you only want the configurations with the

Display Data Mark

added, then make sure one of these configurations is the active configuration in SOLIDWORKS.

You can also delete a

Model Set

in Visualize by clicking the

'X'

next to the

Model Set

name.
Related Articles
Installing and Configuring SOLIDWORKS Visualize
SOLIDWORKS Visualize 2020 - What's New
Missing Palette in SOLIDWORKS Visualize