What is SOLIDWORKS eDrawings?
SOLIDWORKS eDrawings is a high compressible viewer that allows anyone to communicate and collaborate on their 2D and 3D designs. eDrawings is email-enabled which makes sharing product design information a breeze. Whether you are a CAD designer that uses CAD daily, or you are on the marketing side of the business, eDrawings makes it easy for anyone and everyone to view, interpret and understand 2D and 3D designs.

Does eDrawings Work on Mobile Devices?
Yes, eDrawings has a mobile app that allows users to review CAD models and drawings on mobile devices. Stop guessing or wondering if you added fillets to the edges of a model before sending it out to a vendor. With eDrawings mobile app, you can quickly view your models and drawings to remove all doubt.
Below is a screenshot of eDrawings on an iPhone.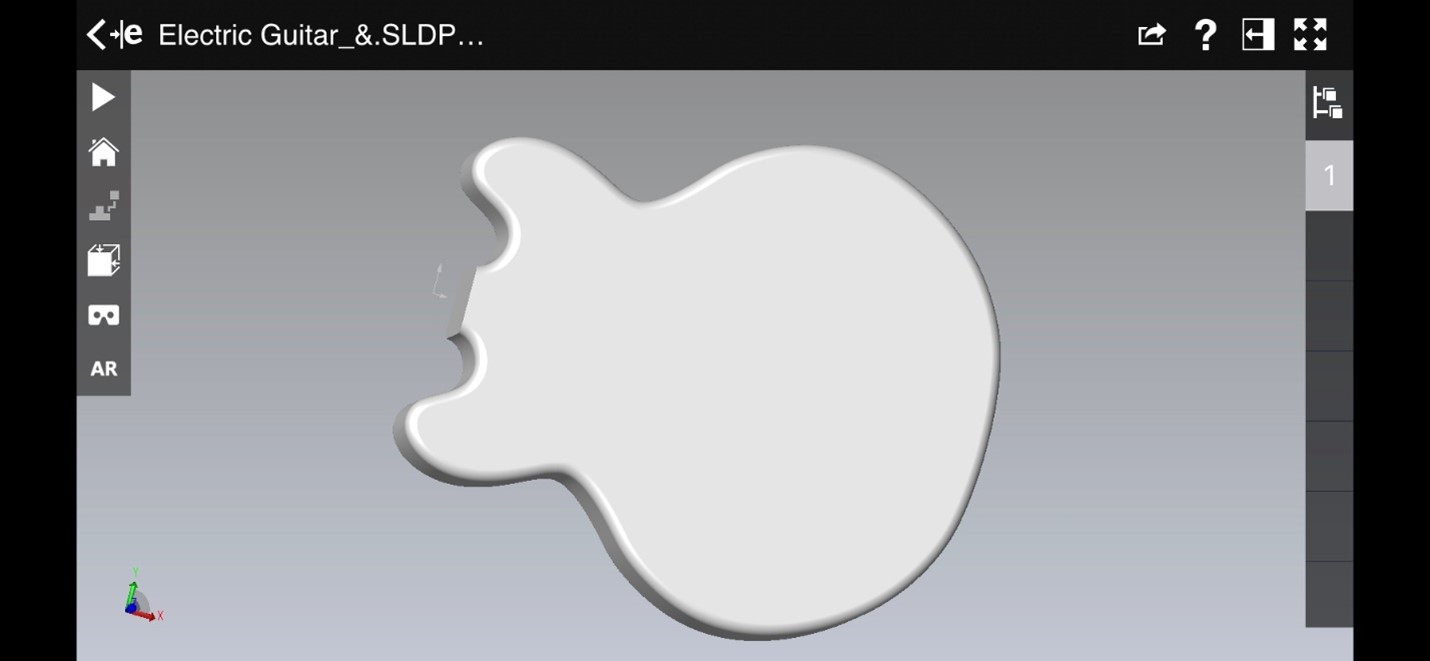 SOLIDWORKS eDrawings on an iPhone
eDrawings mobile takes advantage of all the mobile technology we have available to us today. Multi-touch gestures let you pan, zoom, and rotate models to inspect and interpret.
Configurations, multiple drawing sheets, and exploded assembly model views are also supported by the eDrawings mobile app.
eDrawings Augmented Reality
The eDrawings mobile app's Augmented Reality (AR) feature lets you use your device's camera to view your model in real-world environments. You can move the model around a room and even adjust the scale of it to really interpret its design in a real-world situation.
Below are screenshots of an assembly in an exploded view (see image A) and a screenshot of the Augment Reality (see image B).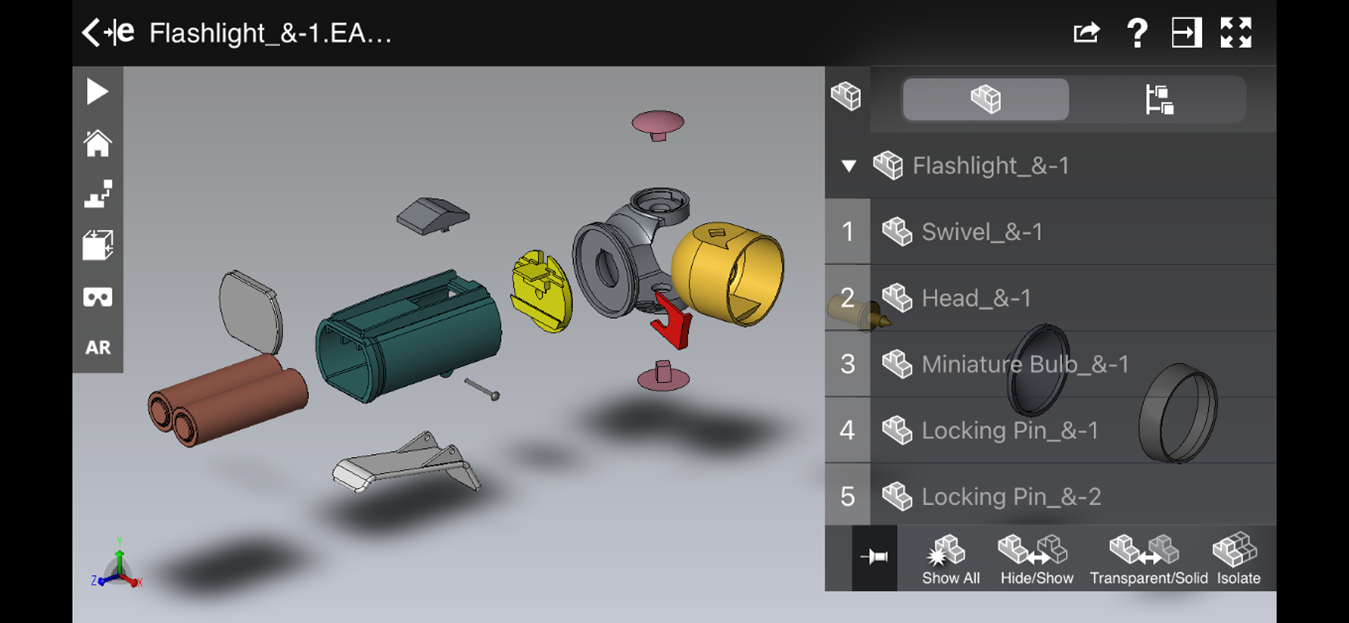 Image A: eDrawings Exploded View Example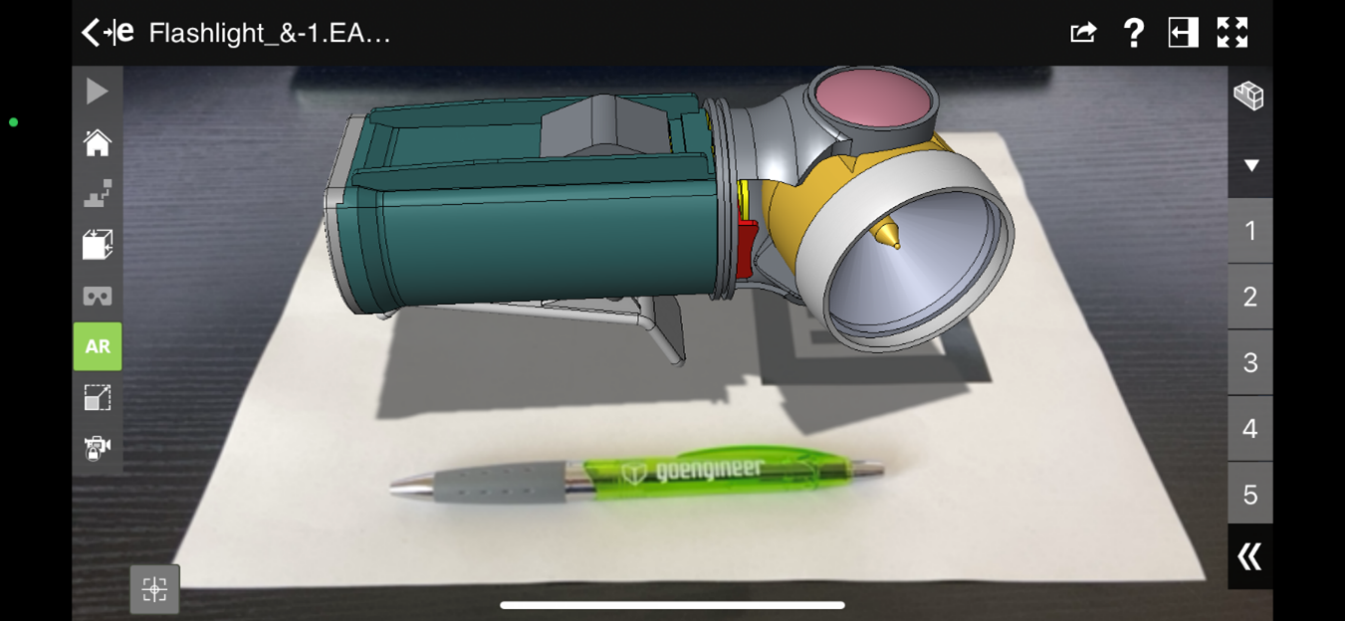 Image B: eDrawings Augmented Reality Example
eDrawings Mobile App for IOS and Android
The mobile app for eDrawings is available for download from both Android and iOS devices. The app is available in Standard and Pro versions with only a few differences between the two; one of which is a small one-time fee. For Standard, the fee is $1.99 and $9.99 for Professional.
Below you will find all the features that the eDrawings app has to offer.
eDrawings Mobile Standard vs. Professional
Features on both Standard and Professional versions:
Intuitive and easy-to-use user interface

Visualize your 3D models in real context with Augmented Reality (AR)

Open 3D (EASM, EPRT, SLDASM, SLDPRT, IGES, IGS, JT, STEP, STP, IFC), 2D (EDRW, SLDDRW, DWG, DXF) and associated files from any source: email attachments, cloud storage services (Dropbox™, SkyDrive®, Google Drive, YouSendIt®, and others), web and FTP sites, networks, and iTunes® File Sharing

Zoom, pan and rotate your 2D or 3D CAD data using multi-touch

Animate 3D standard views as well as 2D drawing views

Browse your assembly components tree, configurations, and drawing sheets

View your designs in full screen and double tap to fit it on the screen

Adapt the scale of your 3D model in AR mode

Freeze the background in AR mode with viewpoint lock to prolong AR experience without holding up your device

Includes sample files
Features exclusive to Professional:
Markup your designs and send them to others and read others' markups

Measure your design data

View cross-sections of your 3D designs, even in AR mode
Live Demo
Join me on June 15th for a live demonstration of eDrawings on a mobile device. You'll see what the application looks like on a mobile device and all of the functionality available on the go! Learn more here.
Related Articles
SOLIDWORKS at Home: DIY CAD Projects
6 Ways to Get the Most out of Your SOLIDWORKS Investment
Best Workstations for SOLIDWORKS: Hardware Configurations