For many of us, the way we work has evolved. Among those who have adapted are thousands of engineering professionals normalizing not seeing their team members, clients, and colleagues in person on a daily basis. As a result of these remote conditions, more emails, chat windows, and virtual meetings are beginning to clutter our virtual workspaces.
Some remote workers struggle to be as productive on their mobile workstation screens alone, or are toggling tasks between one or two additional monitors - but are your monitors equipped to handle all your engineering needs? If you use 3D CAD software like SOLIDWORKS, you're likely already aware that when working on designs, display quality is critical, so monitor size and resolution quality can influence how effective and efficient you are in your digital workspace.

Quality vs. Quantity
Many SOLIDWORKS users prefer a wider display so they can see more and do more on one screen (as opposed to using several small monitors side by side) when working in the software. In addition to helping with multi-tasking associated with design work, using an ultrawide monitor also improves productivity by
Eliminating the need to constantly switch between tasks

Providing large interactional space to support more collaborative interactions

Offering more screen space for computing tasks

Offering greater color range (gamut) and accuracy
Resolution
Resolution sizes like 720p and HD 1080p have been available for quite some time now, but in order to provide a bigger virtual workspace, Dell's UHD (ultra high definition) 4K monitors and beyond are pushing the boundaries of what's possible.
Below are the display resolution equivalents of dual monitors to a single Dell ultrawide monitor.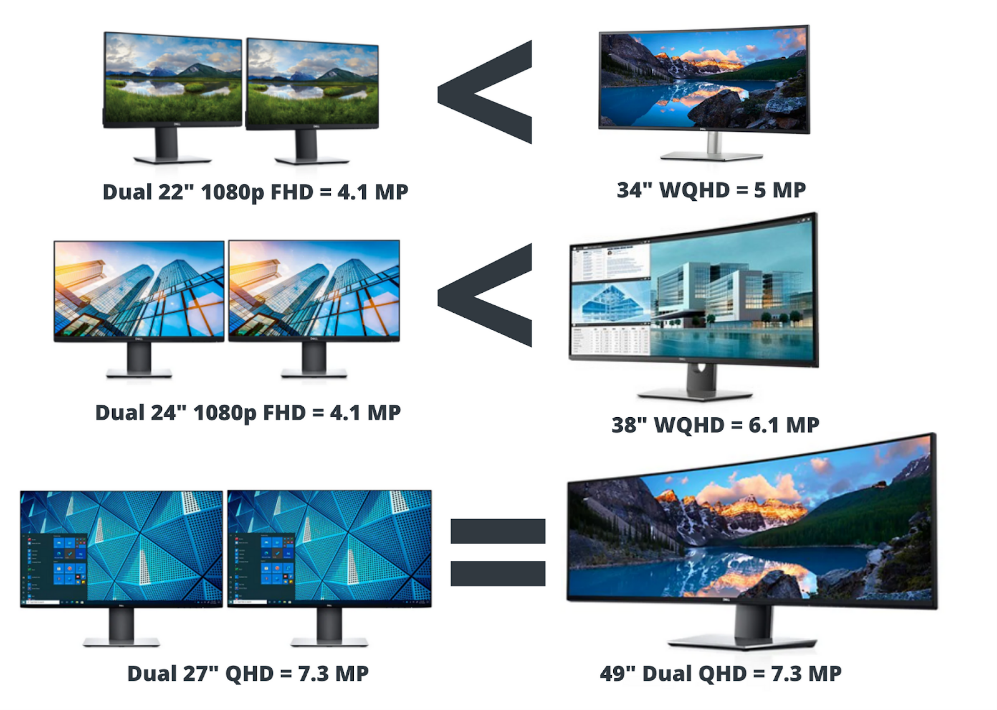 When moving from dual 22" monitors to a 34" U3421WE monitor there is a near 25% increase in resolution in your digital workspace. Moving from dual 24" monitors to a 38" U3821DW monitor has a near 50% increase. Finally, the hefty 49" U4919DW from Dell is equivalent to having two 27" monitors side by side.
How does screen sharing work?
With ultrawide monitors, screen sharing works very similar to having more than one monitor. The Dell Display Manager is software that lets you slice up your ultrawide screen into multiple sub-screens so you can create a customized platform just for sharing. You can also use custom views and tag your apps into specific areas so when you open the application, it will automatically paint itself into that portion of the screen.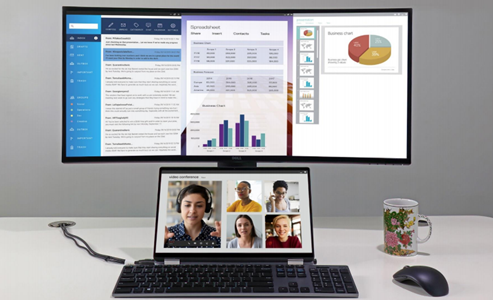 It's important to keep in mind when you're researching workstation/monitor combinations, that if you are working in full HD, in low resolution, or working with older graphics cards, those are best paired with smaller monitors. The graph below shows the perfect density for pairing size and resolution.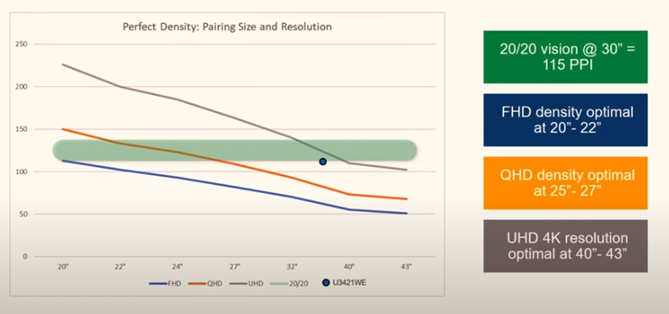 If you're a SOLIDWORKS user ready to invest in a new workstation or upgrade your current one but don't know where to start, check out our guide to the Best Workstations for SOLIDWORKS and learn how you can get a preconfigured system specific to the tools you use.
GoEngineer & Dell Expert Network
GoEngineer, Dell, and NVIDIA have teamed up to create engineering workstations fine-tuned to your applications at never-before-seen prices and discounts exclusive to GoEngineer customers. Learn more about the GoEngineer and Dell Expert Network here.
Related Articles
Design Faster and Smarter with SOLIDWORKS 2021
Navigating the New SOLIDWORKS Video Card Testing Site
Ultimate Guide to SOLIDWORKS Licensing: Types, Activation & Borrowing