Geomagic for SOLIDWORKS is a reverse engineering software and add-in that allows CAD users to efficiently import and work with scan data, large STL files, or other mesh-based models directly in the SOLIDWORKS environment. Once the add-in is enabled, Geomagic for SOLIDWORKS appears as a tab in the CommandManager for SLDPRT files.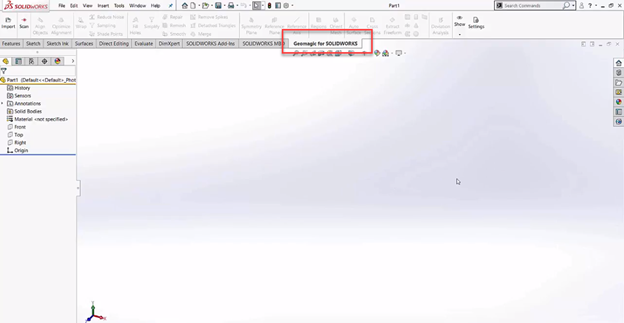 The Geomagic for SOLIDWORKS tab is a collection of tools developed to establish an easy-to-follow, scan-to-CAD workflow. Depending on the complexity and quality of the scan/mesh data, and the degree of reverse engineering required, this toolset delivers robust mesh cleanup tools, as well as more one-click solutions like Auto Surface.

Effective reverse engineering doesn't always require that an entire mesh body be used in the final result; often just a few features suffice. The Cross Section command is particularly useful to extract the shape of an area as Sketch geometry, which can then be directly used to produce solid Bosses and Cuts. Symmetry Plane detects bilateral symmetry, figures out where the center of your model is automatically, and configures a center plane, allowing reverse engineering tasks performed on one half of the model to extrapolate to the other.
In the Geomagic for SOLIDWORKS CommandManager you'll be able to

Probe features and sketches

Perform point cloud processing

Create polygonal surfaces

Use polygon processing tools like decimation, smoothing, noise reduction, and hole filling

Curve and sketch creations automatically

Use intuitive smart selection tools like extrude, revolve, sweep, freeform surface, and primitive feature fitting

Compare your mesh object to your CAD object at any time

….and much more.
Since Geomagic for SOLIDWORKS is embedded inside SOLIDWORKS (even allowing scanning directly into SOLIDWORKS), the whole host of familiar native Sketch tools, Features, reference geometry, and commands are also available, allowing for a convenient mixed approach to suit the user's immediate needs.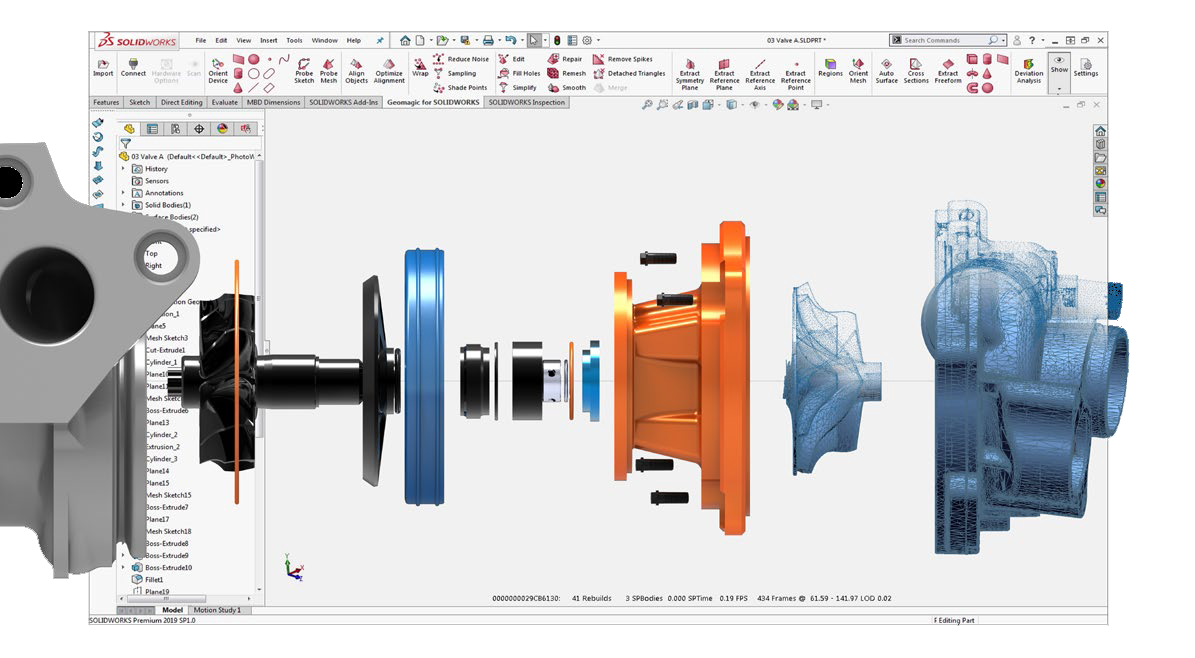 3D Scanner Compatibility
Geomagic for SOLIDWORKS as well as other reverse engineering software like Geomagic Design X and Geomagic Wrap are all compatible with the majority of 3D scanning technology currently on the market. Portable and handheld 3D scanners from Creaform and Artec 3D make the scan-to-CAD workflow especially easy with their lightweight, easy-to-use, plug-and-play systems.
Related >> The GoEngineer Trifecta: Creaform, Geomagic, and Stratasys
Geomagic for SOLIDWORKS Demo
Want to see Geomagic for SOLIDWORKS in action? Check out the video below where we 3D scanned and reverse engineered the side plate cover of a 1974 Honda SL/SX 70. We used both manual and automated reverse engineering techniques that demonstrate real-world situations when working with scanned data. Enjoy!
Have questions?
To learn more about Geomagic for SOLIDWORKS or for more information, please contact us .