When you are designing a SOLIDWORKS Electrical project, many times you will use a Programmable Logic Control for automation. This article shows the steps required for adding PLC drawing configurations to your SOLIDWORKS Electrical project.
Where to find it
To locate the PLC Configuration Manager:
Open SOLIDWORKS Electrical Interface

Open your Project through the Projects Manager

Select the

Project

tab

Select

PLC Drawing

under the

Configurations

drop-down menu
Add Project Configuration
Once inside the PLC Drawing Configuration Management tool, this is where you decide which application-level configuration you want to start from.
Select the Application Configuration you would like to start from

Select

Add to Project

A Project Configuration will appear in the Project Configurations
Editing the Project Configuration
Select the Project Configuration created and select

Properties

Select the

General

tab to name your configuration by typing in a Description

Select the

Size

tab to edit the sizing for this configuration

Select the

Attributes

tab to change how the attributes are displayed, and the symbol used

Select the

Layout

tab to control how the PLC displays on the page

Select the

Connection Point

tab to change/edit the symbol in which displays the terminal information

Select the

Circuits

tab to change the circuit type and the direction of the connection point, and the symbol associated with each type

Adding the PLC to a Drawing
Now that the PLC configuration set up, it may now be added to a drawing
Right-Click on

Document Book

Select

New > Scheme

Rename drawing to the desired name

Insert PLC into drawing in one of two ways:

Right mouse button on the PLC in your components panel and select

Insert PLC

Select

Insert PLC

from the schematic toolbar
PLC Insertion
When you place the PLC onto your drawing, before clicking on the drawing to place, you want to select the terminals and orientation first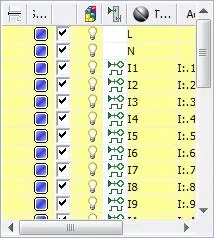 Select the configuration by choosing your configuration in the drop-down under

Configuration Selection

Under

Channel Selection

, you want to select the terminals you want showing on the drawing by checking or unchecking the terminals you want showing

The non-selected terminals will still be present in the device, just not shown on the drawing

Select the channel direction by selecting the

Channel Direction

icon
Since selected the 12 channels per page it will only show 12 channels




The rest of the channels will show on the next page


The next or previous PLC drawings are referenced to the left or right of the PLC
Related Articles
How to Add a PLC to Your SOLIDWORKS Electrical Project
Easy Way to Add Watermarks in SOLIDWORKS Electrical
Schematics on the Road: SOLIDWORKS Electrical