If you're having trouble installing a SOLIDWORKS PDM Standard client or server, there are a few common errors to check. These errors include firewall ports, a database that has already been created, and using "localhost" instead of the computer name. Learn more about these common installation errors in SOLIDWORKS PDM Standard here.
Firewall Ports
Firewall ports 1433 and 3030 must be open. To check if the ports are open, run a telnet test.
Telnet Test:
Go to Windows features and turn on the Telnet client.

Open a command prompt

In the command prompt type. " telnet <yourservername> <port number>"

If a blank screen opens, the port is open. Otherwise, the port is not open and the test will fail.




If the ports are still failing even after adding an exception to the firewall, Enable remote TCP/IP connections.
Navigate: Start > All Programs > Microsoft SQL Server 2014 > Configuration Tools > Open SQL Server 2014 Configuration Manager.

Once the window opens expand SQL Server Network Configuration > select Protocols for your SQL database name (the default name is SWPDM) > Right mouse click on TCP/IP > Click Enable. And OK on the message stating that the server needs to be restarted for changes to apply.

Restart the (SWPDM or other named instance) service by selecting SQL Server Services > Right mouse click on SQL Server (SWPDM Or any other named instance) > select Restart.
A Default Instance has already been created
If installing a NEW SOLIDWORKS PDM Standard database, occasionally an instance is already installed, or if a previous installation fails, the default instance has already been created. There are two possible solutions.
Change the name on the default instance from "yourservername\SWPD" to "yourservername\NewNameHere" in the Installation Manager.

Try the "Use an Existing SQL Server Database" option and check using the SA login and password that you previously entered.



Using "localhost" instead of the computer name
When installing SOLIDWORKS PDM Standard, it is important to use your computer name instead of "localhost". Change from "localhost", to your server name on the SQL server name.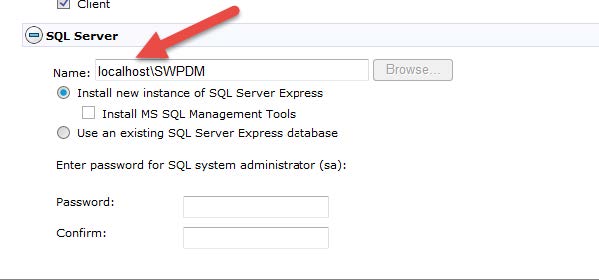 Our Newest SOLIDWORKS PDM Tutorials
Update SOLIDWORKS PDM Dispatch Add-In & Backup Scripts
Setting Up Cold Storage in SOLIDWORKS PDM
PDM Check-In Dialog Box Columns...What Do They Mean?
How to Map PDM Variables Into Microsoft Excel