Unlike familiar Windows folder-based systems, files on the 3DEXPERIENCE platform are not organized into folders but into a single collaborative space. There are many benefits to storing data in this manner, including faster retrieval, optimization of resources, and more. However, one of the side-effects is potentially problematic navigation to saved files. We can create a similar organizational scheme for users used to the windows folder storage scheme using bookmarks. This is a handy feature and helps in many ways.
For users using simulation tools in 3DEXPERIENCE, this post will show how to make a tool to access all their saved simulation cases in one place. This widget and several other apps will give users full access to and control over their saved simulation cases.
3DEXPERIENCE Widget Creation
Creating the Simulation Case Widget follows the following steps.
Search using the "sim:" keyword in the search bar at the top of the screen.





Click the 6Ws tag, then hit ENTER or click the spyglass.

Ensure

Simulation

is selected as the Type in the window that opens on the left.





Under

Persons

, select

ME.

Pin to the dashboard using the chevron in the top right corner of the search app.






Select the appropriate Dashboard and Tab.




That's it! There are not many steps here, but getting the search widget set up this way allows users to find simulation cases much faster.
When finished, the widget (shown below) can be resized to fill as much or as little of the tab as needed.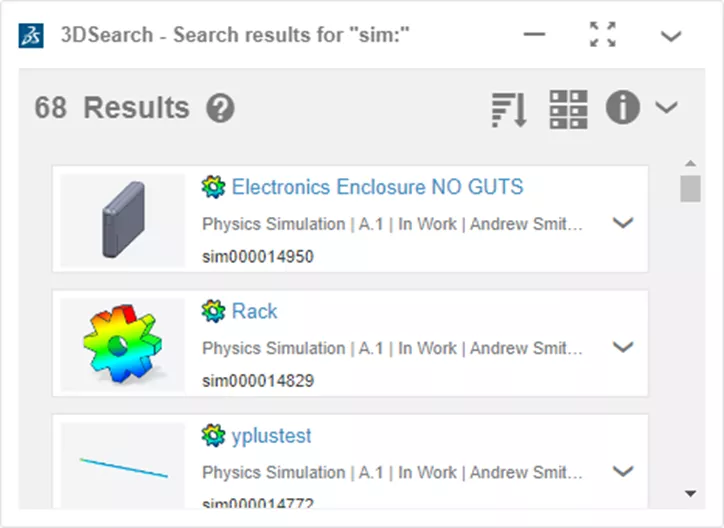 Setting up a tab with this search widget along with the Collaborative Lifecycle, the Simulation Manager, and the Simulation Job Monitor widgets is a good starting place for organizing and locating your simulation data.
Want to learn more? Check out more 3DEXPERIENCE articles below.
Learn More About 3DEXPERIENCE
Getting Started with 3DEXPERIENCE: Setup, Dashboards, Connectors & More
How to Import SOLIDWORKS Parts Into 3DEXPEREINCE
3DEXPERIENCE Platform 2022X FD03 Release: Top Enhancements
3DEXPERIENCE Platform Beam Analysis
What's New SOLIDWORKS 2022: 3DEXPERIENCE