If you are a SOLIDWORKS PDM user, you are likely aware that the Administration tool is installed with the client software regardless if you are a PDM admin. Typically this tool is not all that useful for non-admins and therefore never gets launched, but for those in a group that has been set with any admin-level permissions, you may find you launch this tool regularly.
If you are not a PDM Admin, you may launch this tool if you are using SOLIDWORKS PDM Standard or Professional with the PDM login system (not linked to Windows Active Directory). In this scenario, you still use the Administration tool to change your user password.
There is a commonly overlooked shortcut inside the Windows Explorer vault view interface that you can enable that is much quicker than launching the Administration tool through the Windows Start Menu. Let's take a look at how to get to this shortcut and then how to enable it for your users and groups.
Where is the Administration Tool Shortcut Located?
While inside the Windows Explorer vault view, you can access the Administration tool shortcut from the Tools pull-down menu.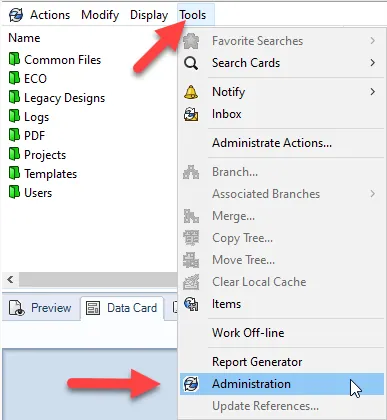 This will open the Administration tool and log you in as the current user that is logged into the PDM client vault view. This is beneficial as it is much faster than going to the Windows Start menu, launching the PDM Administration tool, expanding your vault, and finally logging in when prompted.
How to Enable the Administration Tool Shortcut
You may notice that this shortcut is not accessible or is grayed-out for many of your users. This is because you have to enable it in the Administration tool for your users and/or groups.
To do this, open up your PDM Administration tool and navigate to the User or Group you want to give access to. Next, open the Properties Dialog box by double-clicking that user/group or right-clicking and selecting "Open…".
From there, navigate to the "Administrative Permissions" section and scroll down the checkbox called "May see Administration tool". Check that box to enable access to the Administration tool in the local Vault View Tools pull-down menu.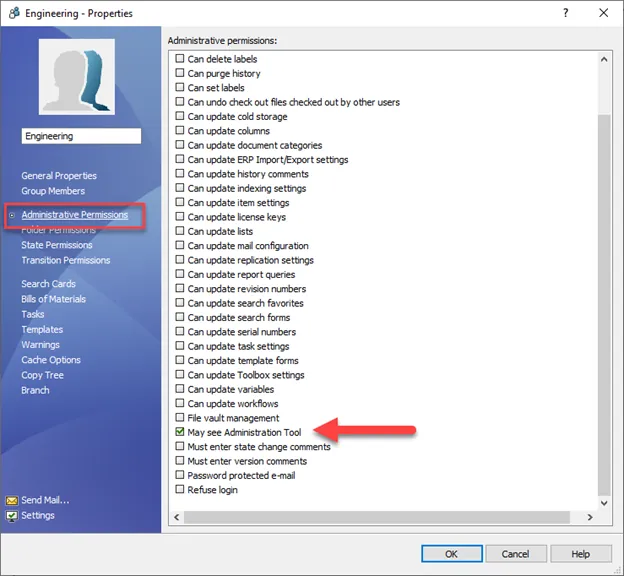 You will now be able to use this shortcut to quickly open and log into the PDM Administration tool.
I hope you found this SOLIDWORKS PDM administration tool shortcut tutorial helpful. Check out the links below for more tips and tricks.
Expand Your SOLIDWORKS PDM Skillset
Locking a SOLIDWORKS PDM Vault Quick Tip
Creating Custom Column Sets in SOLIDWORKS PDM
Virtual Documents in SOLIDWORKS PDM
SOLIDWORKS PDM Standard Automatic SQL Backup