One of the most important maintenance steps when owning a PolyJet 3D printer is keeping the print heads and roller clean. Failure to keep your print heads and roller clean can lead to costly repairs and impair performance. This task isn't difficult or time-consuming but it is critical to the health of your printer.
In order to clean your print head and roller you'll need a few tools:
A mirror

Isopropyl alcohol (90% - 95% is ideal, but the 70% found in most grocery stores works in a pinch)

A lint-free cloth

A glove to protect your hand

A flashlight

Begin with your Stratasys software by going to the Wizard, which is located under Options > Wizards > Heads Cleaning.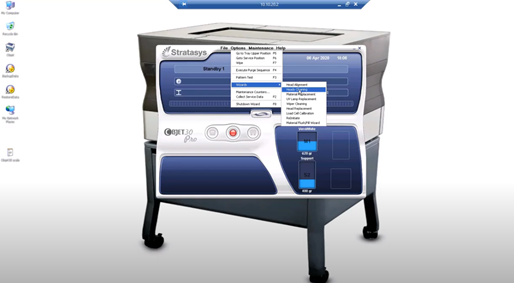 In my example, I'm using an Objet 30 Pro, but these instructions and concepts are the same across the entire Stratasys PolyJet line of 3D printers.
How often should I clean my print head?
You should clean the print head and roller after every print; preferably you should clean it immediately after your print finishes.
Open the lid of your 3D printer and position the mirror so that you can get a good view of the print head and roller and then spray your cloth several times with the Isopropyl alcohol.
Lay your cloth across both of the print heads and, with a little bit of upward pressure, rub the cloth from back to front making sure to not catch the corners. When cleaning the roller, be sure to roll it all the way around in order to get its entire surface.
That's it! Remember to remove your mirror, flashlight, and cloth before shutting the lid, and be sure to let the software know that you're finished by checking the checkbox next to "Heads and roller are clean" in the popup dialog box.
The software will then finish up by performing a purge to remove any particulates that may have been missed and prepare the machine for the next print job.
I hope you found this 3D printing maintenance tip helpful. You can watch us perform this entire procedure by watching the video below.
Learn More About Maintaining Your 3D Printer
Stratasys Industrial 3D Printer Maintenance Tips: Fortus Edition
5 F123 Series Maintenance Tips for New Users
A Tip for Changing Tips: Fortus 3D Printer Edition
Fortus Tip and Build Sheet Combinations: 3D Printing Tutorials