Have you needed to find a certain function while working on a SOLIDWORKS model but couldn't remember its location? Save time by finding the function's location in the search bar. The search bar is located on the top left of the interface.

If you do not see the search option, select the drop-down next to the magnifying glass and select from there.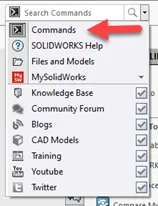 With Search Commands selected, type in the function you are looking for then select the eye that shows up next to the function, let go of the mouse and it will show you where the location of the function is. If you hit enter, it will begin the first function on the list.

(Selecting the eye takes you to the tool location).

The search function is helpful when trying to determine where a function is located, where the function resides, and what the function does.
New to SOLIDWORKS 2021 is the ability to search within the Customize tabs. Prior to SOLIDWORKS 2021, if you wanted to customize your shortcut keys, you had to hunt through the various locations to find the tools you want to add to your shortcuts.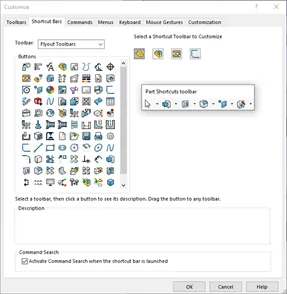 Related Article: Design Faster and Smarter with SOLIDWORKS 2021
Within SOLIDWORKS 2021, right-click on the current tabs available and select customize.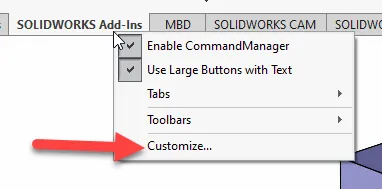 Selecting Customize will allow you to make changes to the default settings and interface of SOLIDWORKS. With the new window open, this allows you to go through and customize your Toolbars, Shortcut bars, Commands, Menus, Keyboard, Mouse Gestures, and any other general customization.
Related Article: SOLIDWORKS 2021 Product Preview
You can find the search option under the Shortcut Bars tab. Simply type in the word you are looking for and the search will display the shortcut icon for the function. You can now add it to the shortcut bars you have set up.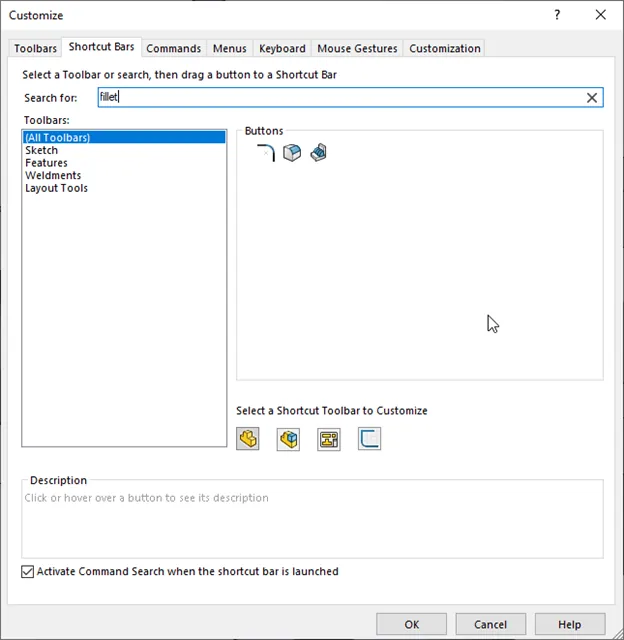 If you'd like to see the function in action, check out the video below.
I hope you found this SOLIDWORKS tip helpful, check out more tips and tricks below.
Our Latest SOLIDWORKS Tips & Tricks
How to Install and Troubleshoot Fonts in SOLIDWORKS
Virtual Components: Parts that Aren't Parts
SOLIDWORKS Custom Properties Tab Builder: Step-by-Step Guide