This article discusses working with wires in SOLIDWORKS Electrical and the differences between Wire Mark, Wire Label, and Equipotential Label. Knowing how and when to use the proper selection for wire numbering will determine your wire numbering outcome.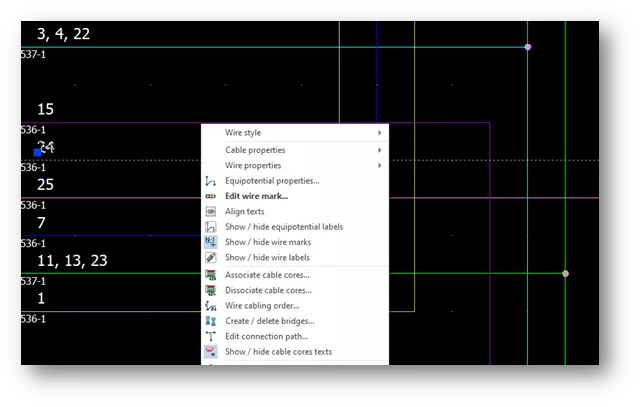 When working with wires, and before you get too far into numbering, ask yourself these questions:
How do I want my wire numbering generated?

Connected wires - will they all have the same wire number?

Is each of my wires having a unique wire number?

Where will my wire number be placed on the wire?

What information do I want on my wire?
The answers to the above questions can impact how the software works for your wires and design. Let's look at the data and how it applies to your wires.
Understanding Wires
In SOLIDWORKS Electrical Schematic, wires reside inside of the project only. There isn't a library containing every wire style that you have created.
These wires are located under your Electrical Project > Configuration > Wire Style tab and drop-down menu once a project has been opened.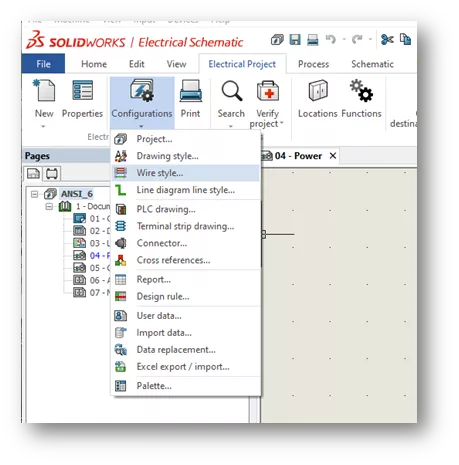 When reviewing wire styles in a project, the selection for how your wires will be numbered may get overlooked. This selection is in the middle of the dialog box.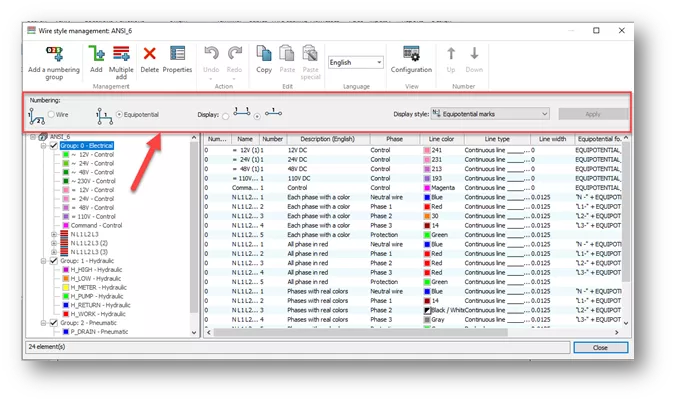 Wire Mark (aka Wire Number)
A Wire Mark (also known as the Wire Number) refers to the identity of the wire, and includes a group of numbers and/or alpha characters. The Wire Mark is generated by a formula either automatically or typed in manually.
Equipotential or Wire (Segment) Numbering
The Wire Mark is generated by the selection of Wire or Equipotential radio buttons located in the view above. When considering which selection you should use, a further investigation is required.
The wire numbering selection refers to each wire segment being uniquely numbered. For further discussion I will be referring to wire numbering as wire segment numbering to dissipate any confusion.

Equipotential (equal voltage) numbering selection refers to the fact that all wires attached to each other have the same Wire Mark.

By making a selection with the radio buttons, you are intentionally selecting which type of numbering formula you will be using and which type of label you will be using. You will see this in the selections available for the Display style.
The drop-down selections correlate directly with your radio button selection.
Wire (segment) radio selection

Equipotential radio selection

Wire numbers are generated by selecting Wire (segment) numbering or Equipotential numbering. You can only use one option to generate your wires. You cannot utilize both selections in the same project.
Most harness designers utilize Wire (segment) numbering, while automation or equipment designers use Equipotential numbering.
Regardless of the selection used, each wire style can have a unique formula for the Wire Mark generation. The radio button selection will utilize the corresponding formula designation.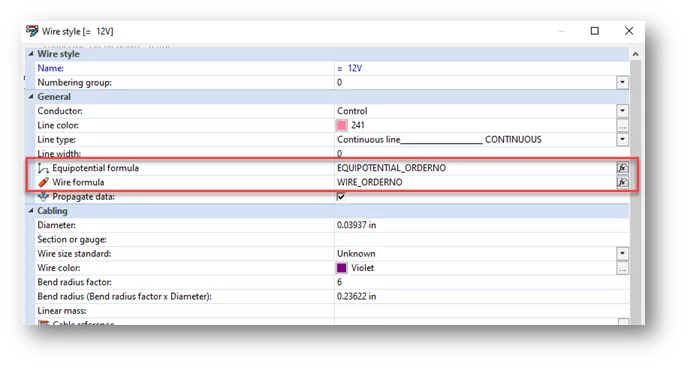 The Wire Mark (Wire Number) will be generated and placed on the schematic based on the selection of either placing at each end of the wire or centered on the wire.
Prior to SOLIDWORKS Electrical 2022, Wire Segment numbering only had the option to have the Wire Mark at the ends of the wire.

Note: If you select centered on the wire – it will only show once on the entire schematic.

Although your Wire Mark may only show once on the page, while using Equipotential numbering, you can select any segment of your wire and right mouse click. There is a selection to Show/Hide Wire Mark. The Wire Mark exists on the entire wire with all of its connections. Every bend and connection onto that wire can show the Wire Mark, but is automatically hidden and will need to be shown.
Numbering of wires
Wire segment numbering

– numbering of wires with no connections to devices

will not

be numbered. In other words, if the wire isn't terminated at both ends, no number is generated.

Equipotential numbering

– numbering of wires with no connections to devices

will

be numbered. All wires on a schematic page will show the Wire Mark, whether connected or not.
Open-ended Wires selection
SOLIDWORKS 2021 added a new project setting that is turned on by default. This setting pertains to the wires and how they react when removing a symbol from the wire.
With the setting turned ON – after removing a symbol, the Wire Marks will remain, and the wire will NOT heal itself.
With the setting turned OFF – after removing a symbol, the Wire Marks will then merge or create a Wire Mark conflict (one wire with two Wire Marks), and they will self-heal.
To explain further:
Original circuit:

With Wire segment numbering and the Open-ended wire setting turned ON:

With Wire segment numbering and the Open-ended wire setting turned OFF:

Notice the blue dots. These signify a Wire Mark conflict that needs to be addressed. To solve the conflict, right-click on the wire and select Solve Equipotential Conflict. Renumbering the wires will also remove the conflict and remove the blue dots.
Wire Marks and Labels
After drawing a wire on a schematic, select the wire and right click. Here are available options for showing and hiding marks and labels.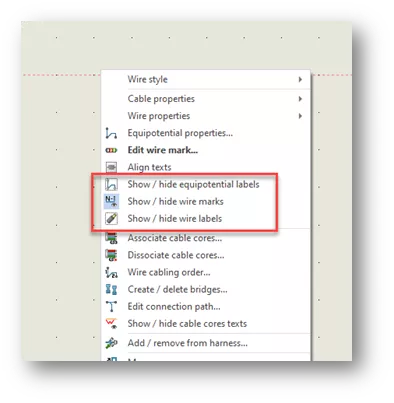 Remember that labels work the same way as marks.
The label that you will be using relates back to the numbering selection that you made to generate the Wire Mark.
A label is just a symbol placed on the wire. It can have additional attributes of the wire shown like Wire Mark, wire color, wire gauge, or section. These label symbols can be shown or hidden on any segment of your wire.
As discussed earlier, the radio button selects which numbering formula you will be applying to your project. The numbering method drives which Display style will be available for use.

OR

Wire Marks are generated by the wire style formulas, whereas Labels are symbols that display attributes of information about the wire or style. The Labels can be changed or edited from the Electrical Project > Configuration > Symbols tab.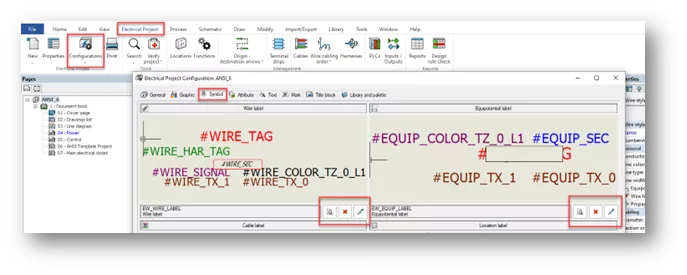 I want to mention that any of these settings, because they are project-specific, would be worth your time to modify your Electrical project template(s) to include your changes. Doing so will eliminate the need to make the same changes to every project when they are created from your project templates.
More SOLIDWORKS Electrical Tutorials
Create a SOLIDWORKS Electrical Project Template
SOLIDWORKS Electrical Auto-Archiver Setup
Successful SOLIDWORKS Electrical Client/Server Connection
Create New SOLIDWORKS Electrical Symbols By Modifying Existing
SOLIDWORKS Electrical License: Standalone vs Network