You've recently used a trial version of SOLIDWORKS and you decided to pull the trigger on purchasing a commercial license. Now, you're ready to get that license up and running. To change from the trial version of SOLIDWORKS on your computer to your recently-purchased commercial license, please take the following steps to do so.
Before beginning, please insert the DVD used for installation into your disc drive. If you used a flash drive to install, please make sure it is plugged into your computer. This step is not necessary, but it will minimize download time while taking the following steps.
Step 1: Modifying the Installation
To begin this process, open your Programs and Features menu from the Control Panel.
Windows 7
Click the Start button and type "programs and features" in the Search programs and files box.

Press Enter or click on Programs and Features located above under Control Panel.

Windows 8/8.1
Press the Start button and do a Settings search for "programs and features".

Once you have the Programs and Features window open, locate your SOLIDWORKS installation in the list. Right-click on it and select Change.

Once inside of the installation manager, you will want to choose to Modify the individual installation (on this computer). When you click Next, you will be brought to the serial number screen. You should see the trial serial number you entered on your first installation. Please replace it with the commercial serial number.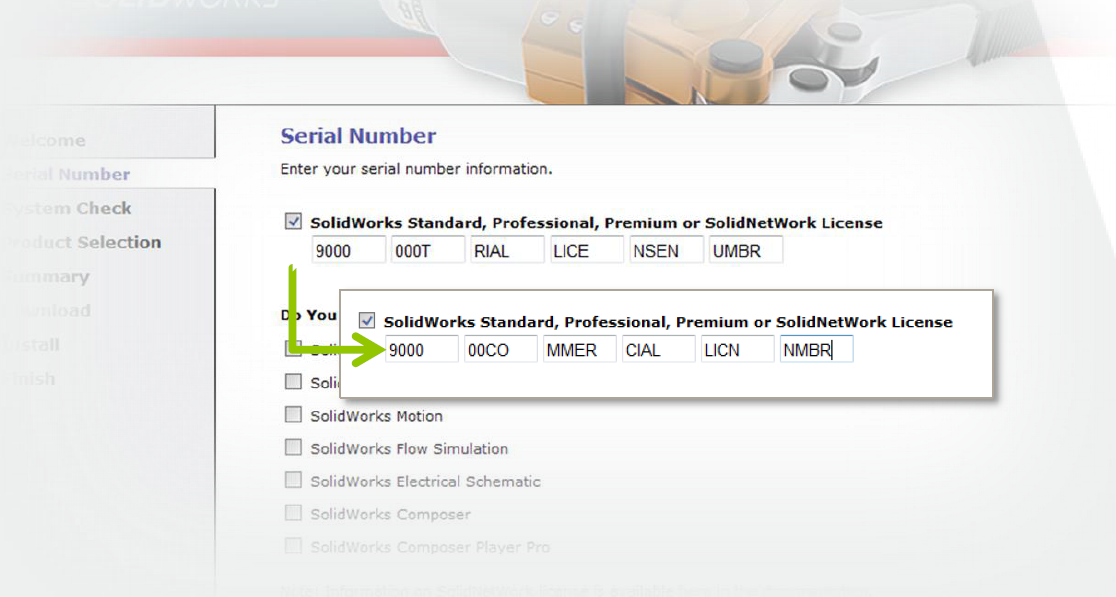 Note: When changing serial numbers, the previous activation should normally be transferred from the computer before the serial number associated with the installation is modified. However, because trial licenses expire on their own, this step is not necessary when changing from a trial license to a commercial license.
After you have entered your new serial number, click Next. This will ping the SOLIDWORKS server and write the new serial number to your machine. The next screen you encounter will be the Product Selection screen.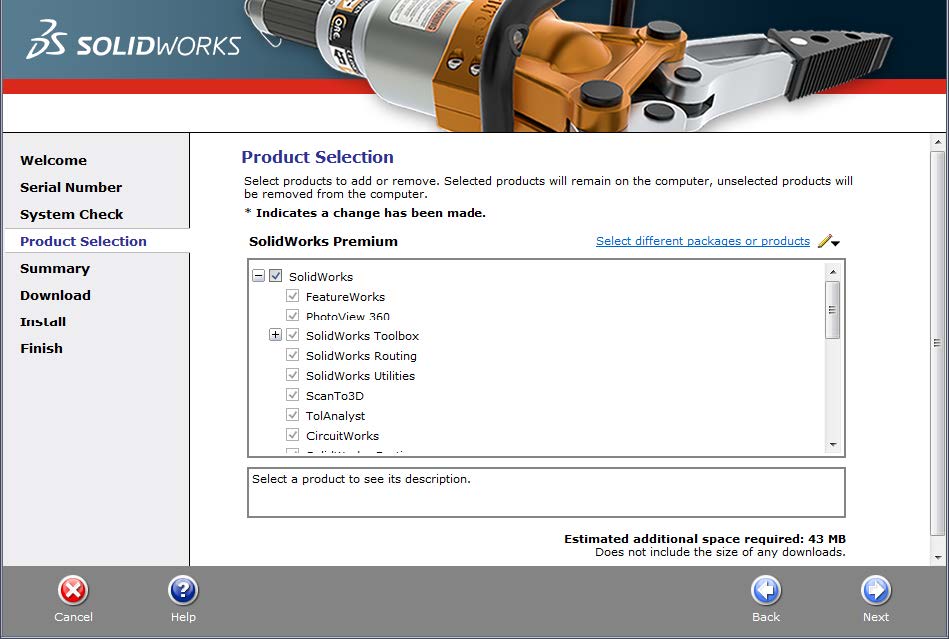 On this screen, you will be able to select any products included with your commercial license that weren't included with your trial. At this point, clicking Next will bring you to the Summary screen. If you added any modules on the Product Selection screen, you will see Download and Modify in the bottom right corner. If not, you will just see Modify. Clicking this button will complete the process of modifying your SOLIDWORKS installation.
Step 2: Activating with the New Serial Number
The next time you open SOLIDWORKS, you will be asked to activate your license. After going through the activation process, your installation will now be running off of your recently purchased commercial license.
For any further questions, please contact GoEngineer Technical Support.
Related Articles
How to Troubleshoot SOLIDWORKS Crashes
How to Deactivate SOLIDWORKS if you Cannot Launch it
SOLIDWORKS Standalone Serial Number Management Skills
SOLIDWORKS SolidNetWork License Administrator Temporary License Setup