The new Stratasys J35 Pro PolyJet 3D printer was introduced to the world earlier this year, and it is quickly becoming one of the most talked about professional-grade, multi-material 3D printers today. One hot topic of discussion surrounds material options, specifically what materials the system can run and how can they be mixed and matched to provide different results. This article will attempt to bring the J35 Pro material configurations into clearer focus.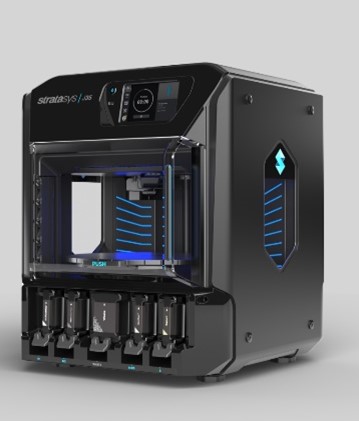 The J35 Pro combines the innovative, rotational PolyJet technology pioneered on the Stratasys J55 Prime. This, along with an even more compact footprint, makes the J35 the most versatile and office-friendly, professional 3D printer on the market.
What Materials are Compatible with the J35 Pro?
The J35 Pro is capable of simultaneously printing up to three different photopolymer resin model materials as well as an easily removable gel support matrix.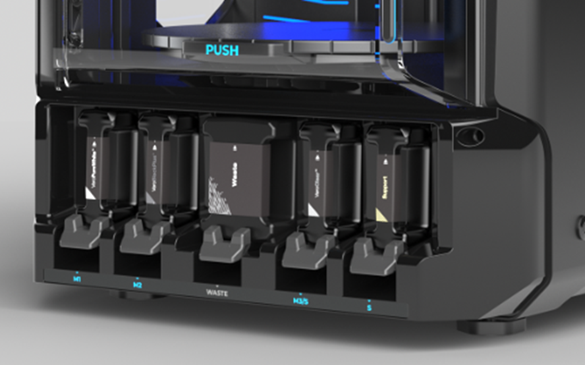 The J35 Pro has 2 model material bays, a bay that can be loaded with either model or support , and then a dedicated support bay. In the center is the waste container.
The materials for the J35 come in 1.1kg cartridges in the following formulations:
Rigid and Clear (Vero Family

)

VeroUltra WhiteS

VeroUltra BlackS

VeroUltra ClearS

DraftGrey

Elastico (Rubber-like)

Elastico Clear

Elastico Black

Digital ABS

Support

Contact Bio-compatible

Cleanser
Material Cartridge Management
The J35 Pro allows users to load a number of different material combinations to achieve a range of various model types. From fast-draft single-material prototypes to high-resolution, fit, form, and functional testing models with transparency, textures, and labels included, the J35 Pro can create them all.
Below are several material loading schemes and the types of models that they can produce:
3 Materials + Support
Scheme

This scheme uses a different model material in each of the material bays. The resins loaded are VeroUltra BlackS, VeroUltra WhiteS, VeroUltra ClearS, and support.

This scheme provides no "Hot Swap" capabilities

(

"Hot Swapping"

is changing out an empty material cartridge for a full one while the print is still running

).

This scheme is ideal for engineering and design applications that require both high-contrast, opaque features as well as transparent elements.
Single Material + Support Scheme

This scheme uses two bays for one selective model material, and two bays dedicated to support material.

Hot swapping of both model and support material is possible.

Ideal for single color, long prints that use a lot of material.
2 Materials + Support Scheme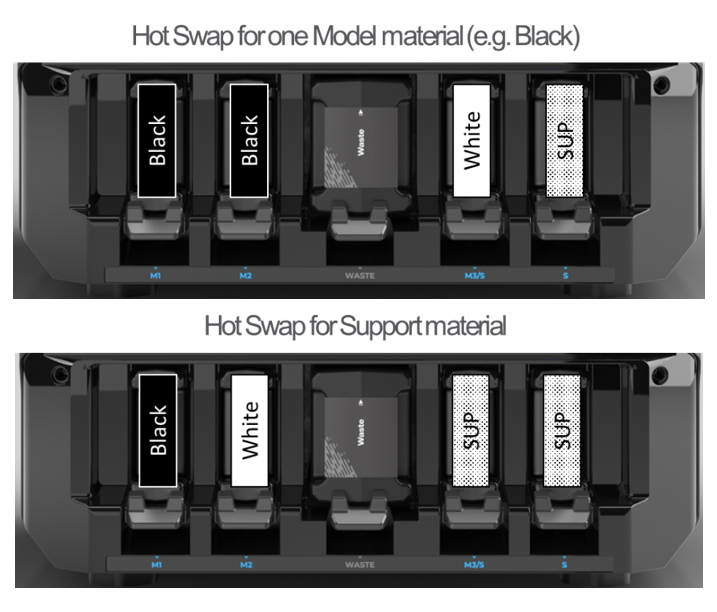 Allows you to have two different model materials loaded and support. Depending on the configuration, you can either hot swap the model material or the support material.

By dedicating the two material bays to a single selected material, it allows you to be able to hot swap that material.
DraftGrey Material Scheme

Variation on the Single material + Support scheme.

Consists of two cartridges of Vero DraftGrey and two of support.

DraftGrey is a low price concept modeling material that costs 50% of the advanced materials.

Ideal for fast, low-cost iterations in the beginning stages of the design process.

The grey color is great for examining the shape of the product and to aid in decision-making.
Engineering Material Scheme

Two material bays are dedicated to both of the components for Digital ABS, one bay is for Elastico Black, and the last one is for support material.

This scheme provides printed parts the benefits of Digital ABS material (higher impact strength and heat deflection temperature).

By adding Elastico black to the mix, rubber textures with different shore values can be simulated. This allows the creation of soft-touch over-molded parts, textured grips, seals, shock absorbers, and much more.
Full Cycle Material Scheme

The material bays are loaded with VeroUltra WhiteS, Elastico Black, VeroUltra ClearS, and support.

This versatile material scheme provides the ability to produce models with a broad spectrum of visual and tactile characteristics. Examples include flexible over-molding, simulated polypropylene, high-quality transparency, and integrated moving parts, all in a single material scheme.
Greyscale Design Verification

Material bays are loaded with Vero DraftGrey, VeroUltra WhiteS, VeroUltra BlackS, and support.

This setup is perfect for creating DraftGrey concept models, "Sketch mode" black and white models, and greyscale CMF (color, material, finish) models.
Conclusion
The new J35 Pro PolyJet 3D printer provides a tremendous amount of utility throughout the entire product design process. From inexpensive fast-draft concept validation models to highly detailed fit and function models, all the way to a final greyscale CMF model, the J35 Pro can deliver prototypes that will help you to get your products to market faster and at a lower cost than ever before.
More 3D Printing News
Stratasys VeroUltra White & Black Materials for Color 3D Printing
The Big Reveal! Stratasys Unveils 3 New 3D Printers
Binder Jetting and Stratasys? Meet SAF Technology
New Stratasys ABS-CF10 Carbon Fiber Composite 3D Printing Material