On April 28th, 2021, Additive Manufacturing industry pioneer, Stratasys, unveiled three exciting new 3D printers focused on manufacturing and production applications.
This announcement, which took place during their Experience Stratasys: Manufacturing event, made it clear that Stratasys' guiding principle is to provide a complete portfolio of best-in-class Additive Manufacturing solutions for every stage of a company's production process - from initial concept to final product.
These three new systems move 3D printing far beyond its traditional roles in prototyping and development into the realm of high-quality, higher-volume, end-use part production.
Stratasys CEO, Dr. Yoav Zief stated, "We are accelerating into the Additive Manufacturing 2.0 era, in which we see global manufacturing leaders move beyond prototyping to fully embrace the agility that 3D printing brings to the entire manufacturing value chain, the disruptions we are seeing today on both the supply and demand side of global supply chains are a clear sign that the status quo isn't working. Additive manufacturing gives companies the total flexibility to decide when, where, and how to produce parts."
Meet The New Stratasys 3D Printers
Incredibly, each of the three new 3D printers that Stratasys unveiled is built upon a completely different additive technology platform.
Stratasys Origin One
The Stratasys Origin One 3D printer is a new production solution that yields highly accurate, functional, end-use parts with injection-molded quality and surface finish.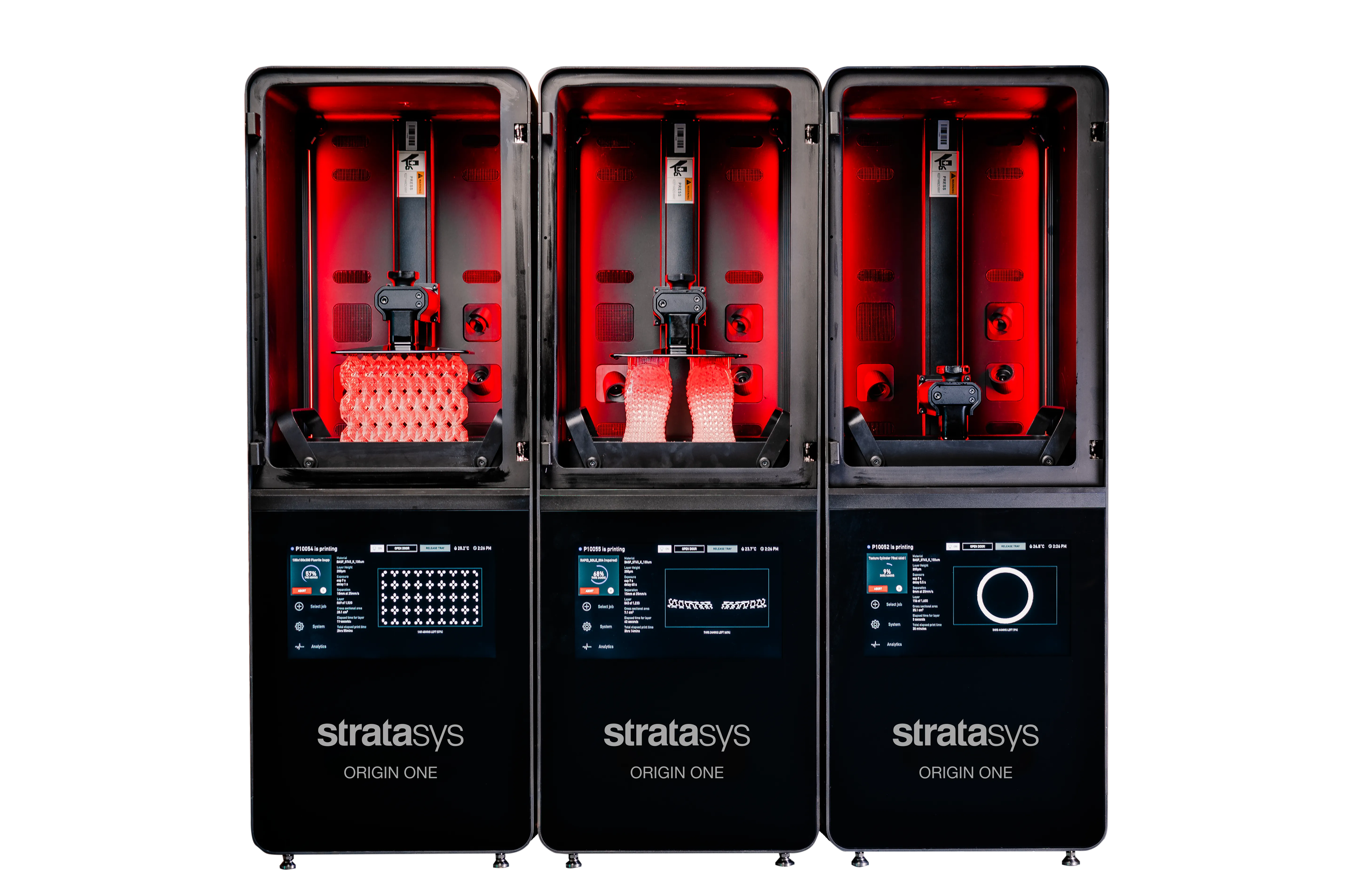 The Origin One uses proprietary P3 (Programmable Photo Polymerization) technology and a software-first architecture to provide production level throughput in a broad range of certified, third-party industrial-grade resins.
Stratasys H350
The Stratasys H350 is built upon Stratasys' new SAF (Selective Absorption Fusion) technology, which is a refinement of the Powder Bed Fusion process.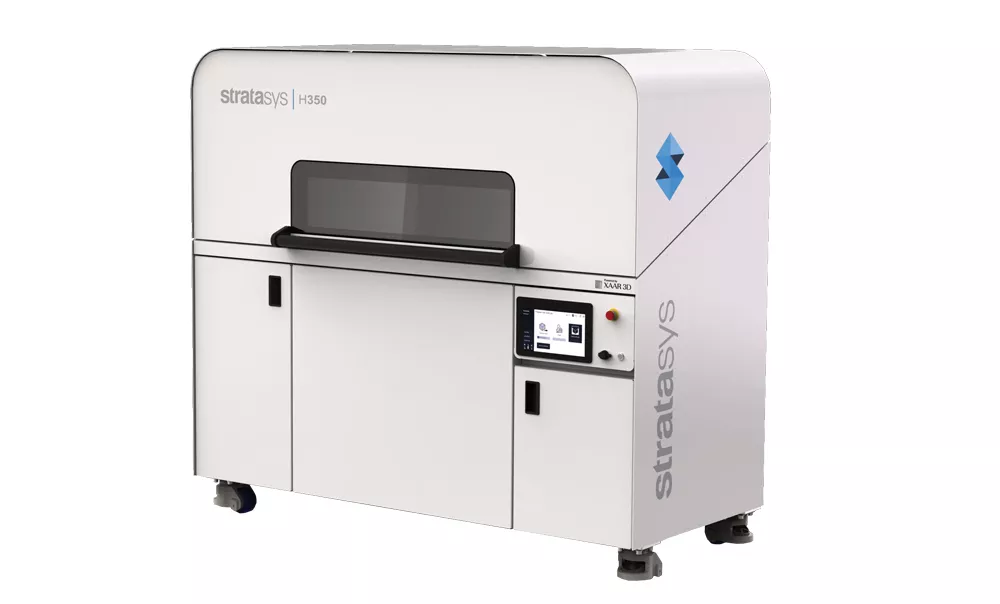 The H350 uses industrial piezo-electric print heads and a uniform thermal experience to generate high-volume, production-grade plastic parts with high accuracy. This 3D printer is designed around production consistency and a competitive and predictable cost per part. The H350 is ideal for use in the automotive, aerospace, and consumer products sectors.
Stratasys F770
The Stratasys F770 is the latest addition to Stratasys' F-Series line-up of affordable, enterprise-class FDM 3D printers. With a massive build volume of 39.4" x 23. 6" x 23.6", this user-friendly machine is intended for economical large part production.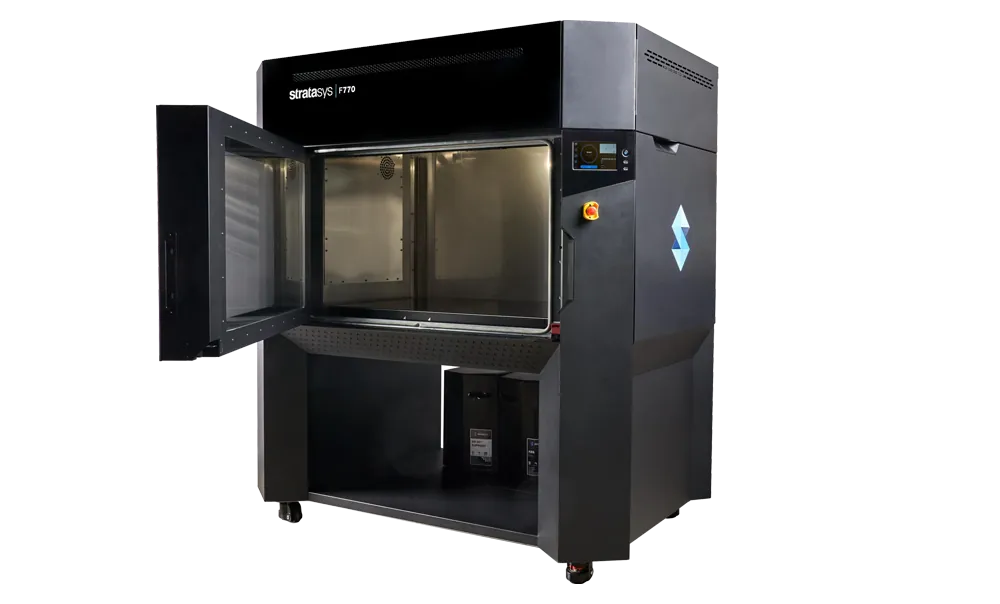 The F770 features a heated build chamber and enhanced large-part printing capabilities via GrabCAD Print, as well as Enterprise workflow software integration and the ability to reliably print in tested, engineering-grade thermoplastics.
Over 30 years ago Stratasys invented FDM (Fused Deposition Modeling) thus revolutionizing the way parts and prototypes could be made. Since then, they have refined the FDM process to the level of becoming an industry-quality touchstone. With these three new 3D printers, Stratasys continues to demonstrate their commitment to leveraging additive manufacturing technology advancements and offering best-in-class polymer-based additive manufacturing solutions.

Related 3D Printing News
Binder Jetting and Stratasys? Meet SAF Technology
New Stratasys ABS-CF10 Carbon Fiber Composite 3D Printing Material
Look Inside the New J850 Pro Multi-Material PolyJet 3D Printer
Stratasys Slicer Updates For FDM: GrabCAD Print & Insight