Stratasys recently released a new ABS-CF10 Carbon Fiber Composite 3D printing material for their F123 Series (F170, F270 & F370) FDM (Fused Deposition Modeling) 3D printers. The F123 Series has made advanced prototyping capabilities easily accessible to engineers and designers; notable for its ease of use, consistency, repeatability, and producing high-quality parts.
As the F123 Series 3D printers have garnered popularity across factory floors, one of the chief applications has been to produce custom tooling, jigs, and fixtures. It was with this application in mind that Stratasys developed their latest material offering that is exclusive to these machines - ABS-CF10.
ABS-CF10 is a specially formulated blend of superb quality ABS (acrylonitrile butadiene styrene) thermoplastic infused with 10% chopped carbon fiber by weight. ABS-CF10 is an engineering thermoplastic that combines the benefits of carbon fiber filament with the ease of use of 3D printed ABS, an ideal choice for creating parts that require high-strength and rigidity on a factory floor.

Applications
ABS-CF10 can be used for supplanting heavy metal tools with light-weighted, ergonomic, 3D printed iterations such as production and assembly tooling, health and safety tools, bridge tooling, drill guides, and end effectors, inspection jigs, locating tools, and more.
The new ABS-CF10 is 15% stronger and 50% more stiff than traditional ABS. It has a high stiffness-to-weight ratio and is much less sensitive to moisture than nylon-based composite filaments.
Soluble Support Material
ABS-CF10 uses the existing F123 Series QSR soluble support material so your high-strength composite material prints can truly leverage the design freedom of additive manufacturing, unconstrained from challenges introduced by breakaway support. In addition, one of the hallmarks of the F123 Series is fast print speed, these 3D printers can print ABS-CF10 two to seven times faster than competing machines.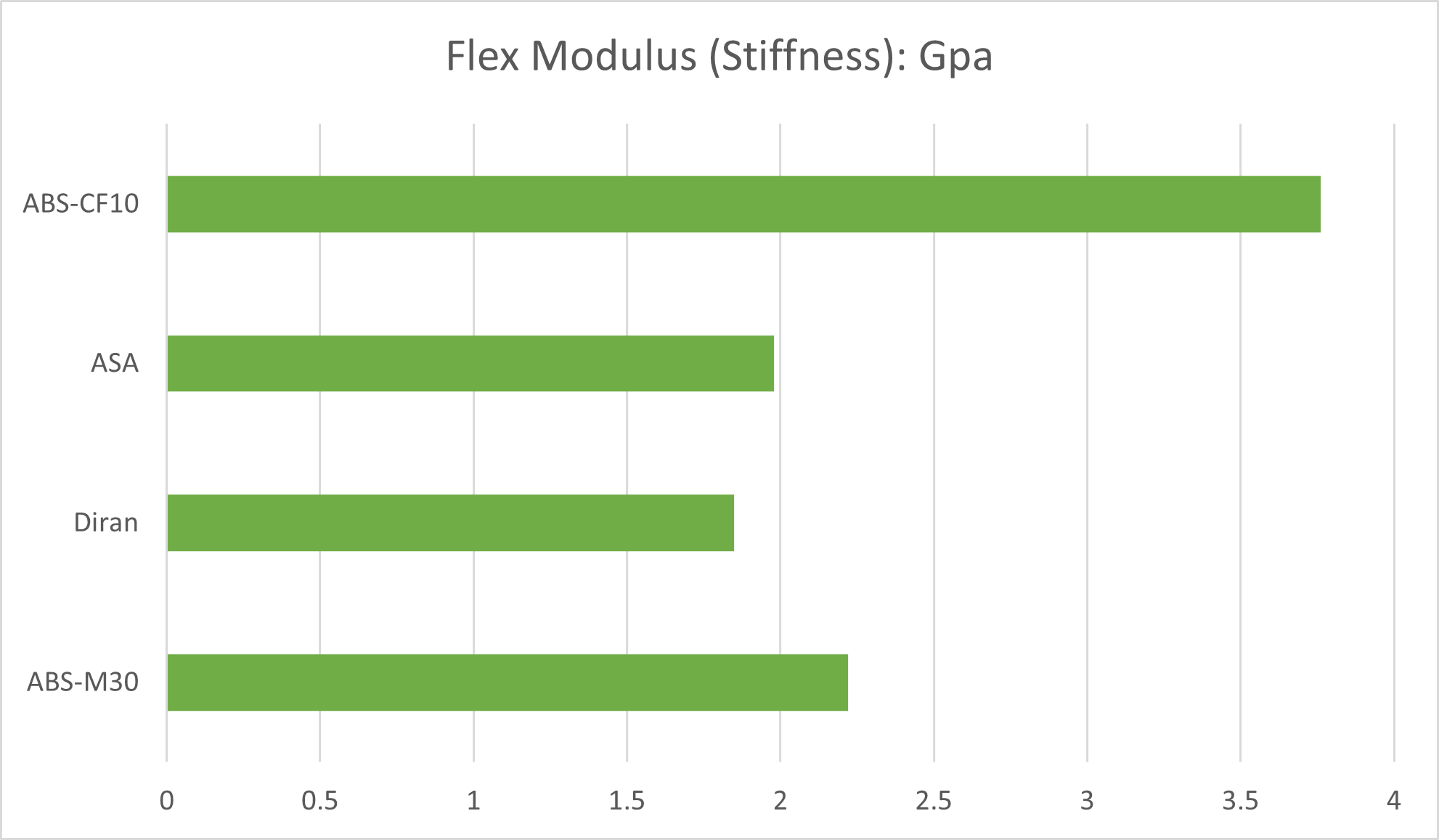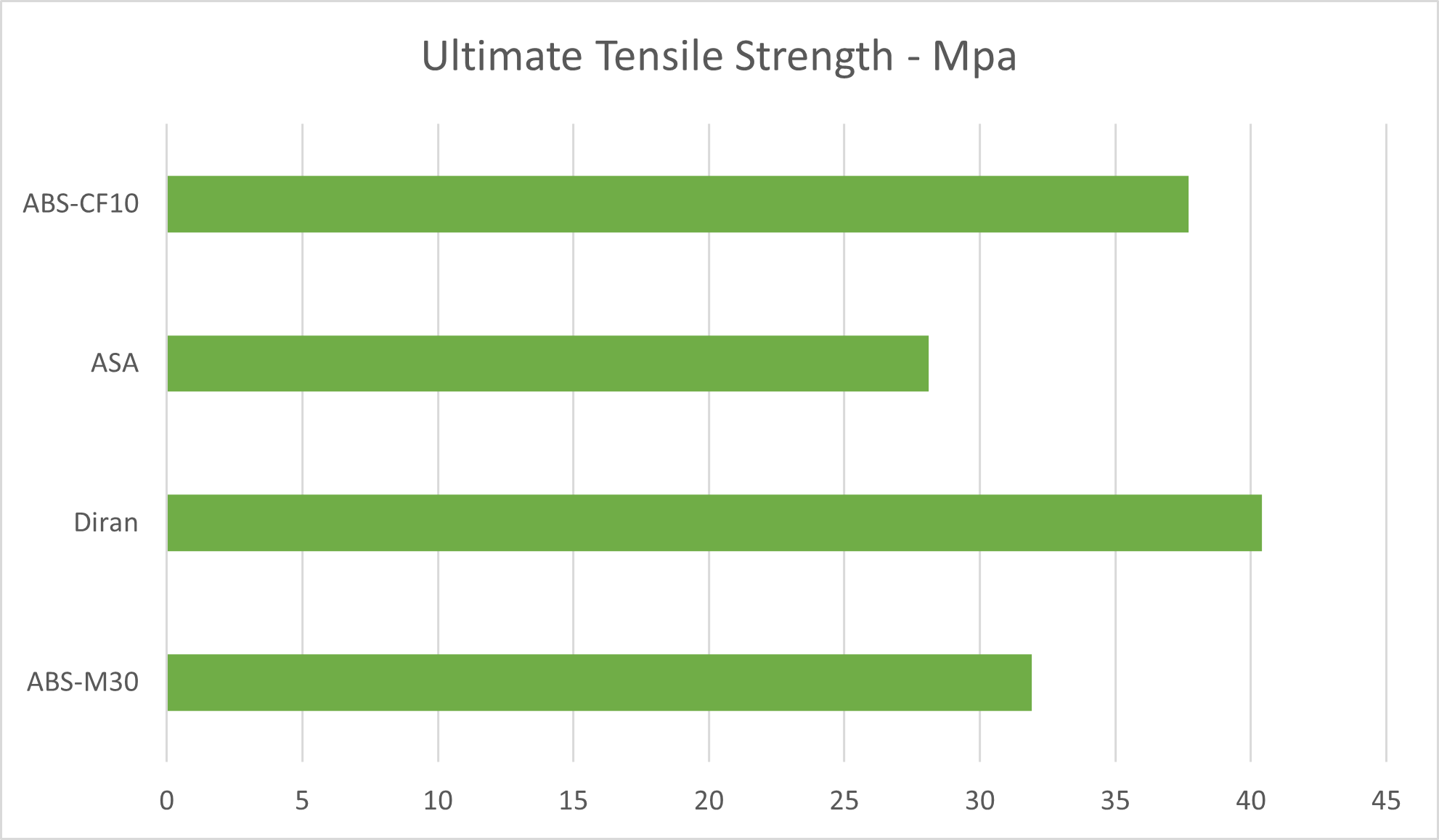 Resolution
The F123 Series is capable of printing ABS-CF10 at a layer height of .007", .010", and .013". This resolution provides outstanding geometric tolerancing across larger parts. Models printed with this material exhibit a very nice surface finish in the Z axis, while the XY surfaces are slightly rougher than models printed in traditional ABS (due to the chopped carbon fiber additive).
While the visual aesthetics of ABS-CF10 are superior to those of many other composite materials, its real value comes from the ability to quickly and reliably produce strong, functional carbon fiber infused jigs and fixtures that are consistently dimensionally accurate.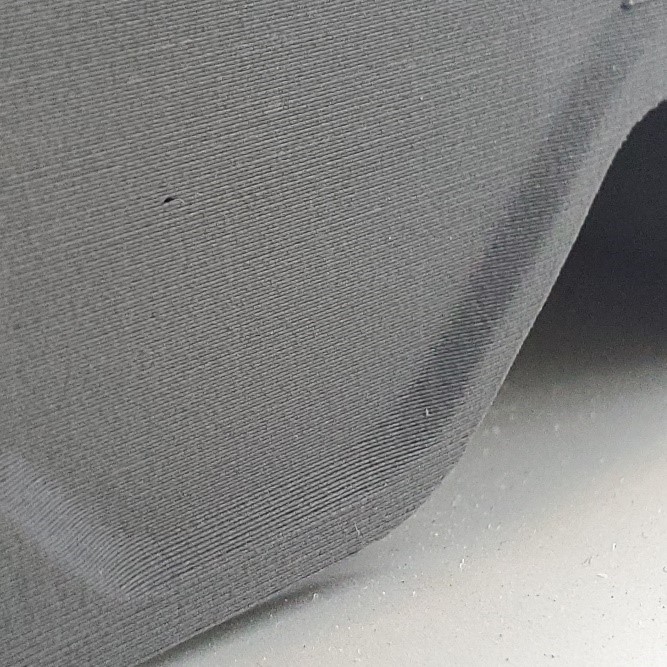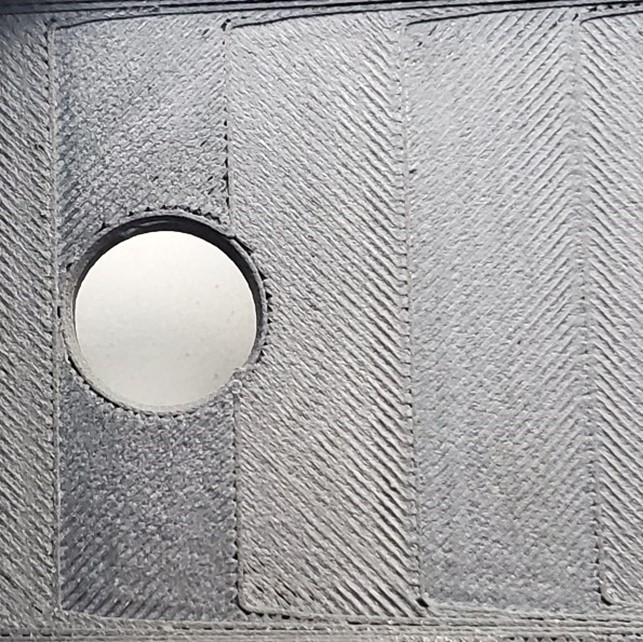 Z layer surface finish at .010" layer resolution XY Surface at .010"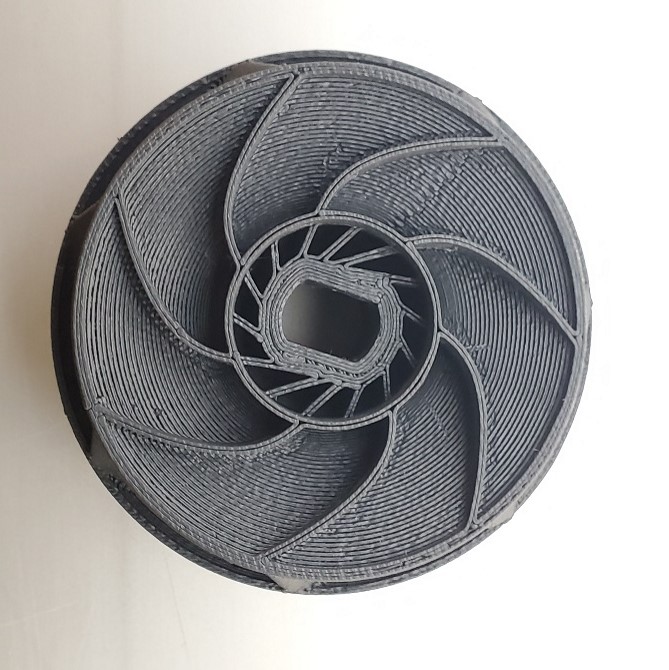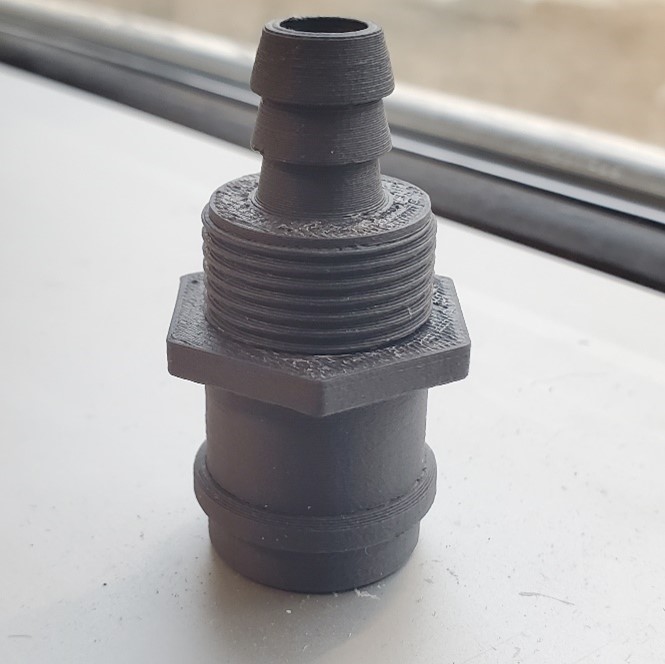 3D printed ABS-CF10 Impeller .007" layer resolution ABS-CF10 printed part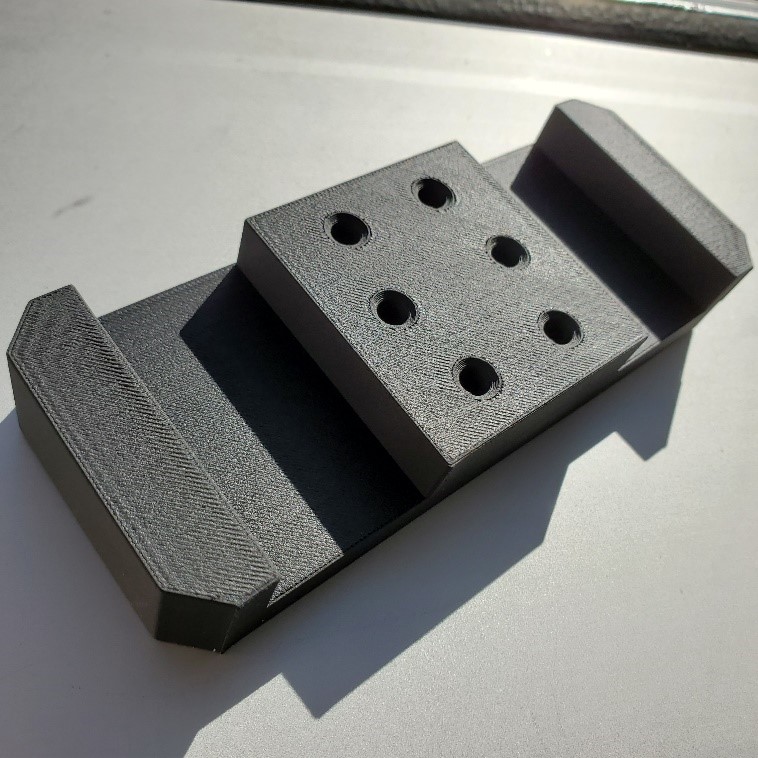 3D printed ABS-CF10 Fixture
Stratasys recommends that when printing ABS-CF10 on the F123 Series to use a dedicated print head designed to withstand the added abrasion imparted by the chopped carbon fiber additive. (This is a simple process that should only take the operator a few minutes).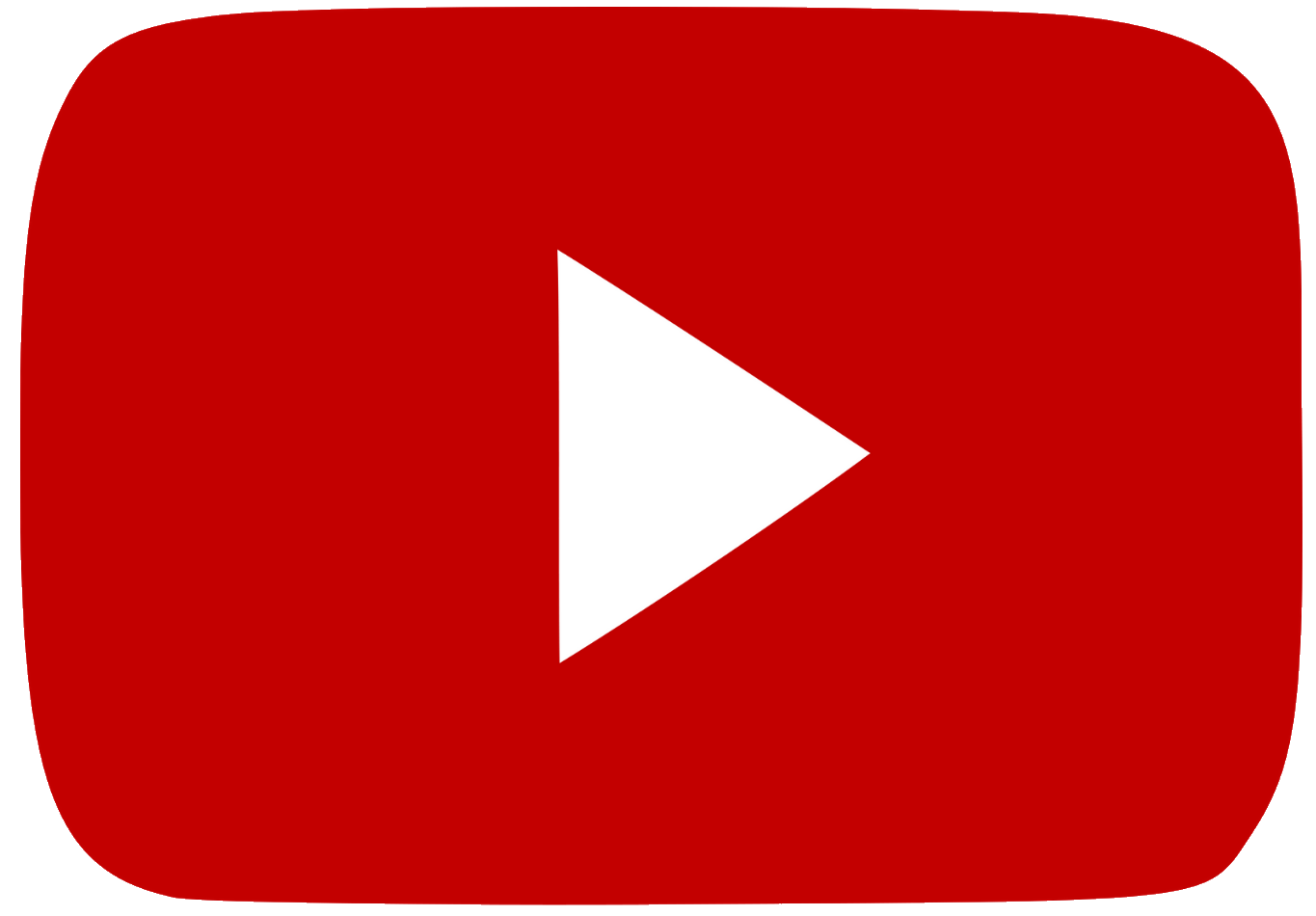 Watch >> Stratasys F Series Head Change
Note: If an operator has a standard F123 print head with less than 800 hours of print time clocked, it can also be used to extrude ABS-CF10 but it will wear down the head at an increased rate.
ABS-CF10 is a terrific addition to Stratasys' F123 Series material line-up. When combined with its other material offerings such as elastomeric TPU and UV resistant ASA, fast printing PLA, or electrostatic dissipative ABS-ESD7, the flexibility, power, and exceptional value of the Stratasys F123 series of 3Dprinters comes into clear focus.

More 3D Printing News
Stratasys Slicer Updates for FDM: GrabCAD Print & Insight
Stratasys F123 Series Maintenance Tips for New Users
3D Printing with the F123 Series: Hardware, Software, & Materials
3D Printed Redesign of Corvette C4 Gas Pedal Mount
Fortus Tip and Build Sheet Combinations: 3D Printing Tutorials