In a recent Insight course, I had my students open, slice, and run toolpaths on an STL file that I hand-picked specifically because I knew the automated toolpaths would need to be manually optimized. As I worked along with them, I couldn't help but notice that their toolpaths, unlike mine, needed virtually no adjustments. As it turns out, I wasn't using the latest version of Insight. It threw my class for a loop, but the net impact is positive; it means less manual work!
Both Insight and Stratasys' GrabCAD Print 3D printing software recently benefited from an upgrade. Let's take a look at some highlights that made these last few updates so good.
Teaser alert: The moral of this blog is to update your software.
But If it Ain't Broke, Don't Fix It...Right?
I often run into customers who use legacy Stratasys 3D Printers and their original software Catalyst. While I understand the growing pains of changing a workflow you are comfortable with, I urge you to give GrabCAD Print a try. It is entirely free and you're not required to ditch Catalyst. You can download GrabCAD Print here.
Never Export STL's Again!
One of the key reasons to switch to GrabCAD Print is its ability to work with widely used native files, not just STL's. STL files have been a staple in additive manufacturing, but they can be error-ridden and often introduce a loss of design intent in the export process. If the mesh resolution is too coarse, you'll see faceting in your print, if too small, you'll have a large file that takes too long to process.
Using native files means these struggles go by the wayside and there is a reduction in file exports and less time spent organizing multiple file types for the same part. There's another benefit too. Because the files are not made up of thousands of tiny facets, you can select faces, bodies, and features to apply changes to. This gives you more control over build parameters without needing to apply them to an entire build/body.
Update Summary
Stratasys has had a stream of software updates including the addition of Adaptive Slice Height. This feature has been around for a little while and Stratasys has chosen to adopt it for both Insight and GrabCAD Print.
An honorable mention goes to GrabCAD Print for integrating its "Advanced FDM" features into its main user interface, no longer requiring you to enter a separate workspace. Now all standard and advanced features are available in one spot.
Adaptive Slicing
Have you ever needed to 3D print a part quickly, but a portion of that part required a fine resolution to minimize post-processing or to capture the full design intent? Enter Adaptive Slice. Below, is an example of a part that will benefit from Adaptive Slice.
My goal was to achieve a good surface finish and save some time. I processed it with "constant" and "adaptive" slicing in GrabCAD Print, but the same applies within Insight.

Figure 1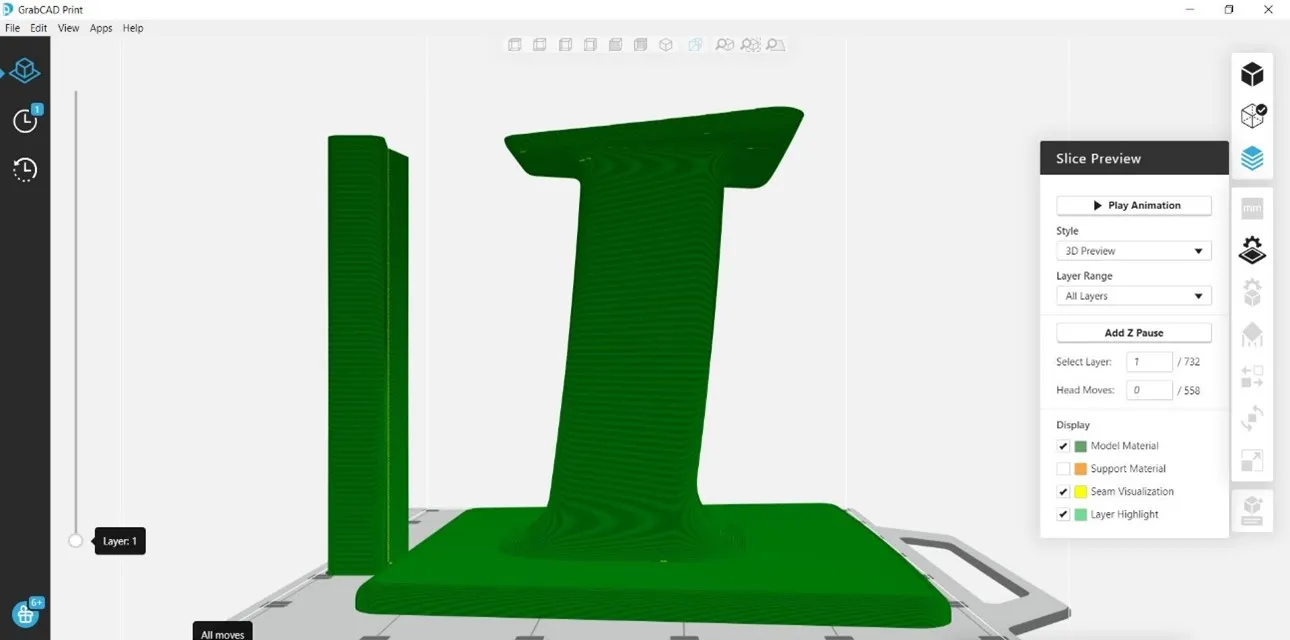 Figure 2

Figure 3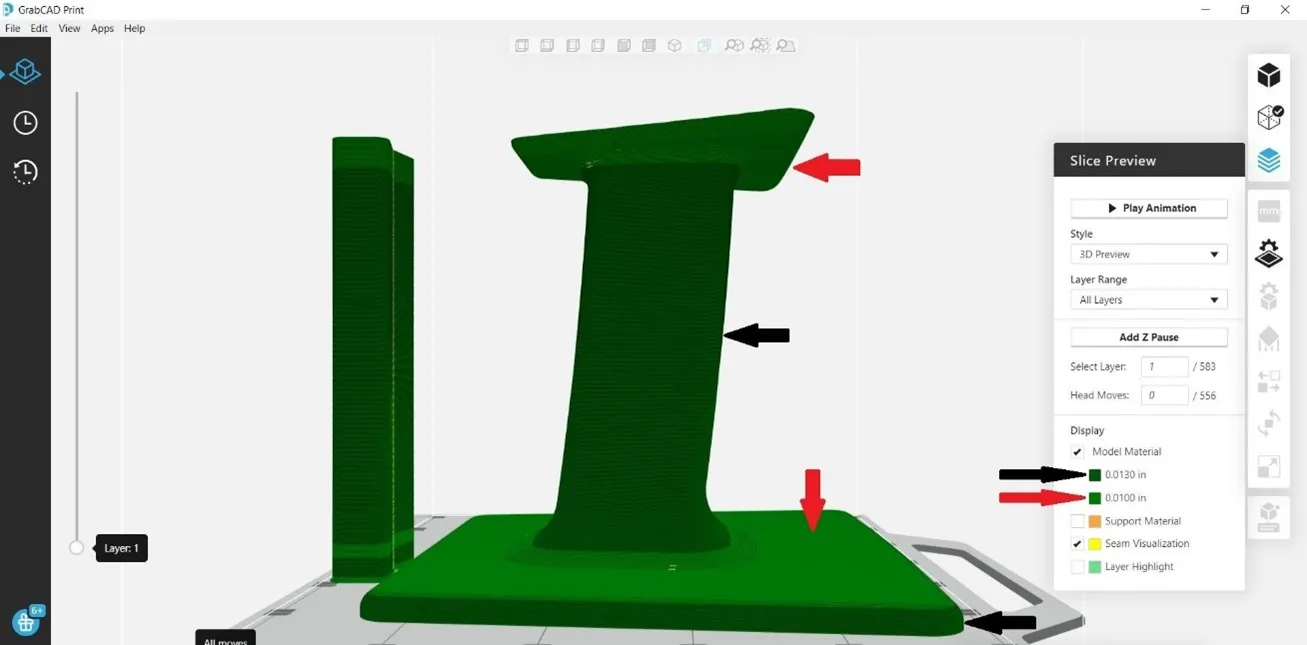 Figure 4
Rather than print the full part in a fine resolution, Adaptive Slicing creates a balance between print speed and aesthetic quality by using coarse slices everywhere fine resolution isn't necessary. Figures 3 and 4 show a time savings of almost 2.5 hours on this part. The red and black arrows indicate where each slice height is employed.
This comes at no detriment to overall part strength, decreases time to print, and it's available in both Insight and GrabCAD Print. Watch the video below for an explanation.
Stratasys Strategy
Stratasys has chosen an automated approach to Adaptive Slicing by minimizing the amount of time spent pre-processing parts. This negates having to manually assign each resolution to the desired zone. Simply select "Adaptive" from a drop-down menu, slice the part, and Insight or GrabCAD Print takes care of the rest by recognizing steep and shallow slopes within your part and assigning appropriate slice heights to those respective regions.
Does Your Machine Benefit From the Update?
According to GrabCAD Print, Adaptive slice is available for 0.0070in (0.1778mm) slice height and 0.0100in (0.2540mm) slice height. It works with all FDM materials and for the following printers:
Here's where things get interesting. If you look at the list of 3D printers above, you'll see some unexpected systems on the list like the Fortus series and F900. Why should that pique your interest? Previously, the only way to change slice heights with a Stratasys production-style machine was to manually change the extrusion nozzle (aka the build tip).
Now, Stratasys production style machines are benefitting, with what I can only assume, are modified feed/speed recipes. One could assume these have been adopted from the successful F123 Series, which prints up to four slice heights with no hardware change. While the tips for the production machines are limited to just two slice height variations, two are still much better than one.
The Trickle-Down Effect In Insight
The extensive work done behind the scenes to improve road height and width capability, per tip, has been repurposed to make other features better too. For folks who have used Insight in the past, you're likely familiar with Variable Width Remnant Fill. It's an on-or-off type feature within the toolpath setup in Insight that is off by default. Turning it on allows your road/bead width to have a variable width in tight spaces where a fixed-width would leave you with voids/dead spaces with no filling (see fig. 5).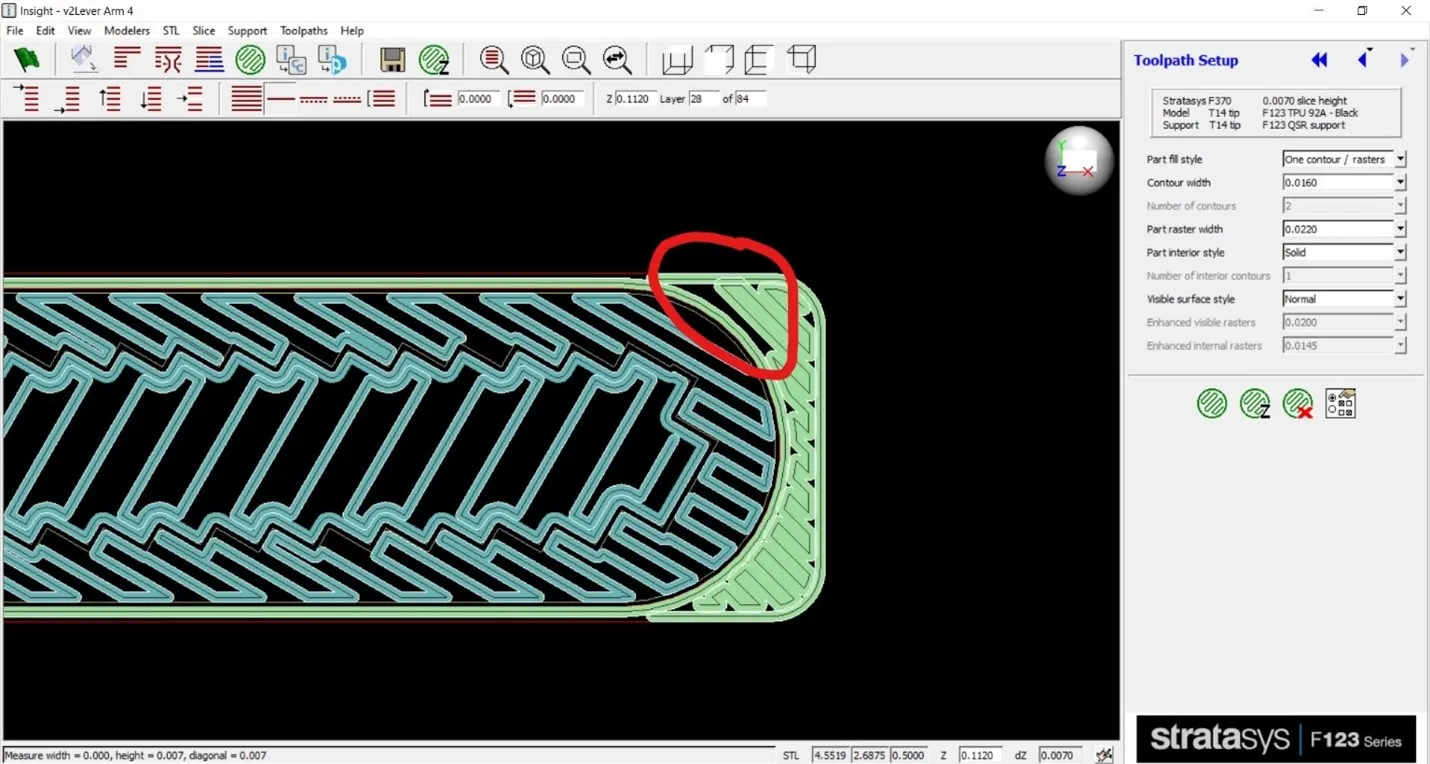 Figure 5
These areas are notoriously difficult for roads with a fixed width to reach. While Variable Width Remnant Fill helps, users can get a mixed bag of results. Now, even in normal toolpathing, there seems to be limited use of variable width roads. While using unmodified toolpaths in the latest update, I have found myself pleasantly surprised. More of my toolpaths have looked "watertight" on the first try, needing no additional modification. (For clarity, FDM prints are inherently NOT watertight, but that's the terminology we like to use when we get nice dense toolpaths) What this means less work for you because the automation is getting better.
Although there are now traces of Variable Width Remnant fill in standard toolpath generation, one may still see significant differences by toggling the feature on or off. I haven't had enough experience to really understand how the strategies differ yet, but I do know I get varying results toggling between the two. So, continue to experiment with it when having difficulty getting toolpaths to reach tight/odd-shaped spaces.
If you have any questions about these new features or would like to learn more about how we can help you with additive manufacturing, please contact us.
Learn More about Stratasys 3D Printers
The Big Reveal! Stratasys Reveals 3 NEW 3D Printers
Stratasys Industrial 3D Printer Maintenance Tips: Fortus Edition
5 F123 Series Maintenance Tips for New Users
A Tip for Changing Tips: Fortus 3D Printer Edition
Fortus Tip and Build Sheet Combinations: 3D Printing Tutorials
3D Printing with the F123 Series: Hardware, Software, & Materials