When migrating data into your SOLIDWORKS PDM vault, the data may already have a native revision present in the customer property of the file. The revision may be something other than the default starting revision in your SOLIDWORKS PDM revision schema. Now you can utilize the Set Revision feature to revision stamp your file with the native revision easily. Set Revision can be performed on a single file or multiple files at once.
Considerations
Custom property revision matches the SOLIDWORKS PDM revision schema format.

Custom property revision communicates correctly to the 'Revision' field on the file Data Card and configurations including the @ tab for SOLIDWORKS files.

The file is checked into the vault and is in a state which references the SOLIDWORKS PDM revision component on the 'Revision Number' tab. Preferable start in a migration workflow. Then move the files through a workflow link into your production workflow.
Procedure
Step 1: With a file(s) already located inside the vault and checked in. Right-click the file(s) and select 'Set Revision'.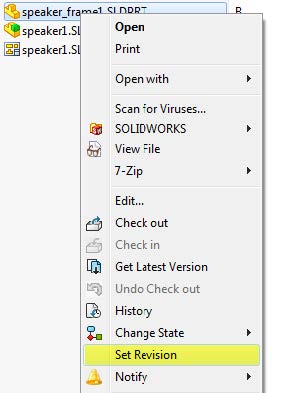 Step 2: In the 'Set Revision' dialog, you will see 'Current Revision' and 'New Revision'. If you click the 'New Revision' cell, the SOLIDWORKS PDM revision schema sequence will pop down and you can select the actual file revision from the list.

Step 3: Selecting the 'Update Variable' check box will update the file data card and file custom properties.

Step 4: You can read an existing revision already present in the 'Revision' field on the data card using the 'Data Card Variable' option. In the following example, you will see that there are revision values already showing from the file custom properties in the 'Revision' column of windows explorer and file data card.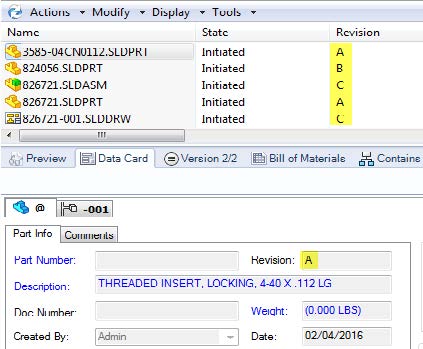 Step 5: In the 'Set Revision' dialog, highlight a row and right-click. From the menu, you have the option 'Set All New Revision Values to Card Variable Value'. In the image below the 'New Revision' and 'Data Card Variable' columns now have the same revision as see in step 3.


Step 6: Select 'OK' and the new revision will be stamped to the file History.
History before 'Set Revision'

History after 'Set Revision'

Step 7: Once the 'Set Revision' process is complete, right-click the file(s) and transition through your workflow link transition into your Production release state.
Note: Now if the file has a design change and needs to be submitted for revision the next revision will be in sequence of your PDM revision schema once it is approved and your data card and file history will reflect this sequential revision change.
Expand Your SOLIDWORKS PDM Skillset
How to Move Files to a New Workflow in SOLIDWORKS PDM
Locking a SOLIDWORKS PDM Vault Quick Tip
Creating Custom Column Sets in SOLIDWORKS PDM
Troubleshooting Workflow Revisions in SOLIDWORKS PDM
Moving the SOLIDWORKS PDM Vault Database Yourself? Start Here