One of the biggest (and most common) challenges companies face is properly managing data and information. Whether it's siloed information or simply not knowing where to look, a reliable and secure data management process is essential. 3DEXPERIENCE CLOUD PDM and 3DEXPERIENCE CLOUD PLM can really help here. 3DEXPERIENCE 2023x is officially out and includes many data management improvements, including new tools, dashboards, and more.
Better Change Management for Easier Data Management
If you're familiar with the Change Action app on the 3DEXPERIENCE Platform, you may be surprised when you log in next to find that it doesn't exist anymore. Actually, it does. It's just called Change Execution now. Now, I'm not going to say that that's the big enhancement here because it's just a name change. The big change comes when you go into the app.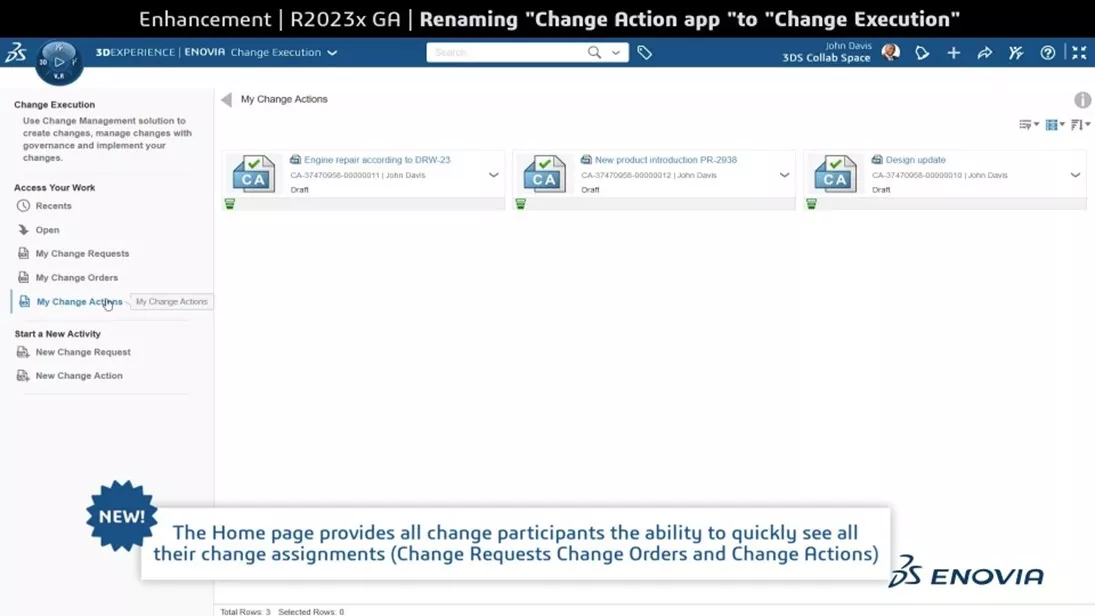 Change Execution now lets users quickly view all Change Requests, Change Orders, and Change Actions assigned to them.
Under Access Your Work is anything relevant to your day, making it easier to know what you need to work on without digging through countless activities that don't pertain to you.
View Related Issues for Changes
Although this could be considered a continuation of the Change Execution enhancement, in my opinion, it deserves the spotlight. When working on or reviewing a change, your first question is probably "why am I doing this?"
Now, with the enhanced Change Execution app on 3DEXPERIENCE 2023x, users can review related issues directly from the app.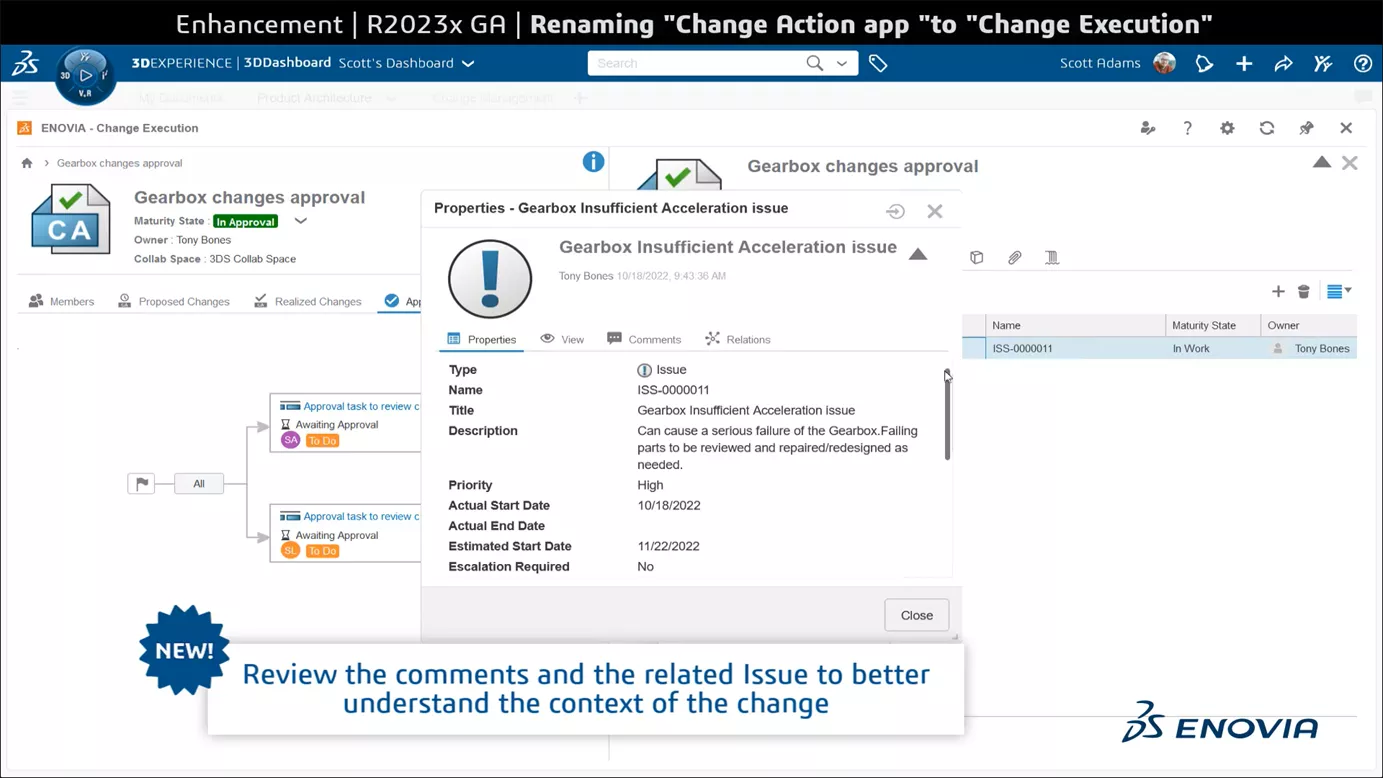 This keeps you in a single app at all times, eliminating the need for special dashboards or multiple tabs to review a change and why. The process of approving changes follows the same procedure as before, so the only thing changing here is how you review any updates.
Specification Manager Role to Improve Product Definition
Information silos are tricky. The problem is that you have all this information but never where you need it. For example, say you create a bill of materials in CAD, but it doesn't necessarily have the manufacturing information. Therefore, you need to make a manufacturing bill of materials. That's typical for most manufacturers, but the information should be easily accessible so that procurement gets the right materials for every order.
The new Specification Manager role for 3DEXPERIENCE 2023x lets users add raw material quantities directly to the product definition.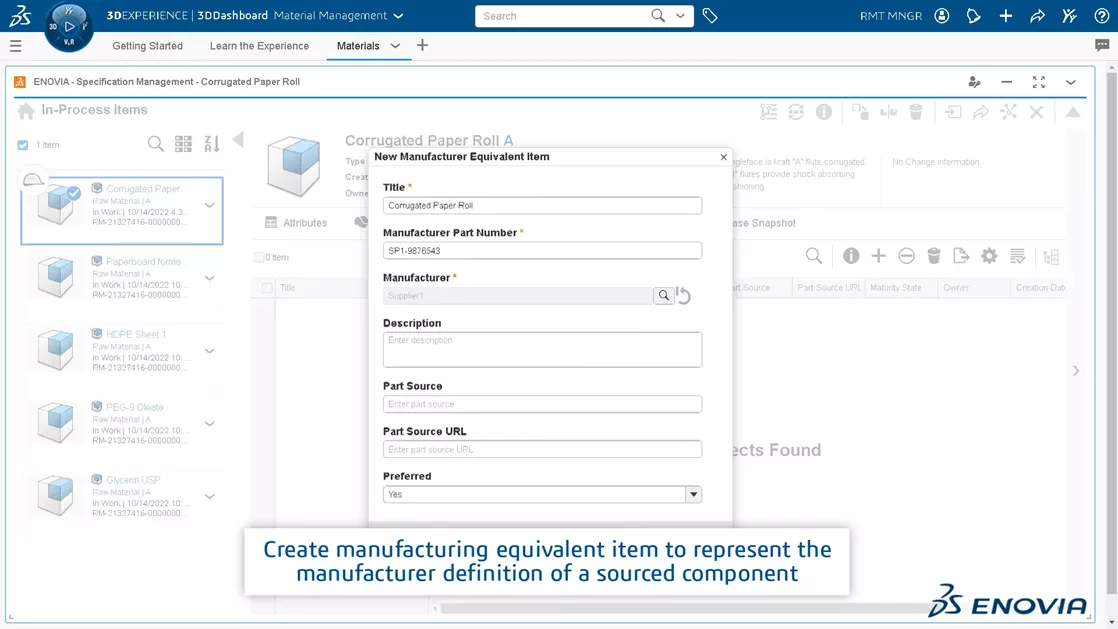 Additionally, users can create links between their CAD files and the manufacturer-equivalent item, making it easier to pass information to the right people. The Specification Manager role breaks down data silos and makes it easier to manage bills of materials on the 3DEXPERIENCE Platform.
Integration with More Tools
One of the first enhancements you might notice on the latest release of the 3DEXPERIENCE Platform are some new and improved roles. Most of these fall into a single category – Collaborative Designer for… These roles are integrations for the 3DEXPERIENCE Platform into other systems.
These tools especially shine in multi-CAD environments. As much as it pains me, not everyone uses SOLIDWORKS or one of the xApps; some organizations dabble in tools like Creo and NX. While there's nothing inherently wrong with that, it can make managing data more difficult.
Case and point, references break pretty easily in systems without clean integrations. The CAD tool loses the files while they live somewhere "different", and we end up spending extra time fixing issues that shouldn't break in the first place. That's where these roles come into play.
The enhanced Collaborative Designer for… roles open up the traditional 3DEXPERIENCE Platform add-in and presents the same functions that exist for the SOLIDWORKS integration. Now you can use your non-SOLIDWORKS CAD tools without worrying about breaking references.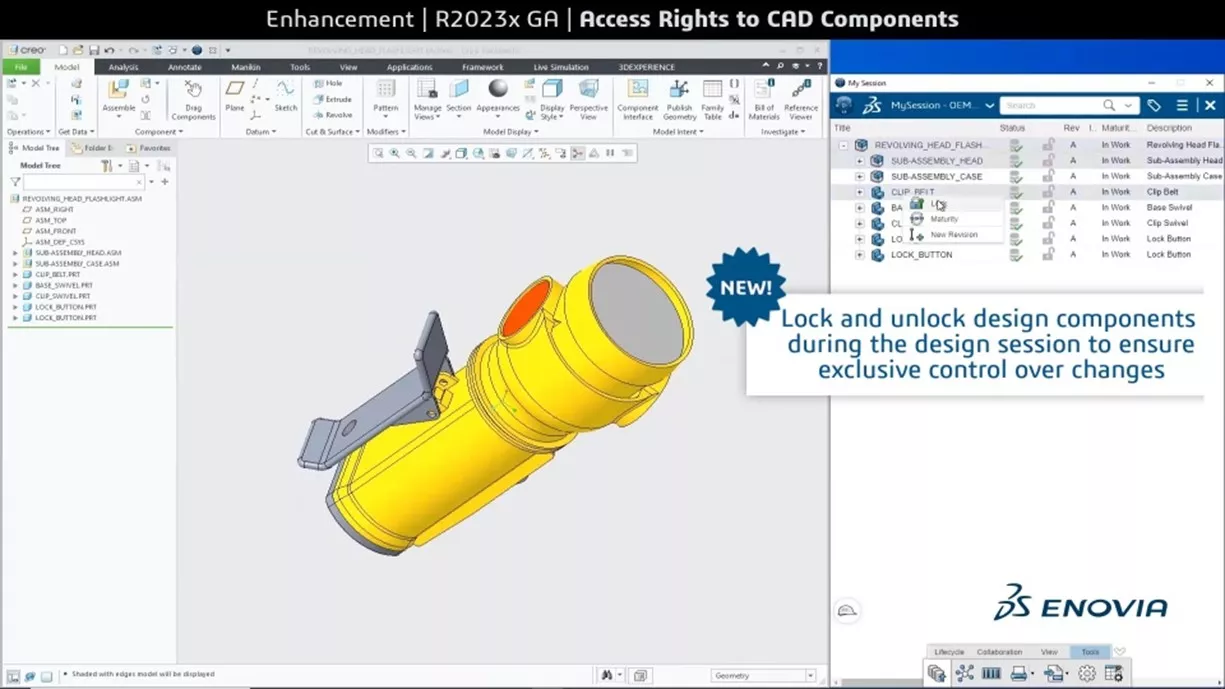 Locked Down Dashboards
Something the 3DEXPERIENCE Platform does extremely well is locking down files while they're in use, which is common practice for almost any data management tool. However, users can lock files directly from any tool (as previously mentioned).
But what if it's the Platform itself that you're editing? For example, the 3DEXPERIENCE Platform has Wiki pages. They are excellent to share with other members of your tenant and are a valuable resource. But what if two people are trying to make a change at the same time?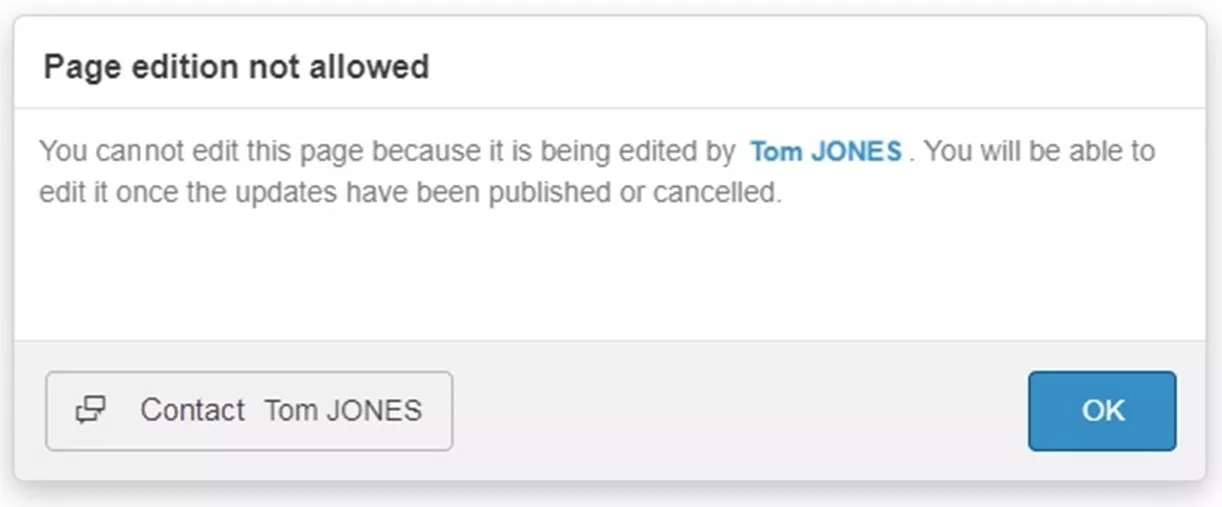 New for the 3DEXPERIENCE Platform 2023x, Wiki pages lock when being edited.
This doesn't prevent people from viewing the page, just like you can view CAD files as read-only. All this does is ensures that when you're working on a Wiki page that your colleague next door doesn't accidentally override the work you're already doing.
Conclusion
There are several 3DEXPERIENCE 2023x data management enhancements, these being some of my personal favorites. Learn more about 3DEXPERIENCE 2023x, 3DEXPERIENCE CLOUD PDM, 3DEXPERIENCE CLOUD PLM , and what's on the platform below.
Related Articles
Getting Started with 3DEXPERIENCE: Setup, Dashboards, Connectors & More
3DEXPERIENCE SOLIDWORKS 2023x - Top 5 Enhancements
3DEXPERIENCE Fluid Dynamics Engineer: Simple Internal Flow
How to Import SOLIDWORKS Parts Into 3DEXPEREINCE