The material database, or material palette, is the repository for all solid and fluid materials typically associated with structural or fluid analyses. Out of the box, the material database of the 3DEXPERIENCE Platform is empty. To best represent your use case, we recommend creating custom materials based on your material data sheets or material test data.
However, it can be helpful to have default materials to use as examples, quick tests, or other introductory analyses.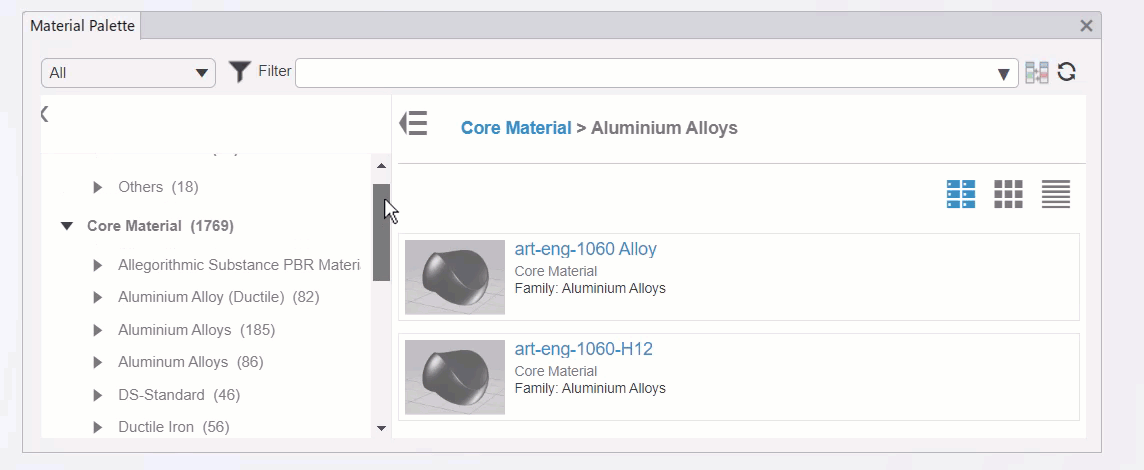 Importing 3DEXPERIENCE Material Databases
From the browser, navigate to your simulation role and the apps within them. Click the dropdown arrow next to one of the apps and choose to Install Optional Content Now.

An Installation Wizard will appear. The second page defines the default installation location. Copy this file location.
Typically this is within C:\Program Files\Dassault Systemes and then a "Cloud_Content" folder. The "B425" in the picture below will change with the installation version.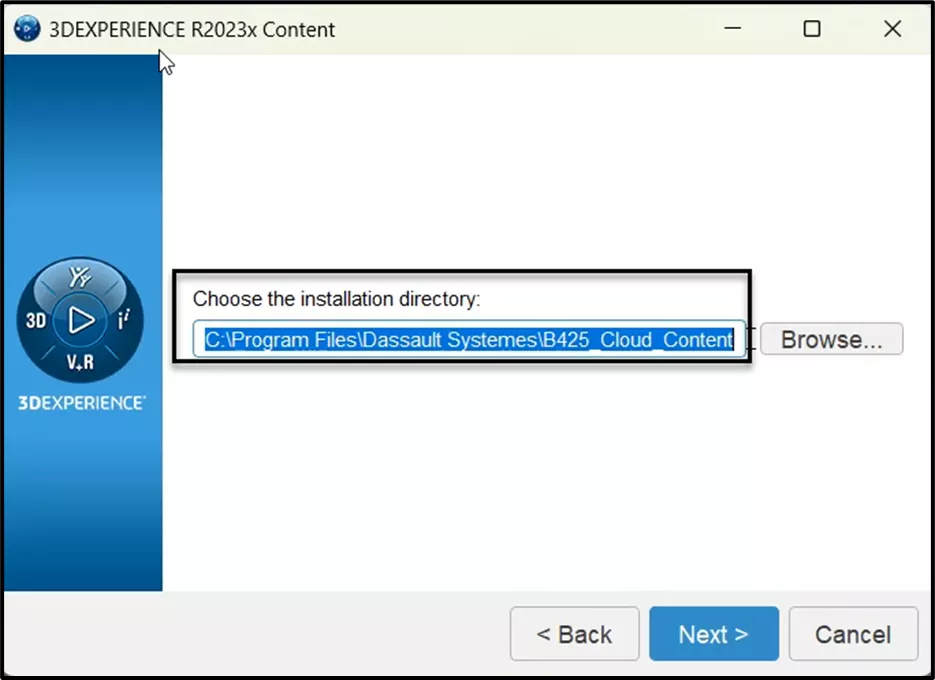 The download and installation typically take less than a minute. Once complete, navigate in Windows Explorer to the saved file location. Through the "\win_b64\resources\materials" filepath are .3dxml files. Each is a group of materials dependent on which roles you've "installed optional content" for.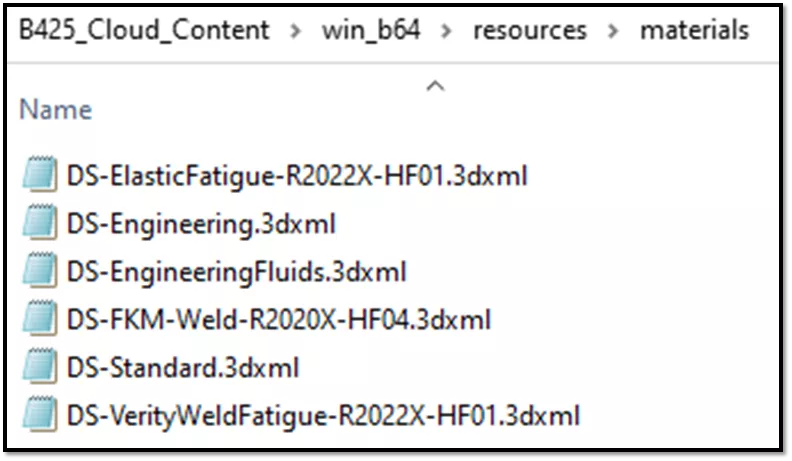 Next, we will import DS-Standard.3dxml which contains some generic metals. (For more information about what's in each of these databases, jump to the section 'What's in the 3DEXPERIENCE Datases?).
To begin the import, drag and drop the relevant .3dxml into your native client, or use the Import feature to open the .3dxml.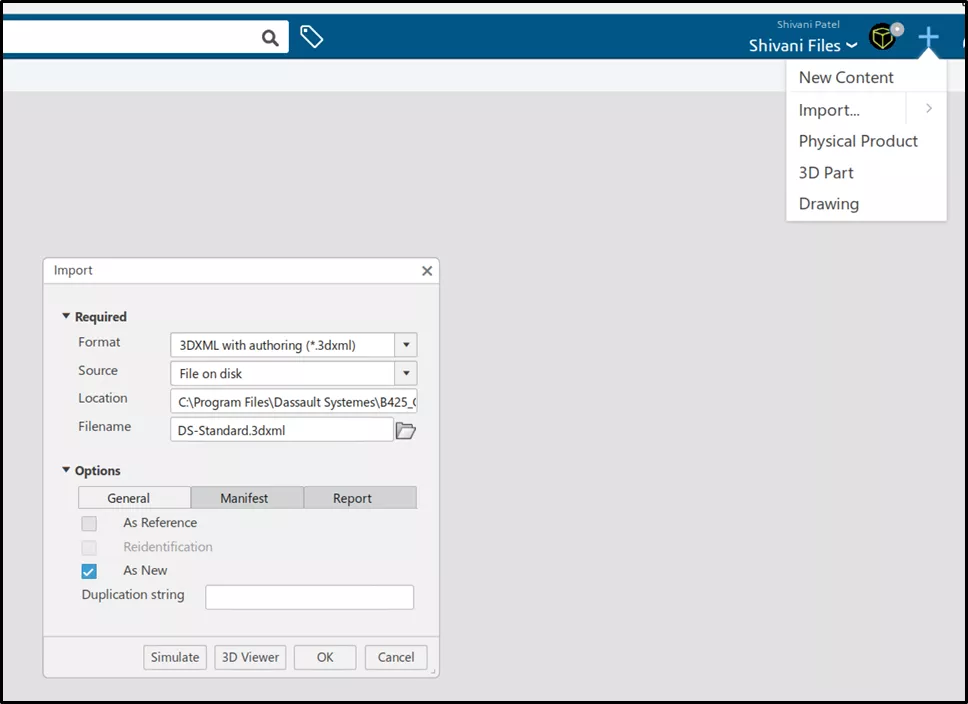 Warning: Large databases may take several minutes to import. Please allow some time to process the import request.

After importing DS-Standard, our Material Palette tool will now have a category labeled DS Standard. Below is an example of what this database provides.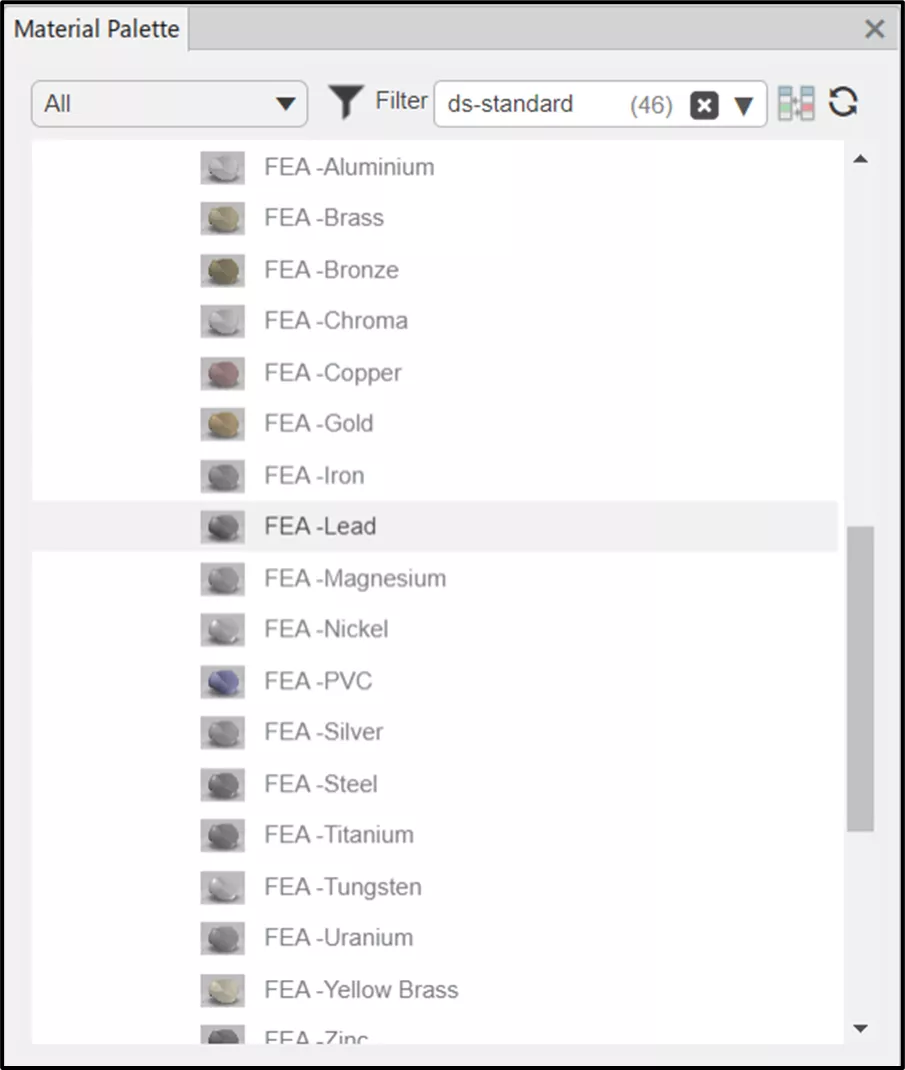 Importing SOLIDWORKS Material Databases
SOLIDWORKS users can import their default or custom material database from their SOLIDWORKS Installation.
To do so, determine the file locations of your SOLIDWORKS material libraries. Within SOLIDWORKS, go to System Options > File Locations > Material Databases. These are filetypes of ".sldmat".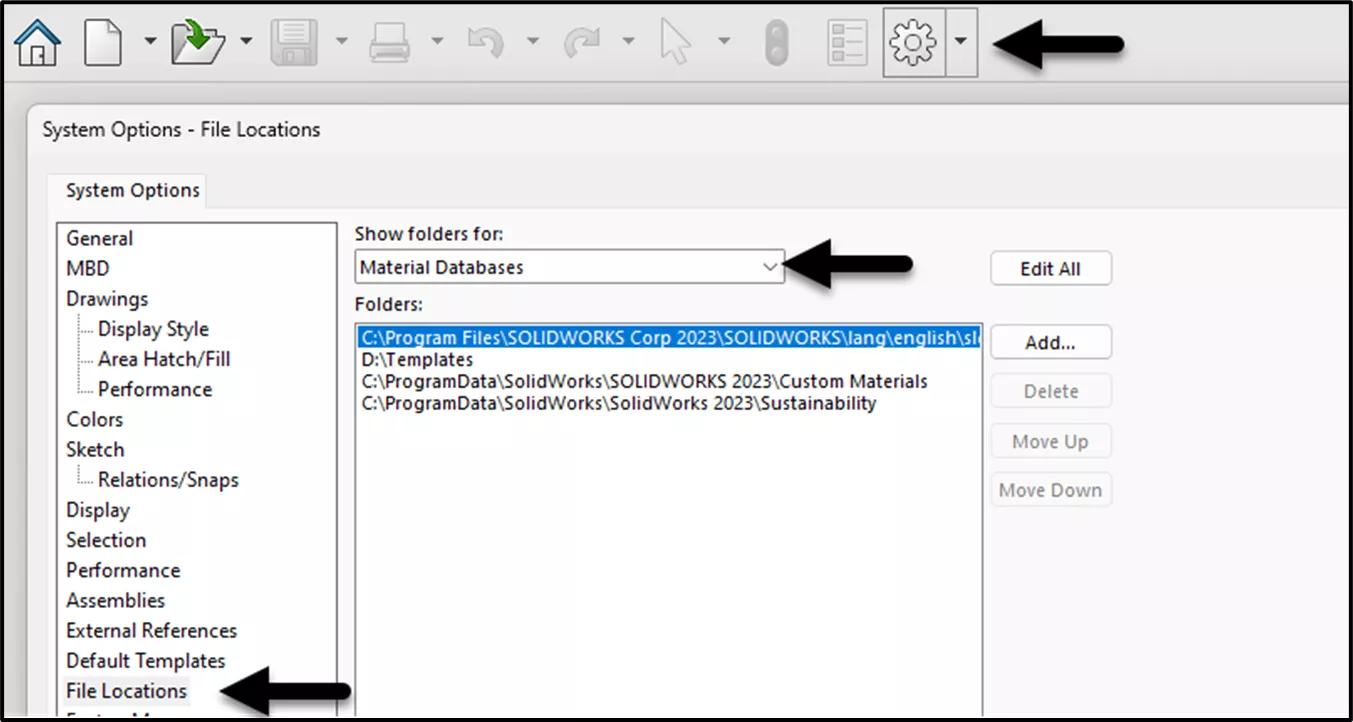 Import the relevant .sldmat files into the 3DEXPERIENCE native client.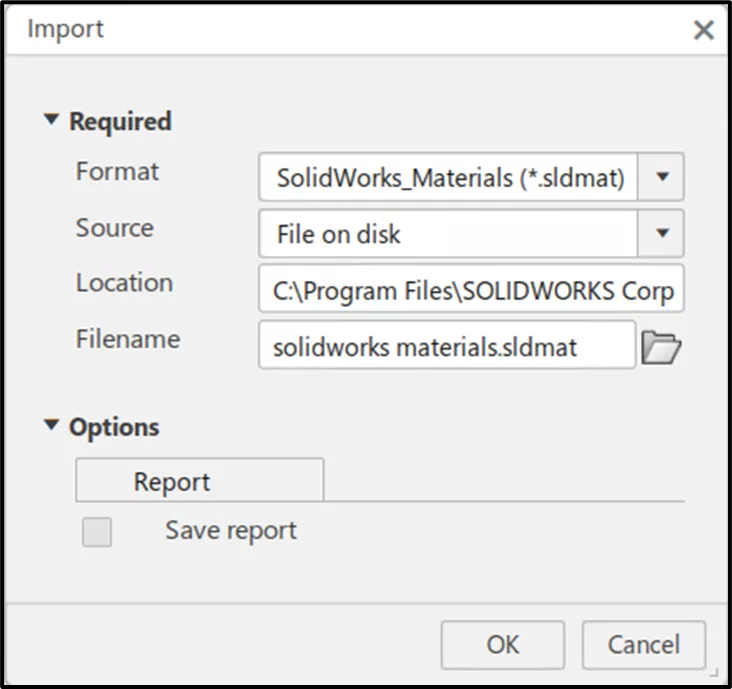 What's in the 3DEXPERIENCE Material Databases?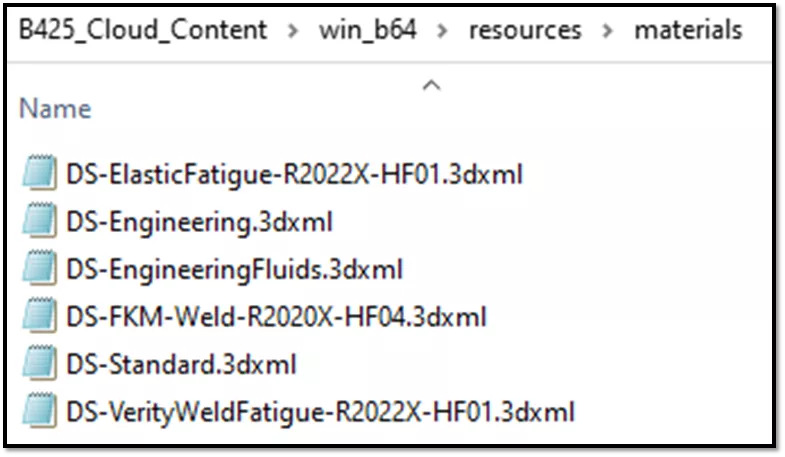 Should you import all the databases? Below is a brief description of what is in each to help you decide which ones are relevant to you.
For structures, DS-Standard and DS-Engineering will provide some common engineering materials. In DS-Standard, metals are generic (as shown earlier in the article) and there are only around 20 of them. For DS-Engineering, there are over 100 materials, many of which you may be familiar with from the SOLIDWORKS Material database.
For durability, the DS-ElasticFatigue includes Strain Life parameters for estimating durability and the DS-FKM-Weld and DS-VerityWeldFatigue also include weld Fatigue data (sample image below).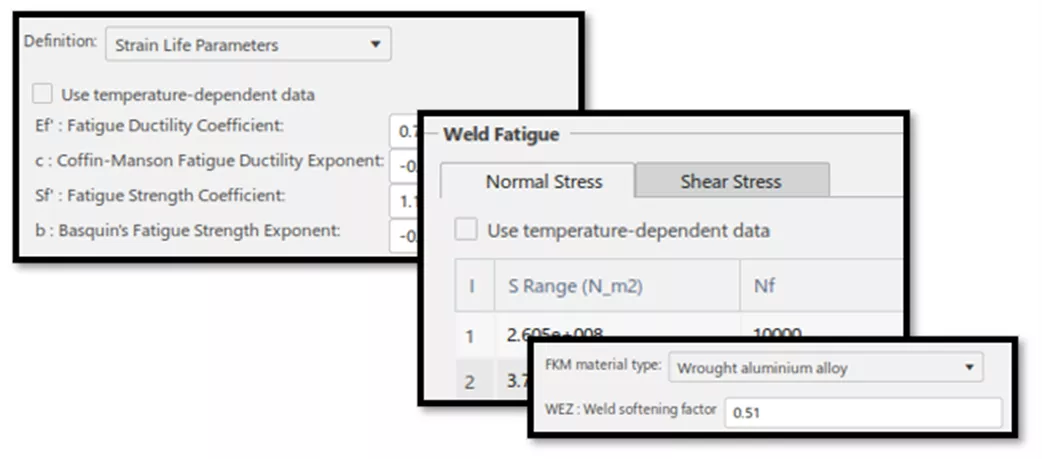 For fluids, DS-EngineeringFluids will provide defaults like Air and Water. You may only see this database if you've installed the optional content available with the CFD roles.
Summary
Import certain .3dxml or .sldmat files into the native client to create a group of standard materials

Obtaining the .3dxml requires the user to

Install Optional Content

File locations are typically:
C:\Program Files\Dassault Systèmes\B4##_Cloud_Content\win_b64\resources\materials
C:\Program Files\SOLIDWORKS Corp\SOLIDWORKS\lang\english\sldmaterials
I hope you found this article helpful. Learn more about the 3DEXPERIENCE Platform by checking out the links listed below.
Related Articles
3DEXPERIENCE SOLIDWORKS Update Revisions
3DEXPERIENCE Apps Local Installation: Setup, Versions, and More
How to Import SOLIDWORKS Parts Into 3DEXPEREINCE
Getting Started with 3DEXPERIENCE: Setup, Dashboards, Connectors & More